Actor Griffin Newman just donated his whole salary to RAINN after working on Woody Allen's new movie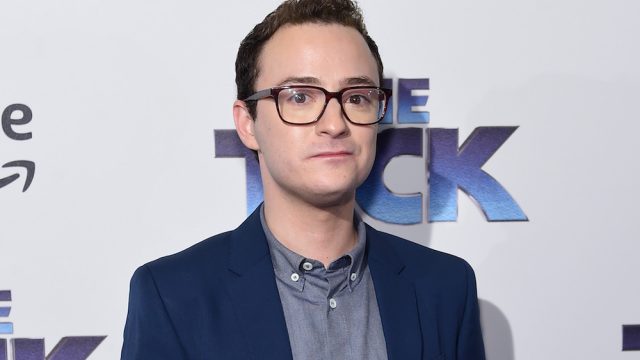 Since scoring his first big break on Amazon's The Tick, actor Griffin Newman has come a long way from playing an intern in the film Draft Day. And, while his credit list might not be extensive, Newman is doing something not all Hollywood actors are. He's taking steps to distance himself those who perpetuate sexual violence. On Saturday night, Griffin took to Twitter to denounce his involvement in Woody Allen's new film.
In light of recent news, Griffin Newman voiced his concerns about his involvement with Allen.
The director was accused of sexual assault in the past by his daughter, Dylan Farrow, who has spoken openly about her experience over the years. In light of the allegations against Harvey Weinstein, Griffin felt like he had to speak out.
https://twitter.com/udfredirect/status/919333638193414147
RAINN, the Rape, Abuse, & Incest National Network, is the country's largest anti-sexual violence organization. They work to prevent sexual assault, raise awareness and education, and serve survivors of sexual violence. As organizations go, it's a pretty great one to donate to.
But Griffin had more to explain.
https://twitter.com/udfredirect/status/919334671032438785
https://twitter.com/udfredirect/status/919338418722701314
https://twitter.com/udfredirect/status/919339377540632586
https://twitter.com/udfredirect/status/919341276901847040
https://twitter.com/udfredirect/status/919360480514314240
Dylan Farrow's open letter to The New York Times in 2014 details her experience with Allen, her adoptive father. Newman says he believed that Allen was "guilty since reading [the] NY Times piece."
We certainly can't imagine what it is like to be in a position where the choice is between achieving your career dreams or maintaining your personal values.
But we commend Griffin Newman for speaking out now about what he believes is right.
More importantly, for donating his salary to such a just and fitting cause. And most importantly, for recognizing that his voice is not the most important one in the conversation surrounding sexual assault — though it may be one of the most amplified right now.
https://twitter.com/udfredirect/status/919547661757317120
We can only hope that other stars learn from his example.