ABC tried to censor a rape kit scene on Grey's Anatomy, and shero Shonda Rhimes had the perfect response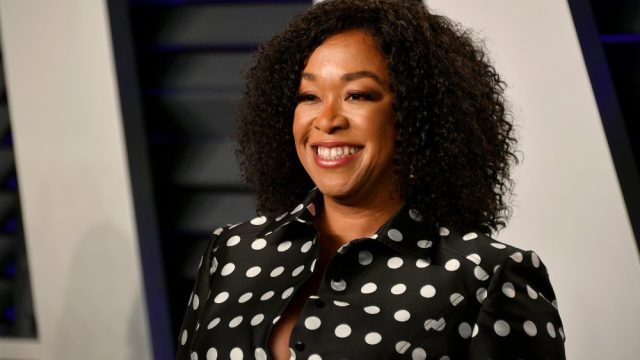 In February, Grey's Anatomy made history as the longest-running primetime medical drama on TV, but that hasn't stopped the show from pushing the envelope. And a powerful March 28th episode of the drama, in which the Grey Sloan Memorial doctors administer a rape kit, proved just that. But apparently, ABC executives tried to tone down the critical scene—until creator Shonda Rhimes stepped in.
As The Hollywood Reporter notes, the most recent Grey's Anatomy episode, "Silent All These Years," featured a plot involving a rape victim who needed surgery (played by guest star Khalilah Joi). Showrunner Krista Vernoff told THR that she wanted to tell a story about consent after watching Christine Blasey Ford's testimony and Supreme Court Justice Brett Kavanaugh's confirmation. But getting ABC to show the rape kit scene in realistic detail wasn't easy.
"We received notes initially from ABC's Broadcast Standards and Practices. They give these standard notes: 'don't be too gory'; 'don't be too explicit in your language'; 'no side boob,'" Vernoff explained. "But the ones we got on this script included, 'Please don't show any fluid on the Q-tips" and "Please don't show any body fluids under the blue lights.'"
She continued: "Shonda wrote back a pretty passionate response of the myriad ways that networks are willing to show actual violence but that what we were doing here was the medical process that happens in the wake of violence and they were trying to tell us we couldn't show it. She said, 'Respectfully, I decline these notes.' Ultimately, ABC understood that she was right."
Vernoff also noted that the ABC Broadcast Standards and Practices executive even appeared in the final scene, as part of a "wall of women" who show their support for the hospitalized survivor.
The fact that "Silent All These Years" managed to include this scene was monumental. Episode writer Elisabeth Finch told THR that the only other time she'd seen a rape kit administered on TV was during an episode of Grey's spinoff Private Practice, which featured a "truncated" version.
"I did a lot of research to make sure that I was doing it differently," Finch said. "Because it's done so rarely, I wanted to make sure whatever we did revealed a different side of something so that people could be educated."
https://twitter.com/udfredirect/status/1111325553917747202
We applaud Rhimes for standing her ground, and we're glad the network ultimately saw the light on this critical issue.