Meredith isn't going anywhere yet — Ellen Pompeo has signed on for *two* more seasons of "Grey's Anatomy"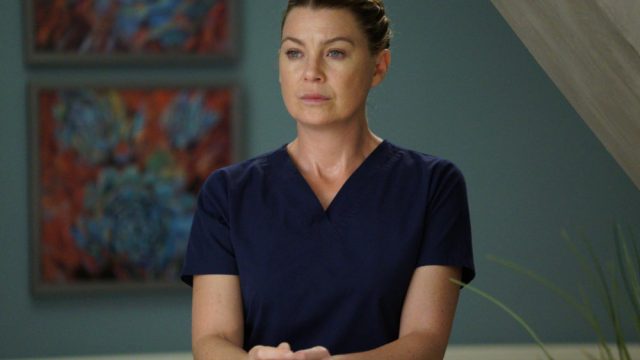 Best news ever, or best news ever? We just learned Grey's Anatomy will (likely) be on air for at least *two* more seasons, and we just want to personally thank the TV gods for this blessing.
Ellen Pompeo — you know, Meredith Grey — has renewed her contract through Seasons 15 and 16, and while ABC has yet to give two more seasons of Grey's Anatomy an official green light, Pompeo's involvement bodes well. Not only that, but Pompeo's contract effectively makes her the highest-paid actress on television. The Hollywood Reporter reveals that the star secured a history-making new deal that'll earn her $575,000 per episode, amounting to $20 million+ a year (plus, an estimated $6 or $7 more between a signing bonus and two full backend equity points).
In addition to acting, Pompeo will be taking on a new role: She is set to be a producer on the series starting midway through this season and serve as a co-executive producer on the upcoming Grey's Anatomy spinoff. Oh, and she also picked up other projects including an anthology show she just sold to Amazon; plus, a new legal drama that could potentially get a green light from ABC.
You go, girl! We are all so proud of you.
The road to being TV's highest-paid actress was a tumultuous one, because our girl Ellen had to fight for what she deserved. For close to 15 years, she starred as the lead of ABC's flagship medical show. Now, she feels that she is in a place where she can demand her worth.
"I'm 48 now, so I've finally gotten to the place where I'm okay asking for what I deserve, which is something that comes only with age. Because I'm not the most 'relevant' actress out there. I know that's the industry perception because I've been this character for 14 years," Pompeo told The Hollywood Reporter. "But the truth is, anybody can be good on a show Season 1 and 2. Can you be good 14 years later? Now, that's a fuckin' skill."
https://www.youtube.com/watch?v=_DjWGHl5JN4?feature=oembed
Pompeo also revealed that even though she's the lead of Grey's Anatomy, her request to rake in $5,000 more than former co-star Patrick Dempsey (aka Derek Shepherd aka McDreamy) was denied.
So when Dempsey left the show in 2015, she shared that it was a "defining moment, deal-wise."
"At one point, I asked for $5,000 more than him just on principle, because the show is Grey's Anatomy and I'm Meredith Grey. They wouldn't give it to me. And I could have walked away, so why didn't I? It's my show; I'm the number one. I'm sure I felt what a lot of these other actresses feel: Why should I walk away from a great part because of a guy? You feel conflicted but then you figure, 'I'm not going to let a guy drive me out of my own house.'"
We're so happy to see Pompeo advocating for herself, and empowering other women as Shonda Rhimes empowered her — even those who aren't in the entertainment business — to seize an opportunity, to demand for what they deserve.
And back to the future of Grey's Anatomy: It appears the cast and crew will take it season by season. "I've been saying since Season 1, 'We have two more years'," Pompeo told Deadline. "This show, it's taking on a life of its own, and who knows? We take it season by season really."
Whatever they decide, we will be here, religiously watching every episode there is to come.