"Grey's Anatomy" fans rejoice! Kim Raver is returning to Grey Sloan Memorial Hospital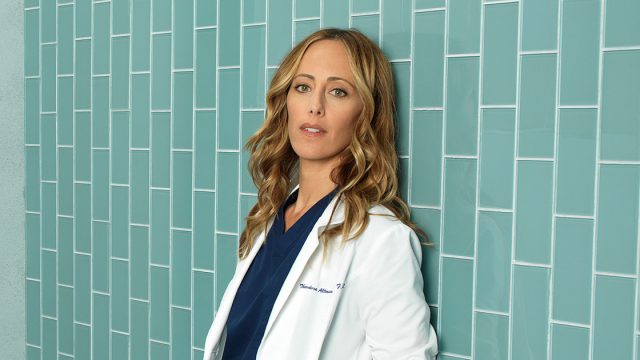 It's not often that, when a doctor leaves Grey Sloan Memorial Hospital, they end up coming back (usually because they're, well, dead). However, it seems we have an exception to the rule, as Kim Raver is returning to Grey's Anatomy to reprise her role of Dr Teddy Altman!
According to Deadline, who broke the news, Dr. Altman will return to Grey's Anatomy for one particular story arc, so it sounds like she won't be back in Seattle for the whole of the show's 14th season, but we're not complaining.
The last time we saw Teddy was at the tail end of Season 8, following the death of her husband, Henry (*sobs*). The doctor, who had been acting as a mentor to Cristina Yang, was offered a job in Germany to head up a military hospital. This being Grey's, her goodbye to former flame and friend Dr. Owen Hunt was a suitably emotional affair.
If you saw the tense finale of Season 13 last month, you'll know that Dr. Altman actually got a shout-out. It turned out that Owen's sister, Megan, who was believed to be dead, had been found alive after being held hostage in the Middle East for 10 years. Megan was being treated at Teddy's hospital in Germany, before being flown out to Madigan Medical Army Center.
Of course, we don't actually know anything about Kim Raver's return, but we can probably assume that it has something to do with Owen and his sister. Given that Teddy once had feelings for Owen, and that he has now separated from Cristina AND Amelia, we wonder whether some romance could ensue…
Megan's recovery from the Middle East will also have an impact on Meredith, who is currently dating Nathan Riggs, who just happens to be Megan's husband (are you keeping up?).
Tbh, when Grey's Anatomy returns for it's 14th season we're sure all will become clear. What we do know is that it's gonna be pretty exciting.