Good news, longtime "Grey's Anatomy" fans — the 300th episode will feel like an homage to the whole show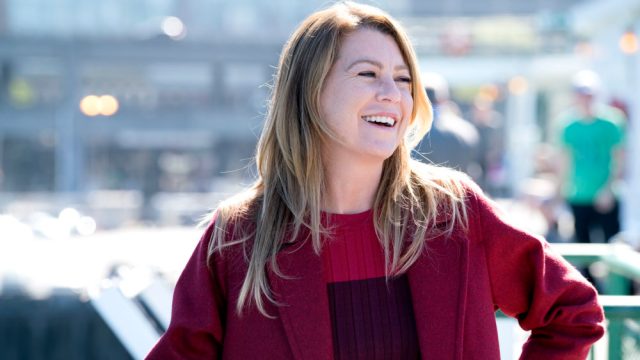 On Thursday, November 9th, ABC will air the 300th episode of Grey's Anatomy. The medical drama's milestone episode is being hailed as a moving tribute to the series, and the news surrounding it just keeps getting better. Past characters — Izzie, Cristina, and George — will return (in spirit), and a Grey's Anatomy featurette released on Tuesday, November 7th gives a deeper look.
Kelly McCreary says the special episode "is like an homage to the whole show."
In the 300th episode of Grey's Anatomy, a roller coaster derailment brings a wave of disgruntled patients into the Grey Sloan emergency room. Their appearances, stories, and various medical emergencies reportedly remind the current doctors of their former colleagues. The surprises don't end at familiar faces, though.
"It feels a little bit like old Grey's," series creator Shonda Rhimes explains. "[The 300th episode] is fun, it's funny, and it's refreshing." That said, she continues, the episode "still has the heart" that's helped propel the series for 14 seasons.
Adds executive producer Betsy Beers, "It's nostalgic…the 300th episode is all about honoring the show."
Translation: Former fans of Grey's Anatomy might want to tune in for the special episode.
Similar to the series' previous "special episodes" — the musical, the one where Meredith's mother dies, etc. — the 300th will revisit some of the show's most poignant moments. Based on the featurette, it seems as if the central accident will evoke the crash from Season 2's "Into You Like A Train." So it'll undoubtedly be exciting (and emotional!) for the show's longtime fans.
In recent years, Grey's Anatomy has moved away from the funny, fast-paced, and sexy, as the core characters have both matured and experienced more personal traumas than characters in a daytime soap. A return to the buoyant, lighthearted Grey's of days past should encourage longtime viewers to tune in — regardless of whether they've stopped watching.
The 300th episode of Grey's Anatomy airs Thursday, November 9th on ABC. Tune in for TV history.