Greta Gerwig is remaking Little Women — and so far the cast is looking hella tight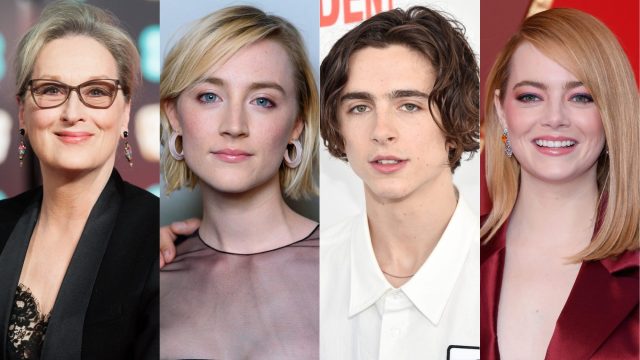 Amazing news for literally everyone on the planet: Greta Gerwig is remaking Little Women, and it looks like the cast is going to be, ahem, "hella tight."
While it wouldn't be an understatement to say that we're currently feeling a bit of remake fatigue, the Lady Bird director may be the perfect person to pull us out of it. The classic Louisa May Alcott novel just got the miniseries treatment, but it's headed back to the big screen—and like the 1994 adaptation, it has some major names attached.
Put on some L'Enfance Nue because we're in for a Lady Bird reunion: according to Variety, Saoirse Ronan and Timothée Chalamet are in talks for the film, along with our favorite human Emma Stone. AND—seriously, drumroll, please—according to LATimes.com, Meryl Streep is officially attached to play Aunt March (not Marmee, as many outlets initially speculated). Lady Macbeth star Florence Pugh is also reportedly circling the project. This is a BIG MOOD.
The classic novel, which was first released in 1868, follows the four March sisters—Meg, Jo, Beth, and Amy—and their mother, who are living in Civil War-era Massachusetts while their minister father engages in the war effort. The beloved 1994 adaptation starred Winona Ryder, Christian Bale, Clare Danes, Kirsten Dunst, and Susan Sarandon. While Variety is reporting that the roles are still being kept under wraps as casting continues, including the search for Beth, it's likely not too difficult to deduce the actors' respective roles—like the perfectly coiffed Lil Timmy Tim as Laurie, who will 100% fall in love with Ronan's Jo.
Naturally, Gerwig's all-star Little Women remake has Twitter *swooning*:
false false
https://twitter.com/udfredirect/status/1012747514573975552
Variety also revealed that while Gerwig was initially approached to write a draft of the script, after her directorial debut Lady Bird became a sensation and won multiple Golden Globes (along with snagging nominations for a number of Academy Awards), she was asked to direct the project. Once again, hella tight.
Considering Lady Bird was such a masterful depiction of complex women on the verge of adulthood and mothers, we're so excited to see her take on Little Women. Greta, if you need any casting ideas, let us know because we are have SO many thoughts.