Never forget that time Gregor "The Mountain" Clegane dressed up as the Hulk for a boy's birthday party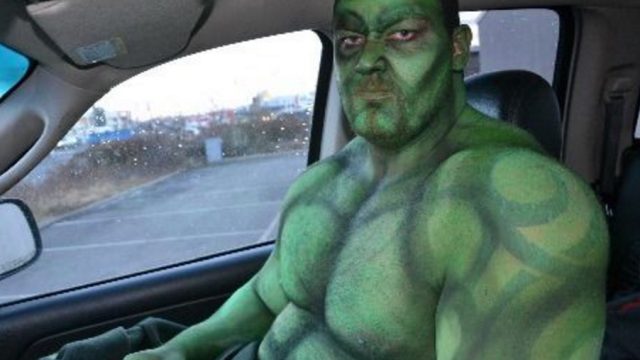 This is our first weekend in awhile without a new Game of Thrones episode (*sob*), and we have a loooong time to wait until the next season. Luckily, Imgur has got our back by reminding us of a beautiful, beautiful fact: the actor who plays Gregor "The Mountain" Clegane once dressed up as The Hulk to surprise a little boy on his birthday.
An Imgur post by ReverseBatman is going totally viral, and it's a throwback that's tugging at our GoT-loving heartstrings. Back in 2014, Hafþór Júlíus Björnsson (yes, that's officially the most badass name) used his muscles for good — he used body paint all over his body to make himself look like The Hulk for a three-year-old boy's birthday party.
Though it was a totally adorable gesture, the little boy was a bit shocked, and he burst into tears. We can understand that, TBH, because seeing a man who can deadlift 994 pounds dressed like the Hulk can be a little intimidating. That said, it's still 100% adorable — which is probably why the Imgur post has been viewed over 60,000 times since being posted this morning. Makes the whole zombie-version of The Mountain a little less scary, doesn't it?