10 reasons "Grease: Live" was everything we needed it to be and more
When I first heard news of a Grease live television production, my initial reaction was, "Oh no, what if they ruin it!?" But as the cast was announced little by little, my worries started to slide away to the point where, last night, I could not wait to get my eyes and ears on this. And I'm happy to say the cast and crew did not disappoint. The three hours I spent watching Grease: Live were the highlight of my weekend (which included a Star Wars-themed burlesque show, so you know it's serious).
Writing about everything that made Grease: Live such a wonderful rendition of this show – including the perfect casting of its two leads, the beautiful diversity in the entire cast, and more – would take an entire week. So instead, here are the top 10 reasons I loved Grease: Live:
Cameos from some familiar faces
I was one of the people who didn't read up a ton on what to expect going in, so the cameos from old cast members were a complete surprise to me. When Barry Pearl, aka the original Doody, showed up, I almost cried a little. But when Didi Conn came onscreen as diner waitress Vi, actual tears were shed — and even more so when she started giving Carly Rae Jepsen's Frenchy advice. FRENCHY ON FRENCHY ON FRENCHY. INFINITE FRENCHY LOOP. Still not over it.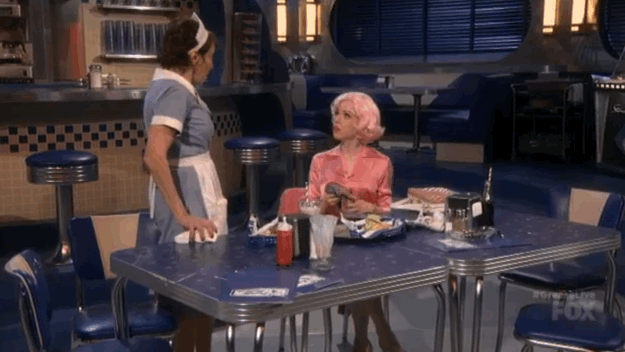 Oh, and Jan Brady (aka Eve Plumb) as shop teacher Mrs. Murdock? Perfection.
Inclusion of songs that weren't in the movie
There are songs in the Grease stage production that aren't in the film, and I was happily surprised to see them – particularly "Freddy, My Love," knocked out of the park by the fabulous Keke Palmer. She gave my fave Marty so much edge that I didn't even know could be given, considering how great of a character Marty already was. Dinah Manoff would be proud.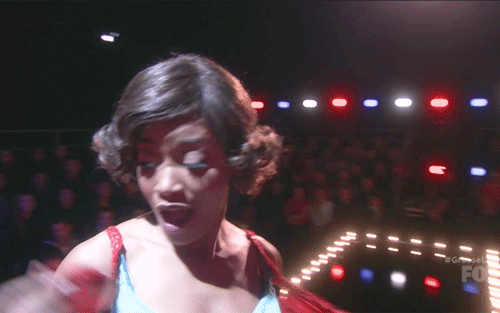 And Doody, played by Jordan Fisher in a "Where has this guy been all my life?" turn, slayed with "Those Magic Changes," woven ever so seamlessly into scenes that unfolded around him. I always loved this song in the movie and wished it had more screen time aside from just playing in the background at the dance, and Fisher gave it the moment in the sun it deserved.
Vanessa Hudgens as Rizzo
There aren't enough words to praise Vanessa Hudgens for her performance in this show. For starters, she had the job of playing the most inner-demons-laden character with the most complicated personality. This makes Rizzo, in my opinion, the most interesting (and feminist) character in Grease – which is, at the end of the day, a feminist show overall, in my opinion.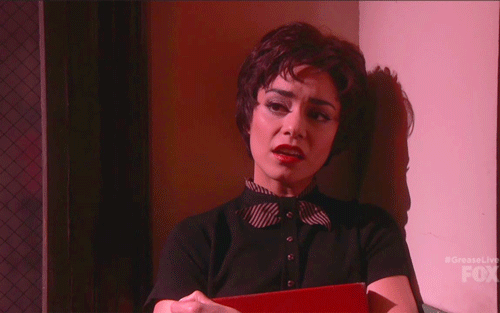 And not only did Hudgens become Betty Rizzo – she did it the day after her father passed away, after dedicating her performance to him. Whenever I want to re-watch this entire show again but am short on time, I will just watch Hudgens' parts, not even gonna lie.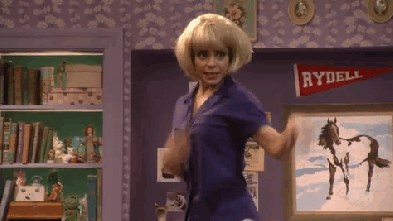 The Rydell High faculty
Other unexpected gems? Wendell Pierce (whom I may have met randomly outside a blues bar in New Orleans a few months ago and is even more gracious than you'd hope he would be) as Couch Calhoun, Ana Gasteyer as Principal McGee, and – my favorite Rydell faculty member – Haneefah Wood as the bumbling-yet-lovable, xylophone-happy assistant Blanche.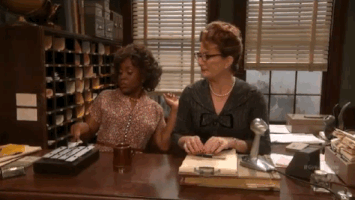 I'm not alone with my love for Wood's Blanche portrayal, either – I'm joined by Anna Kendrick, who truly deserves her own spot on this list for her beautiful live-tweeting during the show.
Elle McLemore as Patty Simcox
Ah, the Student Council Vice President nominee we all love to hate: Patty Simcox. I could honestly take or leave Patty in the movie, but McLemore gave her depth that almost made me sympathize with her a bit. Plus, she was totally over the top – making all of us simultaneously also kind of side with Rizzo here about how much is too much.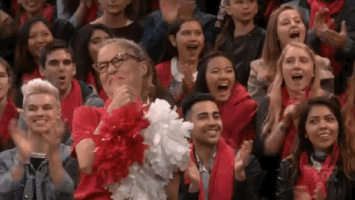 THAT DANCING
Between Aaron Tveit's "Greased Lightning" moves and Julianne Hough's cheerleading audition routine (an AWESOME addition to this show, and a moment where Patty's character gets some development too!), we weren't sure how much more our hearts could take.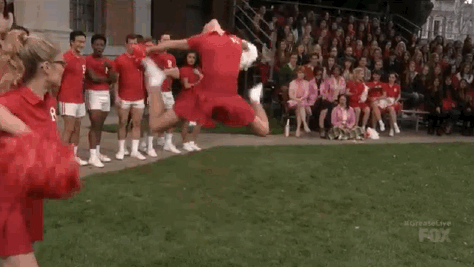 Then they started bringing out crazy flips at the dance that even Saturday Night Fever-­era John Travolta would have to admit were insanely impressive. Can we take a dance class with Julianne Hough and Aaron Tveit? Is that a thing?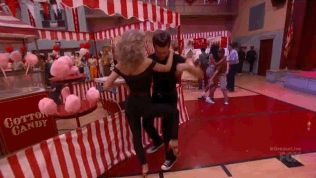 Boyz II Men winning our hearts like it's 1995 all over again
Hands up if you were one of those kids/preteens who heard "I'll Make Love to You" in the mid-'90s and weren't sure how to feel but knew there were feels. Just me? OK cool. Well, let me just say that now, at 30, all those feels are now on the surface because these guys as Teen Angel(s) were everything. Frankie Avalon who? (J/K, Frankie Avalon is also an absolute legend).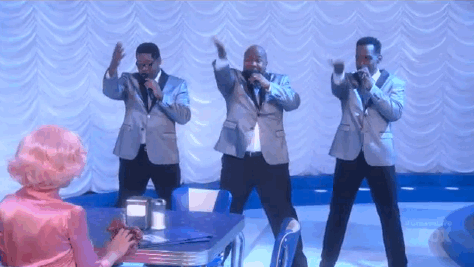 If you're a little younger than me, though, Grease: Live had you covered too. Joe Jonas as Johnny Casino? Come on. What didn't they think of?
The costumes, straight out of the movie
Can we talk about the costumes for a minute? The design team really committed to the movie here. Sure, there were the obvious costumes, like Sandy's skin-tight leather cat suit in the end scene, and the Pink Ladies' jackets. But even the more casual clothes (like Rizzo's sleepover outfit) were given major priority. As a huge fan of the film, I appreciated this greatly.
I also respect that they had to make a few changes to some of the looks, but for good reason. Like giving Rizzo a dress for the dance inspired by the original but not quite as tight, so she could bust out moves like this more realistically. NOT COMPLAINING.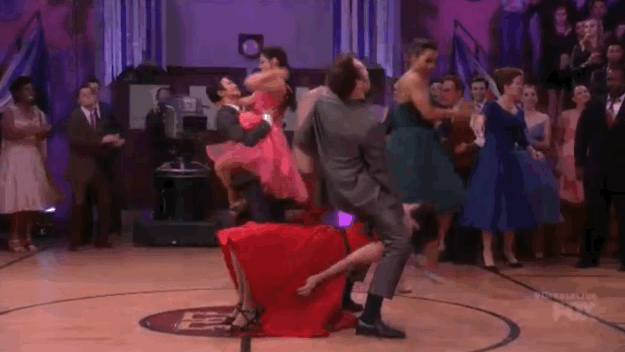 The nods to the film, both obvious and subtle
Aside from the costumes, all of our favorite quotes were included – to the point where I was quoting along so much my husband was like, "How many times have you seen this movie…?"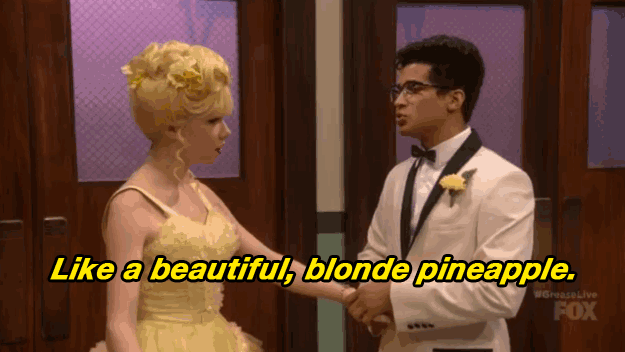 Aside from the quotes, though, even the mannerisms were directed to be like the movies. This is little stuff, like the way Cha-Cha signaled the start of Thunder Road. I talked to my mom about it, and she said, "Even the way she throws her head back was the same!"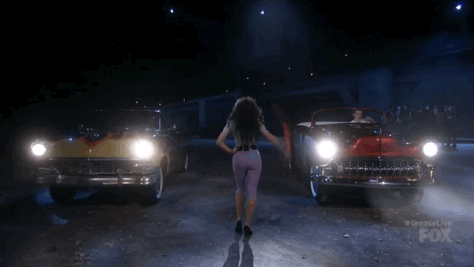 And let's not forget how Danny and Kenickie hug it out. You could tell me this is John Travolta and Jeff Conaway and I'd have to look a few times. Nailed. It.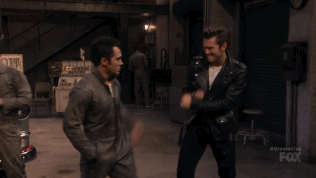 Kether Donahue as Jan
I admit I had never heard the name Kether Donahue before Grease: Live, and now I sort of want her to star in everything ever made (that's totally not too much to ask, right?). From her adorably nasally voice (which somehow made her more endearing), to her hilarious one-liners, to her refusal to take crap from anyone who made her feel less than worthy, Donahue gave Jan an edge that has pushed her into being one of my favorite characters now.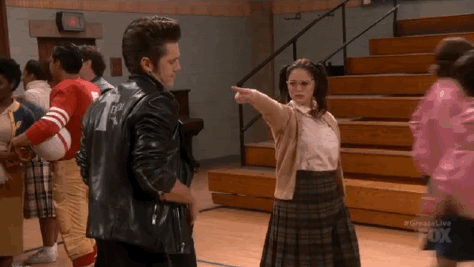 Grease is in my top three favorite musicals of all time; I used to watch it over and over again with my mother as a kid (and obviously miss all the adult jokes). She, my brother, and I were at the movie theatre to watch it the day it was re-released for its 20th anniversary in 1998; I was 13, and my brother was 11. To this day, "There Are Worse Things I Could Do" is still my number-one go-to shower song. Grease: Live was everything I wanted, and I can't wait to watch it again (and again, and again, and again).
There was one pretty big change in "Grease: Live" and here's how people felt about it
Just some celebrities who loved "Grease: Live" as much as we did
(Featured image via FOX; GIFs via FOX/GIPHY/Tumblr here, here, here, here, here, here, here, here, here, here, here, here, here, and here