For Grease's 40th anniversary, I recreated Sandy's iconic "bad girl" makeup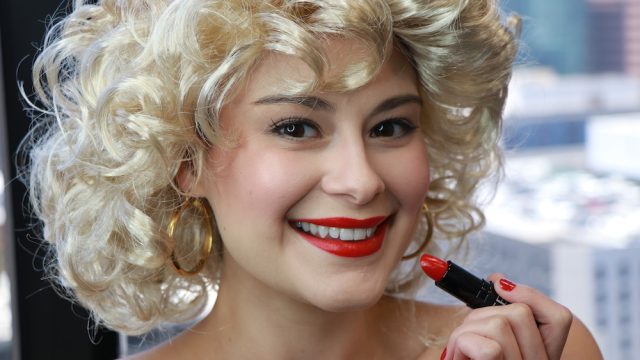 Grease is one of my all-time favorite movies, and while I know that sounds cliché, it's true. When I was little, I would pop in the VHS and watch it on repeat. I even had outfit changes during the movie. I would put on my 1950s-style yellow skirt and tie a yellow scarf around my neck to emulate innocent Sandy, and then when the carnival scene would come on, I'd change into a black leotard and slide on my pink plastic heels. It was a full-on production.
That's why I was super excited to channel Sandy and recreate her memorable "bad girl" makeup. Since Grease is turning 40 on June 16th (can you believe?), this was the perfect time to throw on my faux leather jacket, leggings, and gold hoops. And I love having an excuse to wear a blonde wig. It doesn't hurt that Sandy's makeup is timeless: her red lips, smoky eye, and blush are still very much in style.
To see how I recreated Sandy's iconic "bad girl" look, keep on reading.
Yes, I'm holding a lollipop stick in my hand because it was the only thing in our office that looked like a cigarette.
Step 1: Base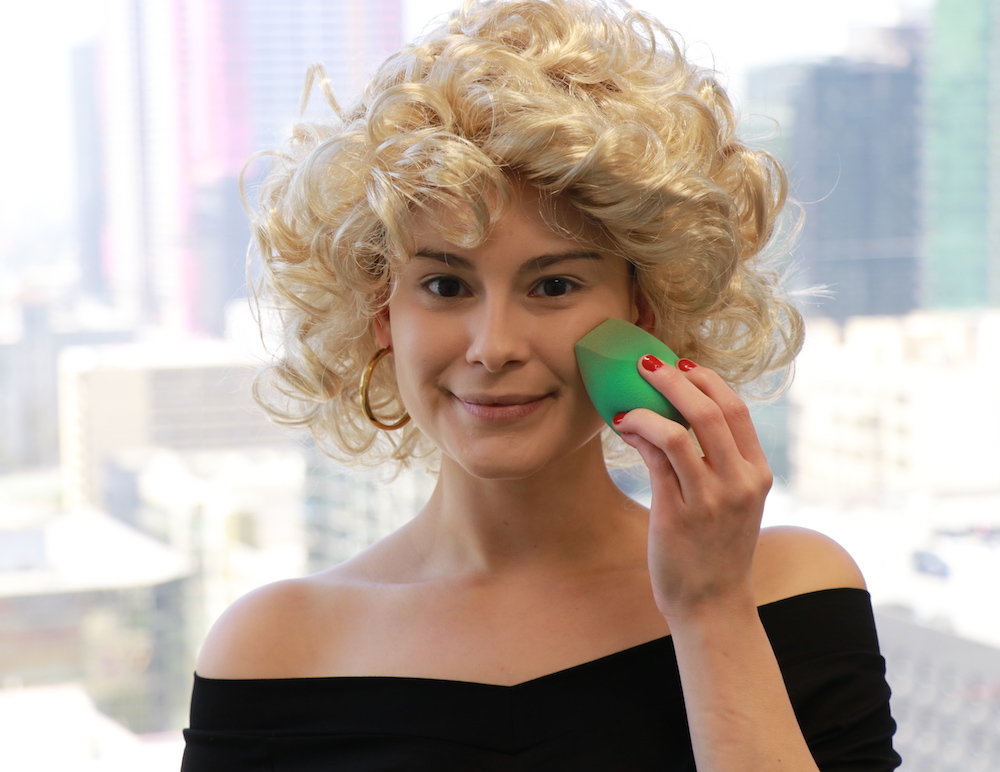 To start, I prepped my face with the Image Skincare Prevention+ Daily Ultimate Moisturizer SPF 50 ($39). Next, I primed with the Huda Beauty Complexion Perfection Pre-Makeup Base Primer ($35). For foundation, I used Benefit's new Hello Happy Soft Blur Foundation in the Shade 2 ($29). Because my skin is not as perfect as Sandy's, I used the Laura Mercier Flawless Fusion Ultra Longwear Concealer ($28) to hide a bit of redness and pimples. Lastly, I applied the Essence Brighten Up! Banana Powder ($4.99).
Step 2: Cheeks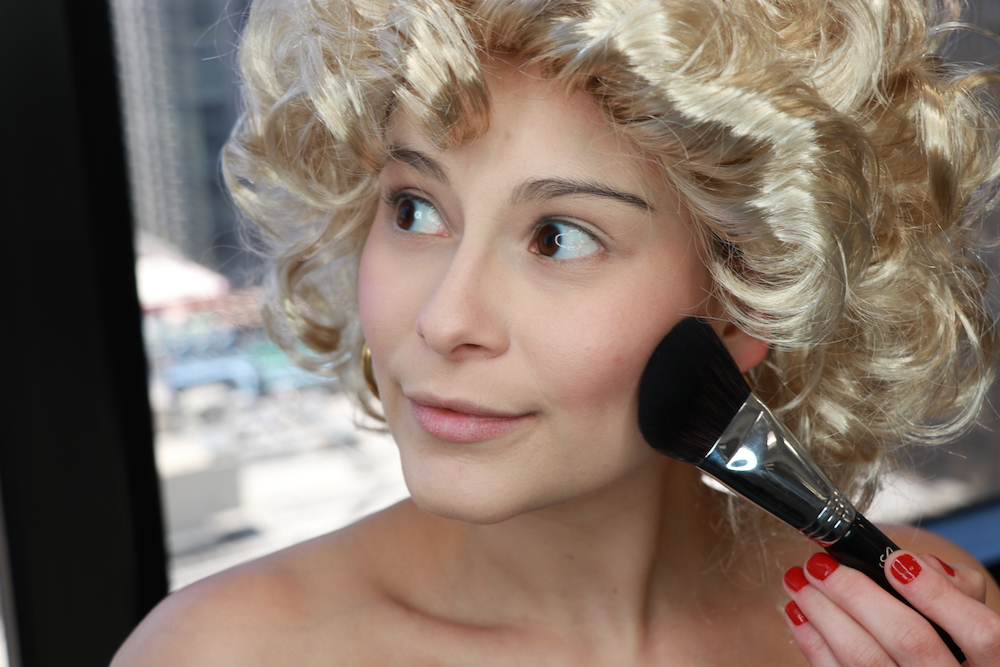 I didn't realize this until now, but Sandy has a ton of blush on her cheeks (it's almost as if she contoured with blush). While she does have a bit of bronzer, her blush is the center of attention. To make this a bit modern and a little less 1978 (when the movie came out), I added a light pink blush from Milani Cosmetics in Dolce Pink ($6.99). I applied it to the apples of my cheeks, and took it further and brushed it back towards my ears to contour. For actual contour, I used the Physicians Formula Murumuru Butter Bronzer in Light ($13.23), but I used a light hand.
Lastly, to give my skin a radiant glow like Sandy's, I dusted the first three top shades of the Hourglass Ambient Lightning Edit in Volume 3, but any subtle highlight will do the trick.
Step 3: Eyes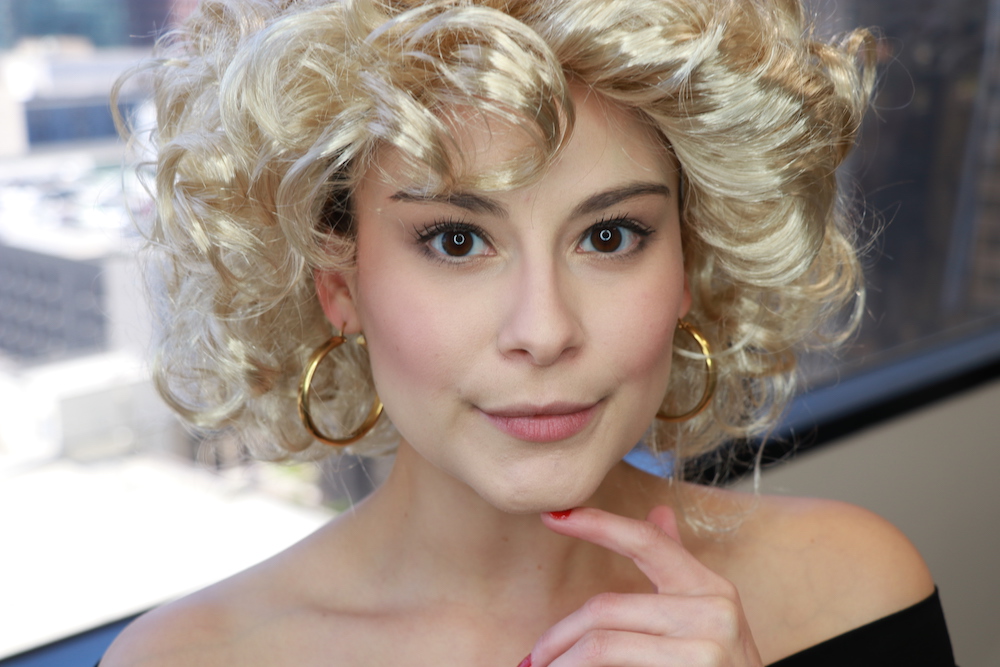 I always thought Sandy had minimal eyeshadow, like a pop of champagne on her lids and some neutrals, but upon closer inspection, I realized she has an ashy gray shadow with deeper browns mixed in.
For my shadow, I used a throwback item: the Urban Decay Naked Palette 2 ($54). I dusted the shade Foxy over my lids and added Booty Call and Half Baked to my brow bone. I wanted to mimic Sandy's golden brow bone, and those two shades worked perfectly. For my crease, I used the shade Tease and then went over it with the gray Pistol (I used a light amount with this one). Next, I dusted Verve on my crease to add more gray dimension. Then, I added Half Baked to my inner corner and dragged it towards the middle of my lid.
For my liner, I used ModelCo's Feline Kit Liquid Eyeliner ($29). I love that it comes with a tool. I also noticed that Sandy doesn't have a major cat-eye. It's actually pretty subtle, so I didn't extend my wing far out. Since Sandy's lower lash line is smoked out just a smidge, I applied the Charlotte Russe Line It Up Kohl Eyeliner in Drama Black ($5.99) on the outer corner of my lower lash line.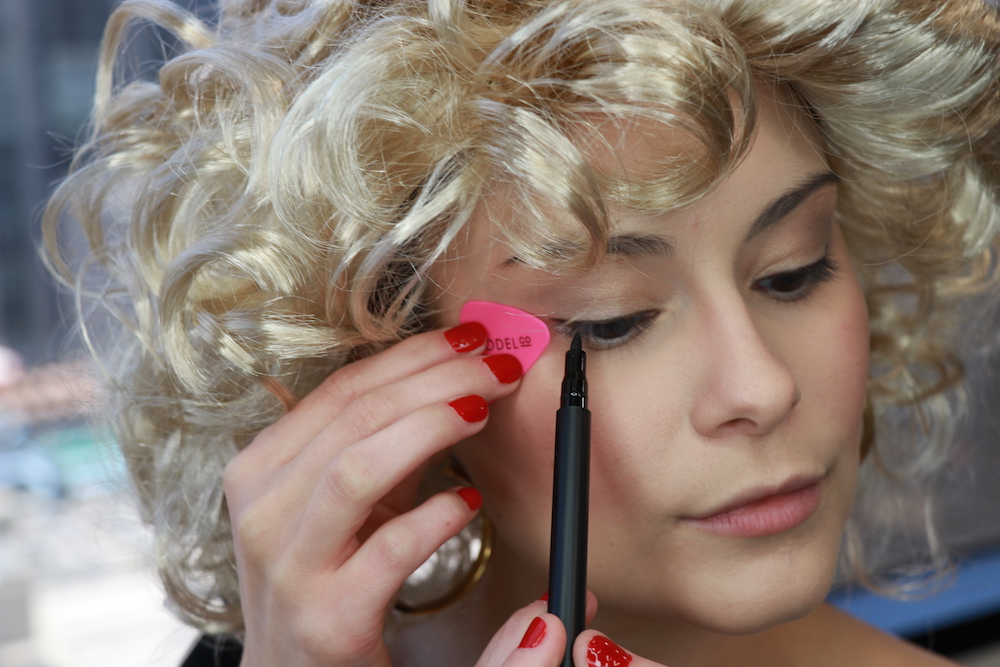 To give my lashes some oomph, I used the Lune+Aster Formidable Lengthening Mascara ($22). Since Sandy's lashes aren't crazy full or long, I kept it to one coat. I also applied the Lune+Aster Stratosphere Volumizing Mascara ($20) to my lower lashes. Lastly, I filled in my brows with the Flower Beauty Brow Vixen Tattoo Effect Stain in Soft Brown ($9) and sealed it all in with Benefit's Gimme Brow Volumizing Brow Gel ($24).
Step 4: Lips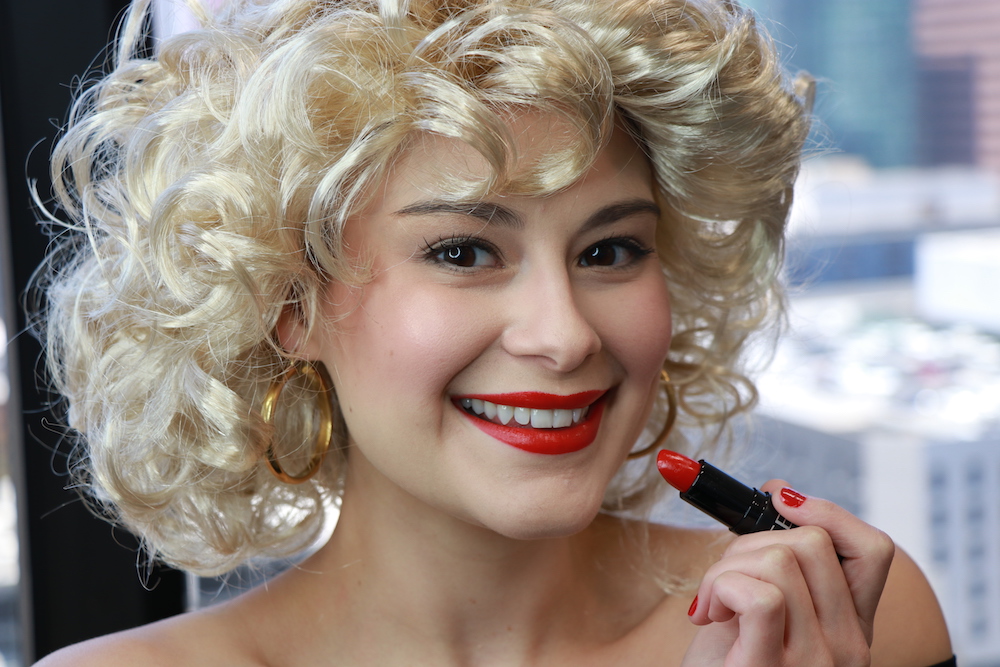 I noticed that Sandy's lips aren't matte. Her lipstick has a nice glossy, sheen to it, so I used the Note Cosmetics red lipstick in Rosy Spice ($10.99) and the Kat Von D Beauty Lip Liner in Rosary ($18). And voilà, I'm the bad gal version of Sandy.
Tell me about it, stud.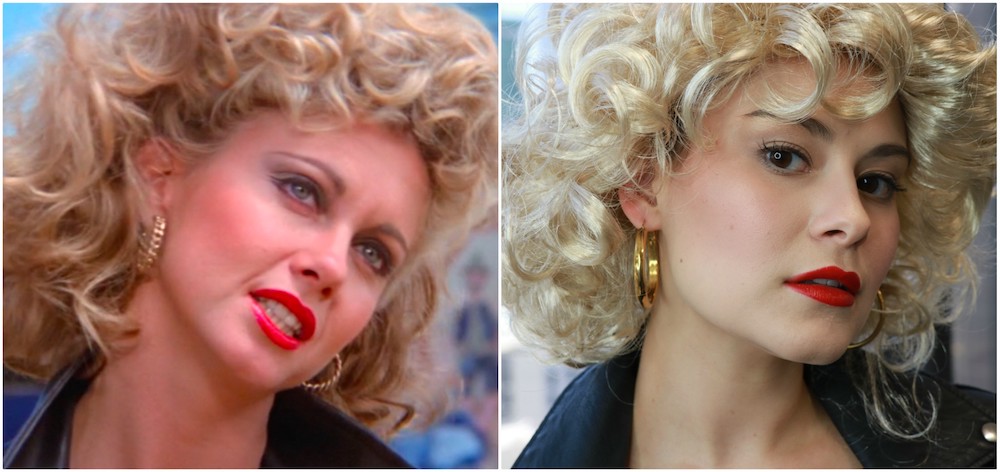 When your outfit is "electrifying"…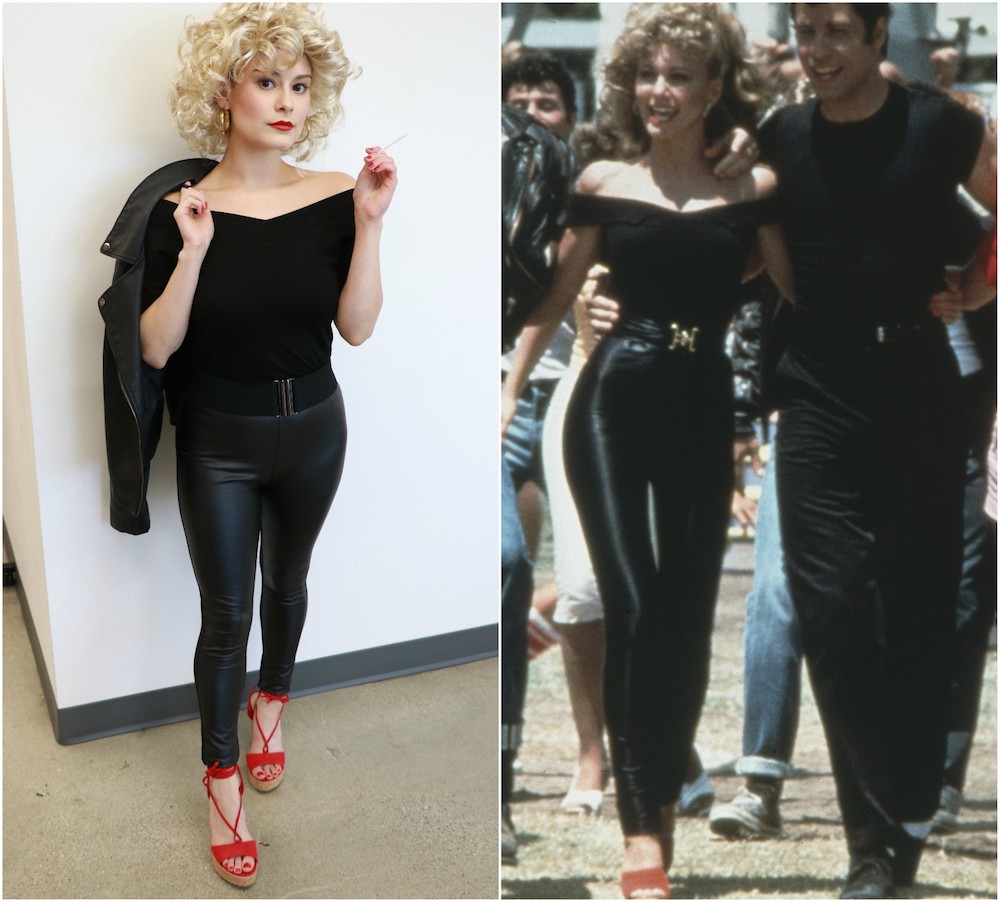 To complete my lewk, I found the Sandy wig ($11.80), black off-the-shoulder tee ($15.99), and black belt ($10.99) on Amazon. The red-hot sandals were sent to me by Shoedazzle ($19.99, VIP offer), and the earrings, leggings, and leather jacket were items I already owned. As for my nails, I used the O.P.I nail polish from the Grease collection in the shade Tell Me About It Stud ($10.49).
When you tell him he "better shape up"…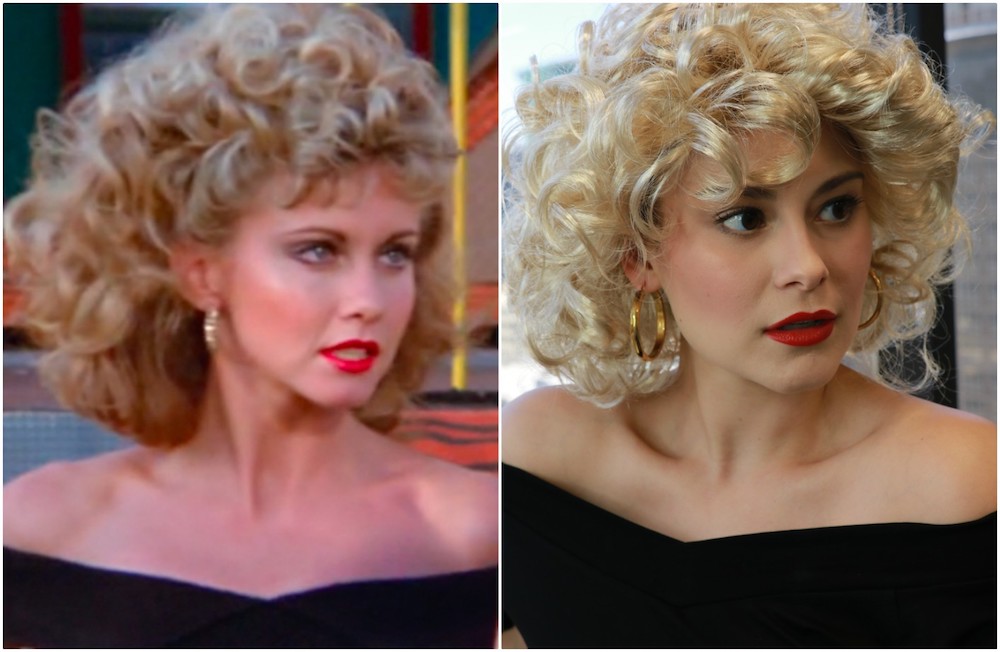 So while you're recreating this look, make sure to pop in Grease and blast "You're the One That I Want." At least that's what I'll be doing.