9 celebs rocking the "grandma glasses" trend (and where to buy them)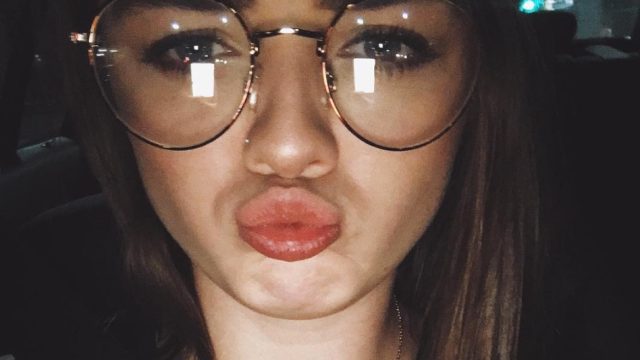 While you may not have believed it in middle school, these days when it comes to glasses, the bigger the better. In fact, the more your glasses look like something you'd find stowed away in your grandmother's desk drawer, the more we want them on our faces — and it's not just us! Celebs all over are hopping aboard this train, proving that all you need is confidence and you can pull off any look.
We rounded up nine of our favorite four-eyed celebs, and found geriatric-chic glasses similar to (and sometimes exactly the same as!) the ones they're donning in their picture perfect selfies. Check them out below:
1. Hilary Duff
Thick and thin, these glasses have the best of both worlds.
Buy here.
2. Maisie Williams
These glasses make Maisie look like the cutest little bug and we wanna be one, too!
Similar here.
3. Rashida Jones
Classic and sophisticated, just like Rashida.
Similar here.
4. Demi Lovato
Demi keeps things simple with thick black frames.
Similar here.
5. Emily Ratajkowski
Emily's glasses are almost as delicate as she is.
Similar here.
6. Uzo Aduba
There's something futuristic about Uzo's grandma glasses and we're into it.
Similar here.
7. Tavi Gevinson
These muted glasses are perfect for spending all day knitting on the couch — or whatever your inner grandma does.
Similar here.
8. Ariana Grande
Serious cool teacher vibes from this pair.
Similar here.
9. Hannah Simone
Is there anything more satisfying that a clean, shiny pair of black glasses?
Similar here.