Grammy nominees as pancakes, just because the world is an awesome place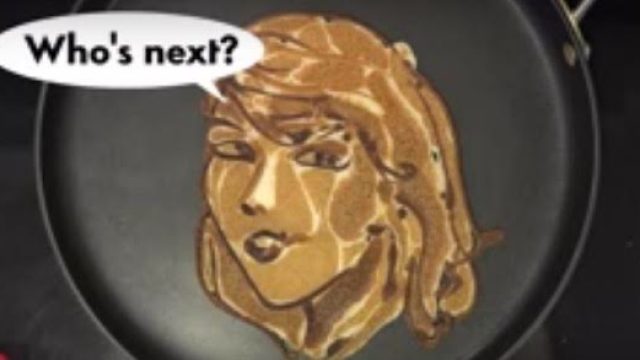 Tonight we'll be tuning in for the 58th Grammy Awards, which will bring out the biggest names in music. Taylor Swift, The Weeknd, Nicki Minaj, basically everyone we love will be there. But, as exciting as it is to have all these famous faces in one place, we actually found an even better place for these famous faces: on pancakes.
That's not just wishful thinking, someone has actually turned these talented humans into edible works of art. Nathan Shields of Saipancakes has transformed our favorite Grammy nominees into pancakes! You read that correctly. Taylor Swift, The Weeknd, Nicki Minaj, and more have all been drawn in pancake batter!
This uber-talented artist is mesmerizing to watch! And he's a super good guy too — according to his bio, he's an "illustrator, math teacher, and professional dad." He got into pancake artistry in an effort to entertain his kids with silly pancakes during a nine-month adventure in Saipan.
In honor of today's big event, he made some special pancakes that are perfect replicas of some of the biggest names in music.
Taylor Swift:
https://www.youtube.com/watch?v=QDYgAa_ncig
We'd never imagine this pancake in our "Wildest Dreams." LOL.
Nicki Minaj:
https://www.youtube.com/watch?v=pfE61tVVIqg
"The Night is Still Young," but we're pretty sure it's not going to get any better than this!
The Weeknd:
https://www.youtube.com/watch?v=BtLdCWUtBrw
This gives new meaning to "Can't Feel My Face." Get it?
These are so amazing they're almost too good to eat… Almost. I mean, they're pancakes so we're going to, obviously. But man, really impressive. Pass the syrup, please?