This amazing graffiti hair is the technicolor trend of our dreams
Just when we thought we'd seen every hair trend out there, hairstylist and artist Janine Ker is blowing our minds with her absolutely stunning creation: graffiti hair.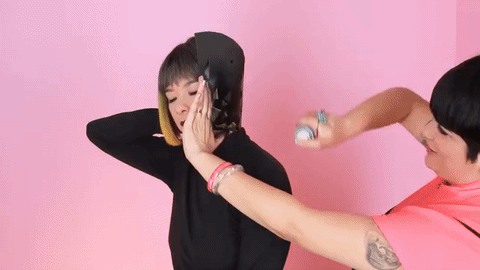 Graffiti hair involves using stencils to spray on gorgeous designs of your choosing directly onto your hair.
"I saw hair stenciling a while back, and it inspired me, especially because I am an artist, and immediately the possibilities came to mind of what my hands could do with these stencils," Janine said in a Buzzfeed video about her creations. "As a hair stylist, it's definitely easy to get stuck in one way of doing things, but being in the beauty industry, we always have to constantly evolve, because beauty is always evolving."
Janine told Mane Addicts that she both makes stencils herself and purchases them at craft stores. As for the spray product, she purchases Instatint, or temporary hair color sprays found at Party City or Walmart.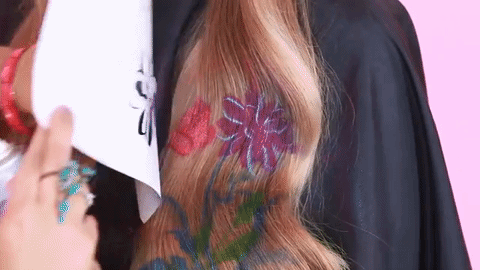 "I feel like the technique suits anyone! It's more about securing the style first and making sure you have an area to create on," she told Mane Addicts. "I suggest a simple updo (top knot, ponytail, twin buns) to start, because it automatically gives you a still surface to spray on."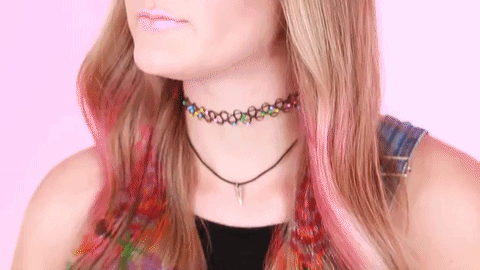 While a general hairspray can make it last longer, the graffiti hair generally lasts one shampoo — and they don't do much damage to your hair at all! "Stencils make art-making easy for everyone and anyone," she told Mane Addicts. "I would definitely suggest partnering up with a friend to do each other's hair, but I have seen individuals do really cute designs on their own!"
Check out the video below to watch Janine's work in action. We're *def* rocking our own graffiti hair for our next summer party.