Model Grace Elizabeth talks about skin care must-haves, and how her life has changed since becoming the face of Victoria's Secret Pink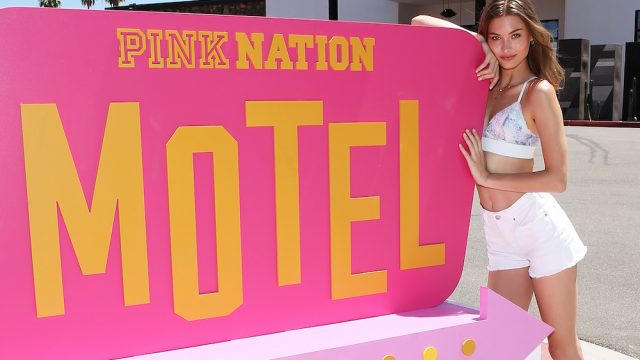 College brand ambassadors for Victoria's Secret Pink line had the surprise of their lives when they were flown out to a secret headquarters in Palm Springs to hang out with Florida-born model Grace Elizabeth. About 100 girls arrived via a giant hot pink bus to an unknown location, which turned out to be a hotel resort madeover as the Pink Nation Motel. The girls participated in ATV rides, a poolside screening of Clueless, hula hoop classes, and, of course, shopping the Pink line with Grace, who is the official face of the brand.
Grace competed in pageants when she was just five years old, but decided to retire her tiara "for some boots and a T-shirt." A stint as a teen modeling prom dresses made Grace realize she liked being dolled up, and her mom sent photos to a few agencies in Miami. She soon signed with Next Models, and became a Guess girl. (Pretty dope first job, right?) Since making her runway debut with Miu Miu, she has walked for everyone from Dolce & Gabbana and Versace, to Chanel and Isabel Marant. And in December 2016, the 20-year-old became the spokesperson of Pink, Victoria's Secret's little sister brand.
In between pool parties, we caught up with Grace at the Pink Nation Motel to talk off-duty style, her style icon (hint: it's a fellow model), and the drugstore face cleanser she never leaves home without.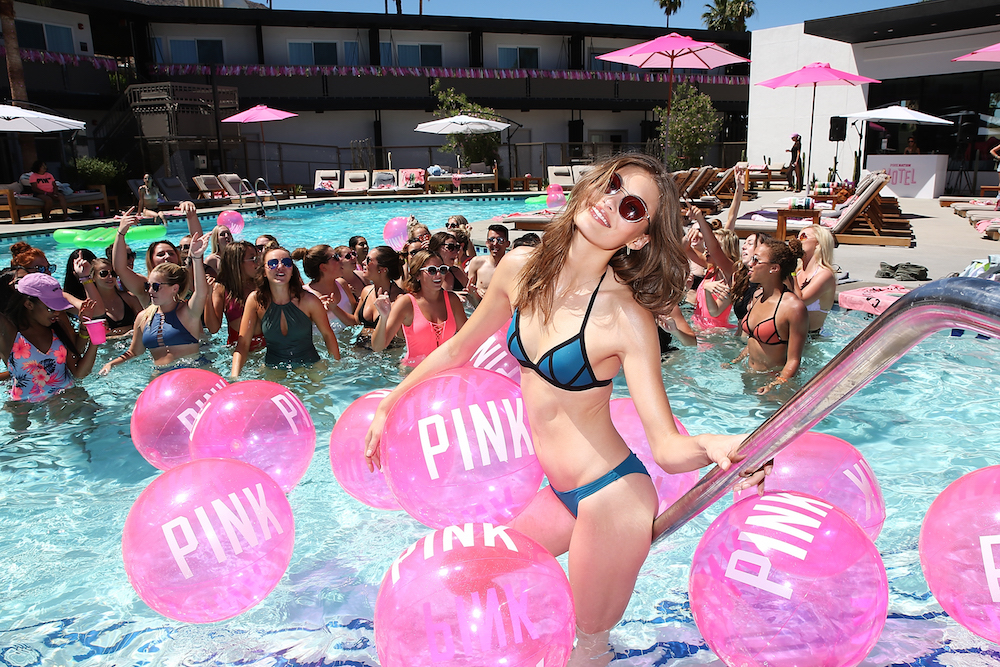 HelloGiggles: How has your life changed since modeling for Victoria's Secret?
Grace: My personal life has changed by having more confidence. My job has let me see the world, it's let me enjoy life to the fullest. I didn't have the opportunities that I have now. And career-wise it put me in a whole other platform. I work for Chanel, Fendi, all these high-fashion brands that didn't know who I was before.
HG: What's your skin care ritual like?
Grace: Luckily I have good genes. My momma passed on her good skin, but I use Cetaphil for cleanser and coconut oil is really amazing on the face after really hot days here in the desert. I'll put some coconut oil on my face for the flight home. I love RMS concealers and their cheeks, which I actually use on my lips. I use coconut oil in my hair and I use tons and tons of sunblock. Estée Lauder makes a really good one.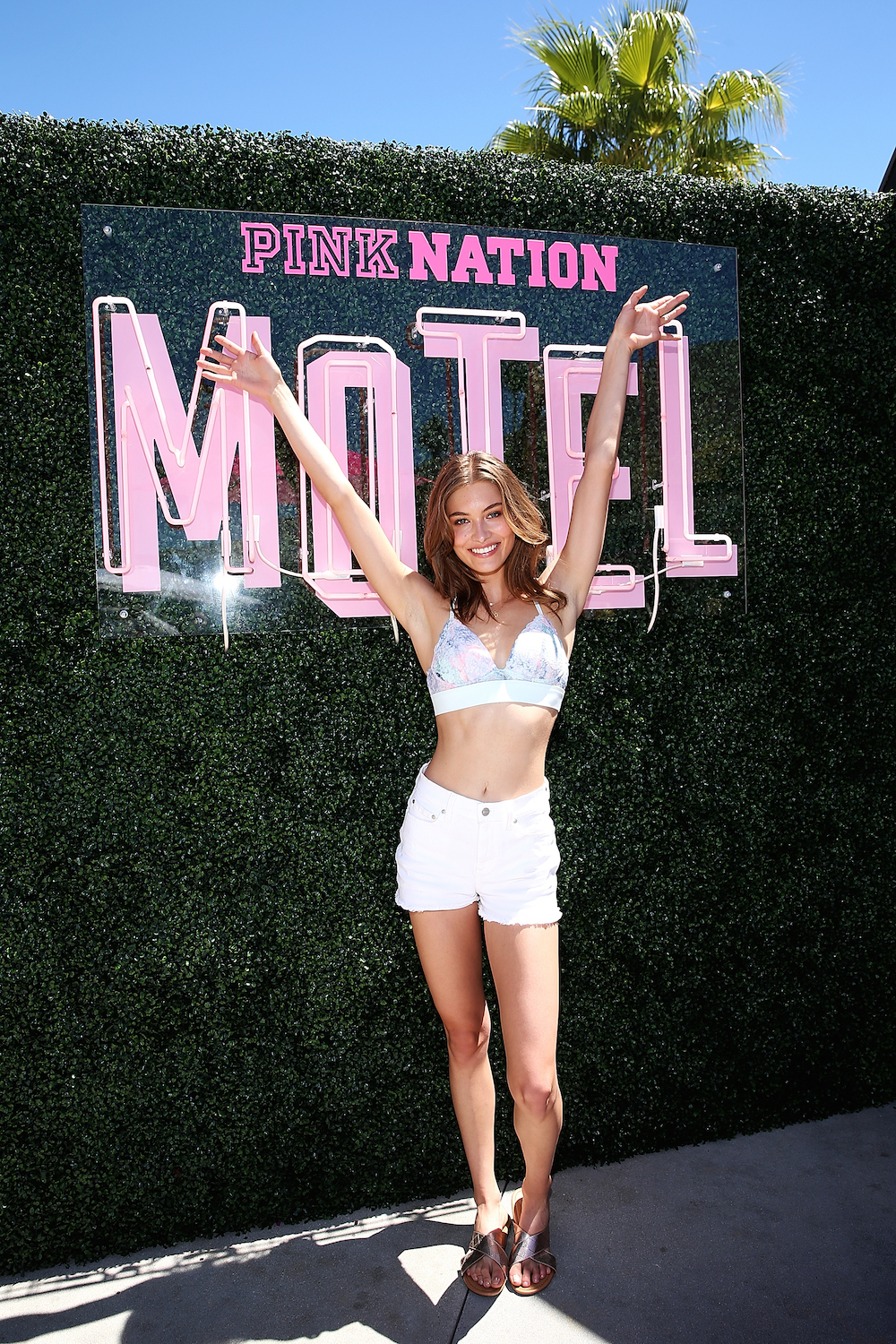 HG: Do you have any  other drugstore beauty go-tos?
Grace: Batiste dry shampoo.
HG: What other beauty products do you always carry with you?
Grace: I always carry Estée Lauder's Night Repair Eye Cream. It's very good for all over. I don't really wear a whole lot of makeup, so when I do it's just a nice thick mascara, maybe one from L'Oréal, and then good little BB cream.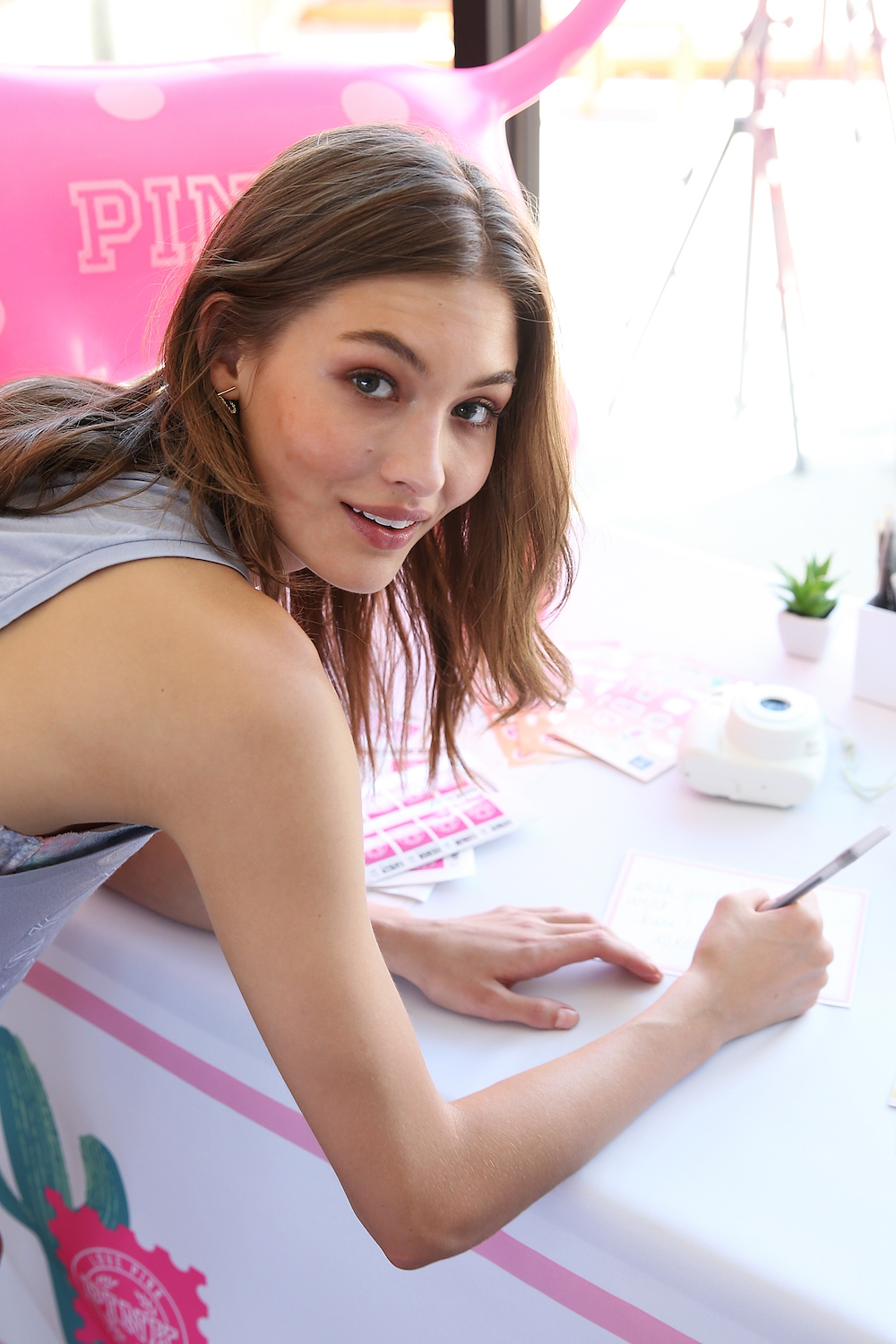 HG: What are some of your favorite items from the Pink line?
Grace: Pink has some really nice body mists. They actually stocked our rooms with their two-in-one wash and body scrubs. They smell very, very nice.
HG: Is there a beauty splurge that you think is totally worth it?
Grace: Sephora makes some really nice eye masks. They have rose petal, and all different kinds. They have some for brightening, for taking away puffiness, redness. You just go there and stock up on every one they have because we all need eye masks.
HG: How would you describe your off-duty, personal style?
My personal style is very laid-back, casual, '70s rock and roll. I love denim, can never go wrong with it. I'm normally in high-waist denim shorts or pants. During the summer, I'm in bras like the Wildflower Lace Bralette I'm wearing right now. I'll wear this lightly-lined, triangle lace bralette with a denim jacket at night if it gets a little cold. Leather jackets are always nice. I always have one in my closet.
HG: Are there any beauty or style icons that you love?
Grace: Gigi Hadid and Bella. I love their style. They are denim girls as well. They love their leather jackets, they love fringes. Gigi knows how to dress for whatever occasion it is, whether she needs to look formal at a business meeting or look like a rock and roll bad chick, she just knows how to dress.
HG: What was the last thing you bought online?
I'm a very big online shopper. I just bought some shorts from Urban Outfitters.
HG: What's your favorite place that you've traveled to so far?
Grace: Mykonos, Greece. Mykonos is one of the most beautiful, pristine, untouched places. I was fortunate to spend two weeks there with my mother and we had the time of our lives. We rented ATVs and just rode around on these little tiny roads all day.
HG: Are there any specific beauty products that you always have with you when you travel?
Grace: I always take Cetaphil cleanser with me, Aquaphor to keep my lips hydrated, and…you know the contact lens case that you put your contact lenses in? I put coconut oil in those and take it with me since you can't really lug a big jar of that in your carry-on.
HG: That's a good tip. Has there ever been a beauty trend that you tried that went terribly wrong that you'll never do yourself again?
Grace: Well, the whole smoky eye, I can't do it on myself. I'm not sure what it is, but I always have one eye that's very, very bold, and then the other one is kind of like, underneath the eye. There should not be any eyeshadow on my cheek, but there is. That's where I become artistically challenged.
You can keep up on Grace Elizabeth's adventures on her Instagram and shop the Pink line here.