Gourmet Ring Dings exist, and they look exactly as amazing as they sound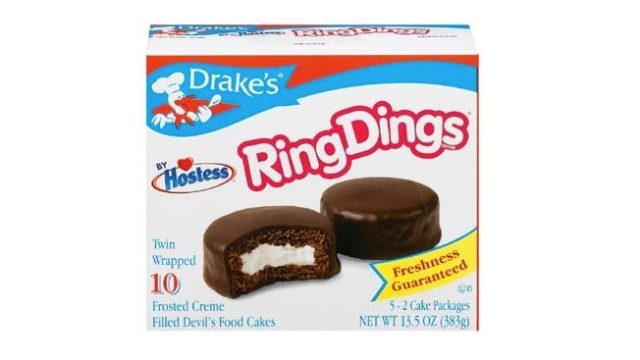 Nothing is better than when our childhood favorites are given a grown-up twist, so we practically squealed when we saw these gourmet Ring Dings. They are truly the most beautiful creation to grace our Instagram feeds in a long time…and give a new definition to 'dessert goals,' if we do say so ourselves.
Oh yes, it's true: New York City bakery Duane Park Patisserie has specialized in fancy Ring Dings for years, but these aren't simply a professional version of the Drake's Cakes we loved growing up.
These Ring Dings come in incredible flavors like Funfetti, red velvet, and strawberry shortcake.
And the good news is, you can get 'em even if you don't live in NYC.
The first-ever female chef at New York's famed Plaza Hotel (and a Chopped champion to boot!) Madeline Lanciani has been crafting these artisanal Ring Dings for a few years, and New Yorkers have been coming out in droves to try the delectable handheld desserts. She first launched the Ring Dings at Duane Park Patisserie in Tribeca, before debuting them at the Ring Ding Bar at food haven Smorgasburg in Brooklyn in 2016.
These mini-cakes are handmade by scratch using all natural ingredients, so there's nothing processed about them (sorry, boxed goodies!).
Lanciani has created 14 specialty flavors and five seasonal selections, including Nutella, PB&J, and chocolate-covered cherry. Of course, you can go for the classic original, which features chocolate cake, vanilla cream filling, and a dark chocolate coating, if you're a dessert purist.
Even better than the mouth-watering flavor selection? Several of her cakes are allergy-friendly, including gluten-free or nut-free, so no one is left behind.
If you're local to NYC, you can check them out for yourself at Brooklyn's Smorgasburg. For the rest of us, thank goodness for online ordering.
https://www.instagram.com/p/BUNR4XSB3z2
Handheld heaven, indeed.