The goth bagel is here for all of your gloomy breakfast needs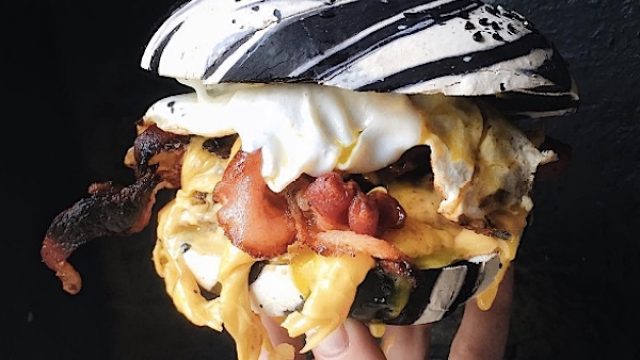 Goths, prepare your stomachs, because you're about to meet a breakfast food that is as dark as your SOUL. If you scoffed at the whimsical rainbow bagel that flooded your Instagram feed earlier this year because it was too colorful for your eyeballs, this might be the carb of your dreams.
Please say hello to this black-and-white bagel burger, made at Black Tap restaurant in NYC.
According to Nylon, the Tim Burton-esque delicacy is the love child of Black Tap and The Bagel Store, the geniuses behind the OG rainbow bagel. The bread is made with black sesame seeds, black sea salt, pepper, and TRUFFLE essence, aka the seasoning favored by those with refined palates.
It's not only goth, boos. It's LUXURIOUS.
https://www.instagram.com/p/BKJdYVBjIQy
Plus, it would perfectly match Kristen Stewart's red carpet outfits, amirite? Aside from that stylish bun, the burger includes Pat LaFrieda beef, bacon, egg, cheese, and truffle mayo. Beetlejuice would totally grub on this.
OUR MOUTHS ARE WATERING.
Black Tap's chef and owner, Joe Isidori, told Nylon that the bagel's coloring is based on Black Tap's colors. Unfortunately, the burg is super limited and only available this weekend, so NYC peeps best get to stepping if they want to gorge on this delight. We're crossing fingers that it's so popular, the Bagel Store ends up bringing it to their stock full time.