New "Game of Thrones" set pictures may have just confirmed a major betrayal and we are like whoa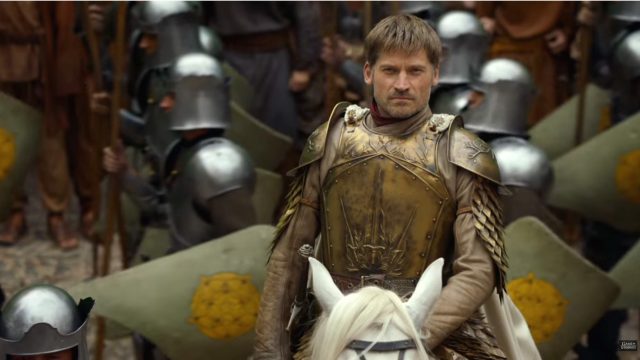 Just a few days ago, we were finally able to get our hands on the latest season of Game of Thrones so we can re-watch every exciting episode in anticipation of the seventh season of Game of Thrones. But, as of right now, that new season is still being filmed. There are lots of theories about what will happen with our favorite (and least favorite) GoT characters as they continue the struggle to get control of the Iron Throne
But new set pictures might have just confirmed a major betrayal and we're struggling to come to terms with it.
 TheWatchers on the Wall reported that the cast is currently filming at Los Barruecos, Spain. And new set photos, snapped by super curious fans, reveal that we're likely going to see another major fight scene next season.
The fight, headed up by none other than Jaime Lannister and a massive host of Lion-sided soldiers, looks like they could be going to — or leaving from — Highgarden, where it's theorized the Lannisters will visit.
You can see Jamie, played by the amazing Nikolaj Coster-Waldau, sitting on his horse and the big WHOA is that he's not alone! There's another major player riding along side him that hints at a big betrayal.
false
The images show what looks to be Randall Tarly, you know Jon Snow's BFF Sam Tarly's father, right there with him and his army, too.
Of course, the Tarly family is supposed to be friendly with the Tyrell family, so this is a big (like MAJOR) change if they switched sides in favor of working with the Lannisters.
But, it also hints that the Tarly family is going to play a larger role this season. And if that means more screen time for the lovable Sam, we're totally down for it.