Zuzanna Szadkowski knows why you still love "Gossip Girl" so much today
Zuzanna Szadkowski, who played Blair Waldorf's maid and confidant on Gossip Girl, spoke with HelloGiggles about how social media influenced the show, what her relationship is like with Leighton Meester today, Dorota's super cute relationship with Vanya, and how Dorota's scheming scenes were some of her favorites.
Just in time for Gossip Girl's 10th anniversary, Szadkowski also opened up to us about how she basically played Dorota on The Sopranos, why she thinks the show has had such lasting appeal, what she's working on now, and more.
HelloGiggles: Looking back to the very beginning, what attracted you to Gossip Girl and to the role of Dorota in the first place?
Zuzanna Szadkowski: I went to acting school and then I was out. I had a couple of TV jobs, like I was on Law & Order a couple times. I totally fell in love with working on camera. I had a job that was basically exactly the same as Dorota. I was a Polish housekeeper on the last season of The Sopranos. I was Carmela Soprano's [Edie Falco] housekeeper for three episodes.
So I went in to audition for Dorota because she was a Polish housekeeper and I had just played one, but they wanted somebody over 60 years old. That was in their character description. I was in my late twenties at the time, and my agent was like, "Well, you already played one of these maids, so they're gonna see you and they know you're not that old." So I went and I totally thought it was not gonna be an appropriate part for me, but I knew that the show had such good buzz because the books [by Cecily von Ziegesar] were so popular.
I didn't think I was gonna get it cause they wanted an older woman. But since I'm Polish, I was like, at least I have the Polish in; I was born in Poland, so I auditioned and I got lucky. I went in and improvised, because the very first episode that Dorota was in, I didn't have any lines at all. So in the audition I was just serving food with no lines.
HG: The fervor for this show is still very much alive today. What do you think the show tapped into that caused people to love it so much, and why do you think it still continues to resonate with people today?
ZS: I think it's a good mix of what makes a good drama: the soapy stuff [and] stuff that we can all identify with, like unrequited love, the feeling of belonging, and high school angst. But then, it was also really funny and really specific to New York City and to this glamorous world. It just had all this detail. But still, it gets really juicy and satisfying. I'm not surprised that people still gravitate toward it. And I do know that there's a whole new audience because as many young people come up to me today that are watching it fresh that watched it back when it was first airing 10 years ago.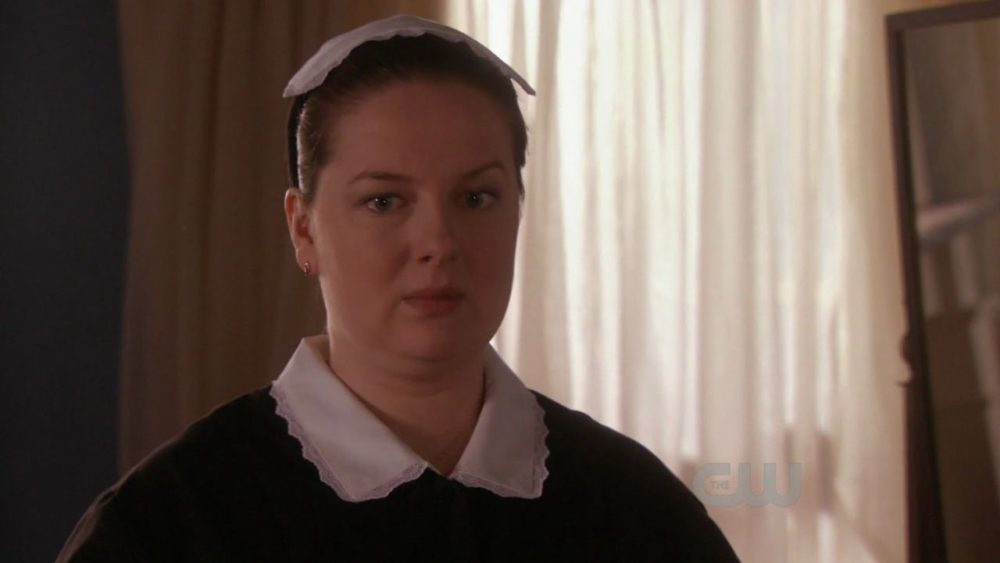 I think it's cool because it still has a great audience, and a really big foreign audience too. I have so much love from all kinds of countries from far reaches of the earth on social media, so I know that people are watching it everywhere and they're identifying with it. Part of it I think is those human questions. Then, these characters are sometimes over the top, but they all have their vulnerabilities and their sense of humor.
I just think that the creative staff was really smart in the way that they developed the relationships and the characters, and I always get a kick out of the show too. I think that it is almost as funny as it is dramatic. It's very watchable, and it's super addictive. I definitely see that because people start watching an episode here or there and then all of the sudden, binge watch the whole thing.
HG: You said that young people come up to you today. So, do you still get stopped often? Do people recognize you and talk to you about the show?
ZS: I'd like to think that I'm a little more glamorous and cute in my daily life than Dorota in her Dorota outfit. So I feel like it's a mixed blessing to be recognized as Dorota in terms of that aspect, but it happens and it happens mostly, honestly, when I have my hair pulled back and I'm in casual mode. But, I do love it. It means so much to me because I feel such a warm feeling about that work on the show, and Dorota was such a favorite role of my career.
I loved the show, too, and I was always a big fan myself. I would be in it and I would watch it, so the whole thing is very, very close to my heart. When people come and recognize me, it means a lot to me and it usually brightens my day. I'm very happy to receive it. Especially [because] it means that people are still watching and they're still enjoying it. It's pretty cool.
HG: What's on your plate now? What sort of projects are you interested in taking on?
ZS: I'm still doing TV stuff, but I'm actually just about to start doing a really cool play that's in New York. It's Peter Pan, but it's gonna be kind of an interesting Peter Pan for adults with this theater company called Bedlam. So I'm excited for that. It's gonna be November and December of this year at the Duke theater on 42nd. I've been doing a lot of cool theater projects.
And I worked on The Knick that Steven Soderbergh made, which you can still watch. It's a really awesome show that was on Cinemax. And I'm gonna be on an upcoming episode of Search Party, which is on TBS.
HG: Would you be interested in doing a teen soap again? Is that something Gossip Girl fans can hold out hope for?
ZS: Oh, totally! I had such a great time working on that show. I would love to do anything like that again. Of course, yes.