The Style In The 'Gossip Girl' Reboot Already Looks INCREDIBLE—See The Filming Photos
Update, November 27th, 2020, 1:09 p.m. ET: Blair. Serena. You have some stiff competition. The original Gossip Girl series was just as admired for its fashion statements as it was for its dramatic plot lines and charming wit. And it looks like the reboot is following closely in its Gucci-loafered footsteps. New images from the production of the Gossip Girl reboot have been released, and guys, we're about to ditch our entire wardrobe and go full prep.
Thankfully, the original Gossip Girl costume designer, Eric Daman, has returned to the Upper East Side and is clothing the new cast in threads that harken back to the early 2000s, but with a modern twist.
Take, for example, Emily Alyn Lind's snakeskin baguette bag paired with that sweet little neck tie and Evan Mock's rugby shirt, untucked button down, and baggy khaki slacks (and pink hair).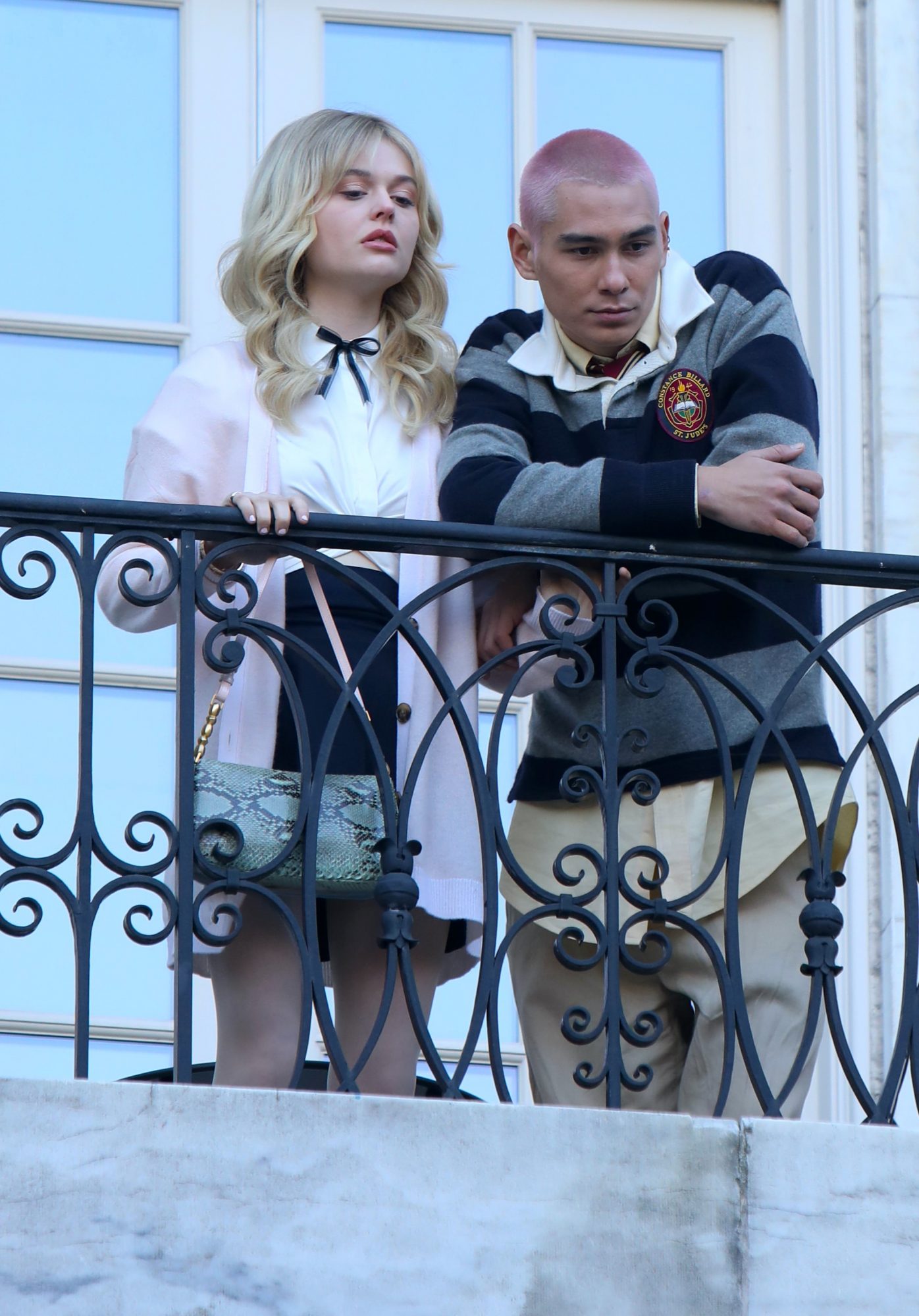 Socks and high-heeled loafers? A must.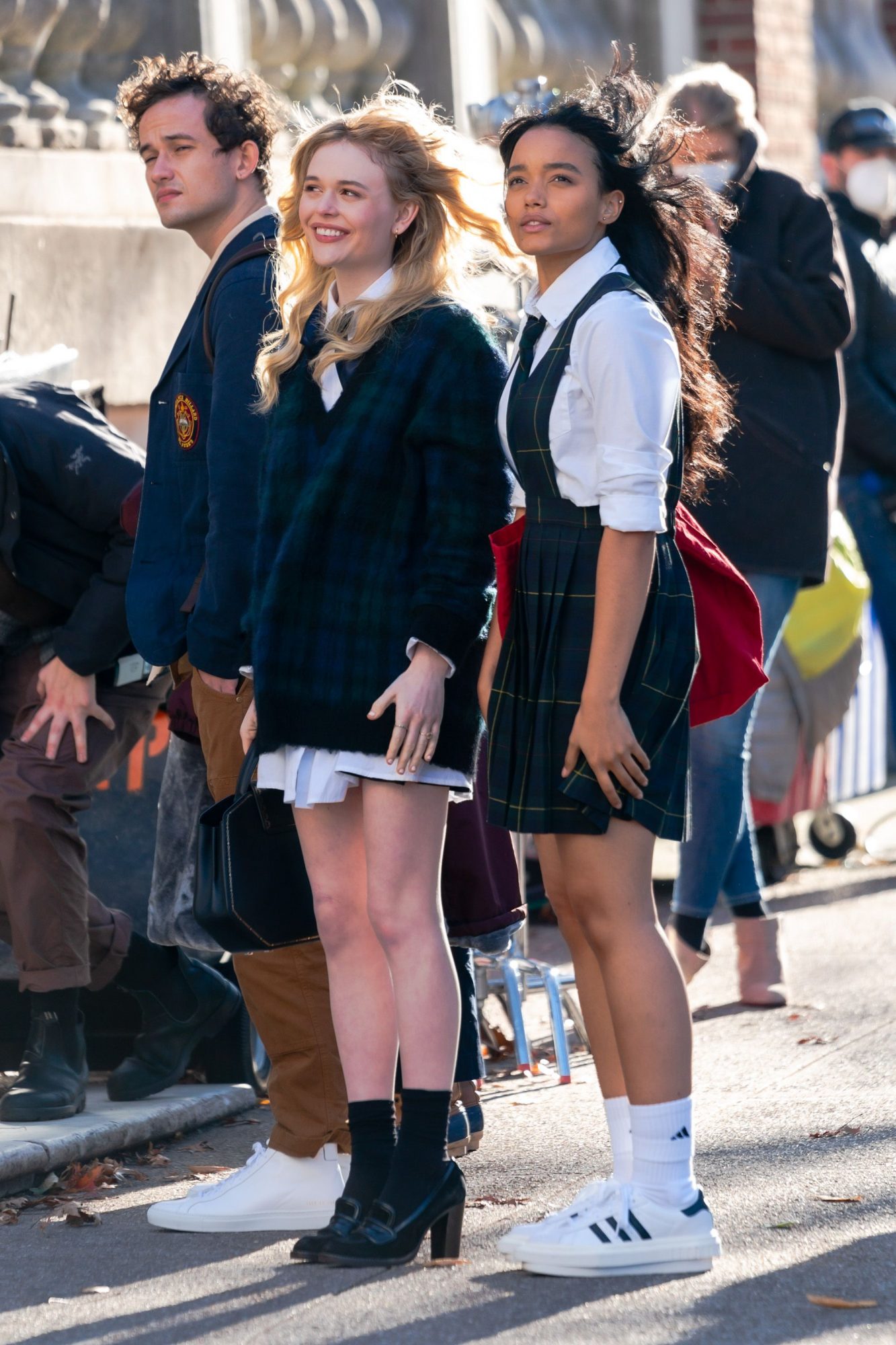 Whitney Peak's home-from-school oversized overalls and scuffed-up platform vans are giving us Katie Holmes in Dawson's Creek vibes.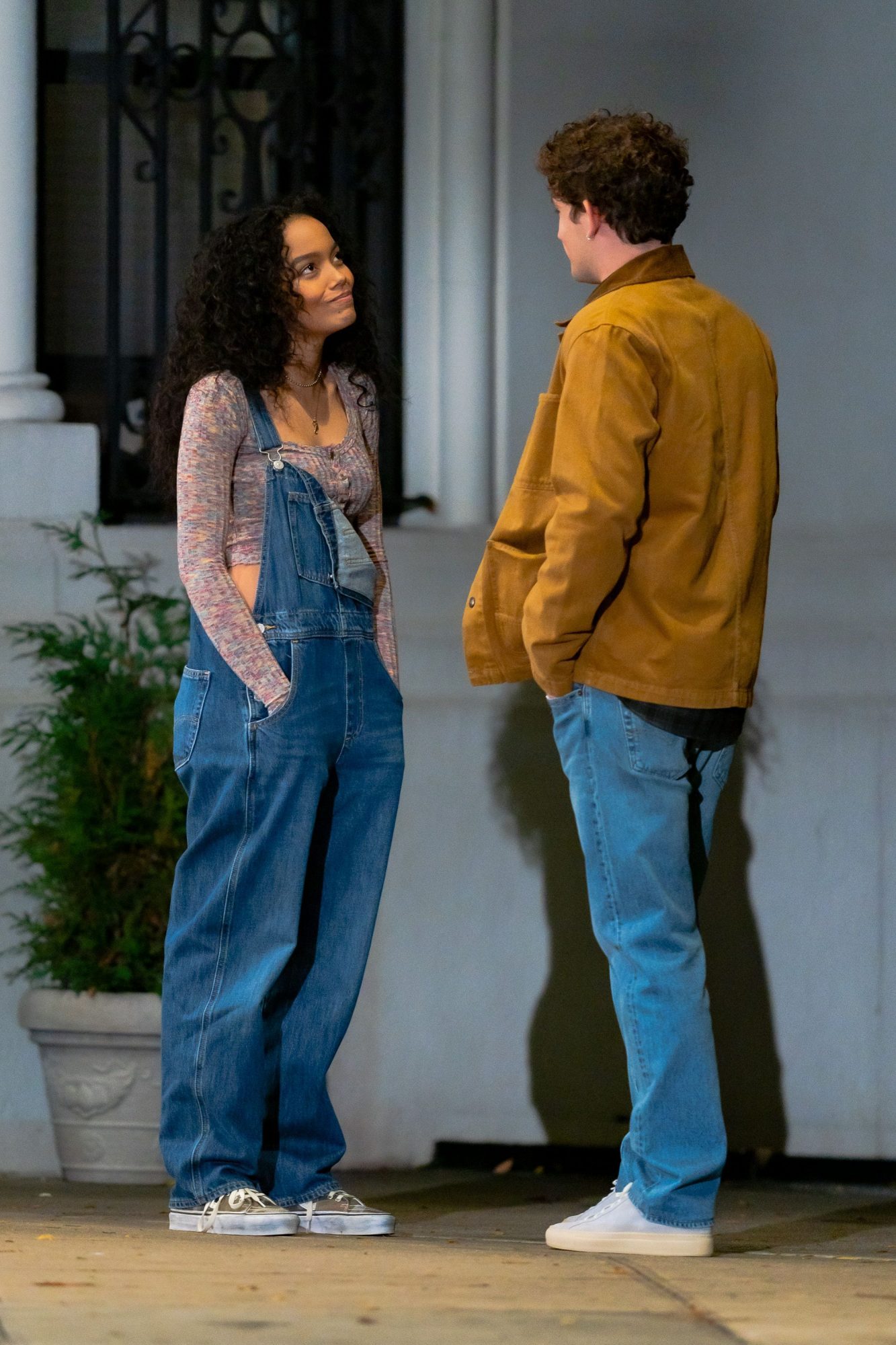 And yes, we're getting formal wear looks, too. Jordan Alexander in Christian Louboutin pants? Waist-high boots? Red-bottomed leather pump leggings? Whatever they are…yes.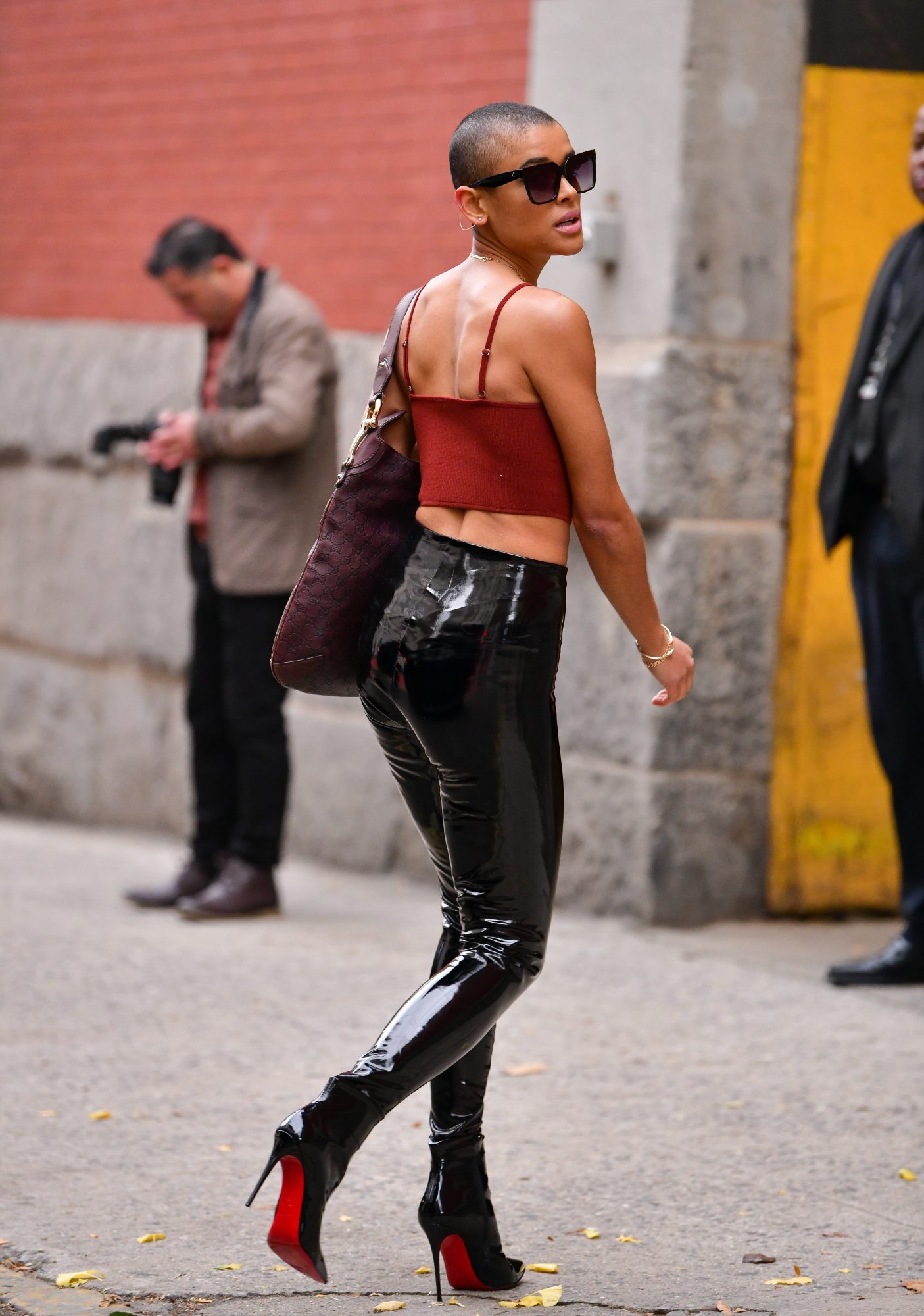 Whatever episode Alexander, Savannah Smith and Zion Moreno are wearing these outfits to, that's already our favorite episode.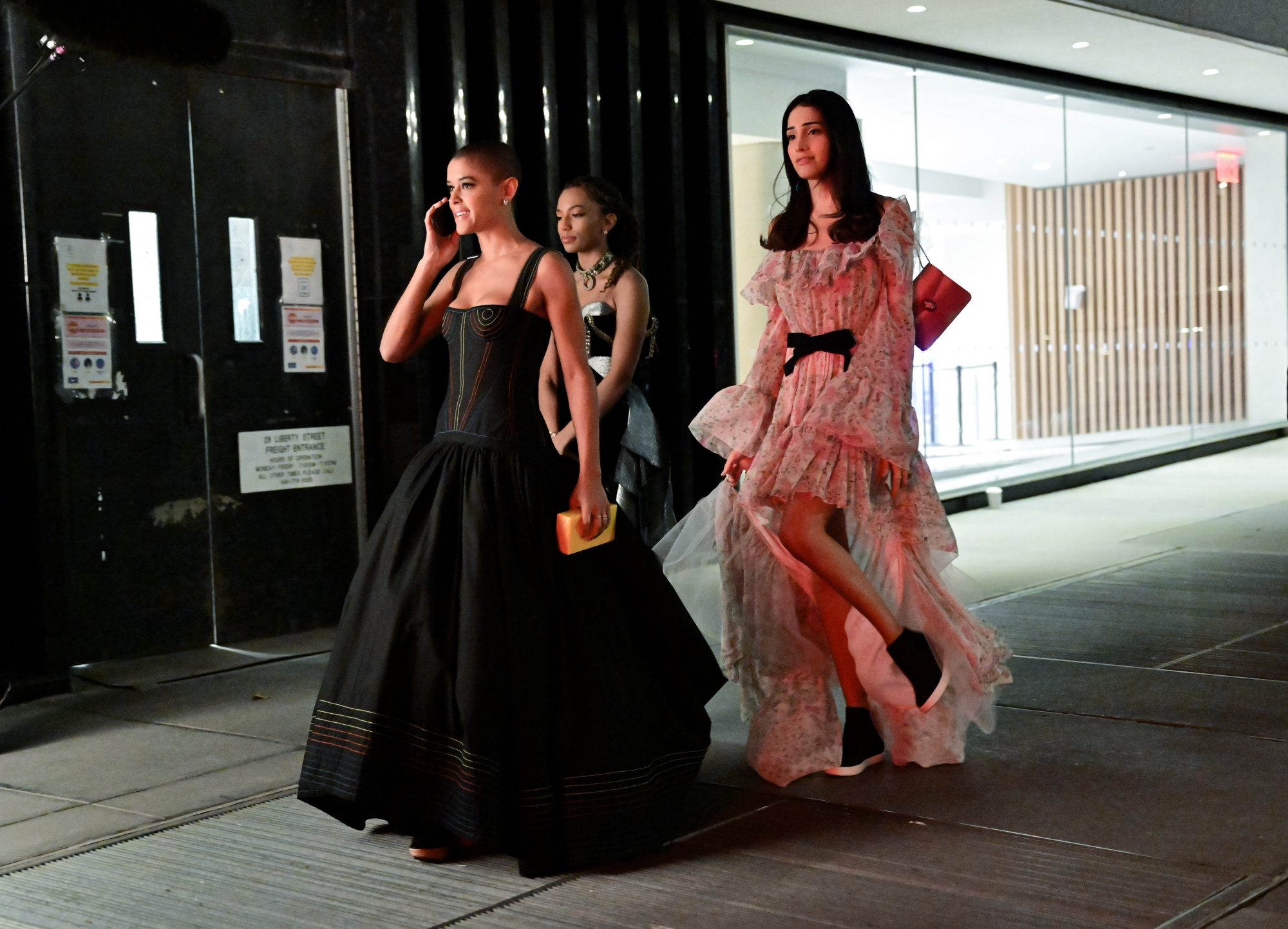 We hope you're Marie Kondo-ing your closet right now because the Gossip Girl reboot costuming is going to rock your world. We. Can't. Wait.
Update, November 11th, 2020, 1:51 p.m. ET: The cast of HBO Max's Gossip Girl reboot has officially taken over the Upper East Side. First photos of the cast filming on the forever-iconic steps of the Met have gone live, and…dare we say that these kids look just as fashionable, rich, cool, and intimidating as the original cast? We dare. We're saying it.
Stars of the upcoming reboot Jordan Alexander, Emily Alyn Lind, Whitney Peak, Thomas Doherty, Zion Moreno, and Savannah Lee Smith were photographed during production yesterday, November 10th, hanging out on the steps of the Metropolitan Museum of Art where Blair Waldorf, Serena van der Woodsen, and company, would rendezvous and rehash the latest scandal. And, guys—get ready to get excited about this show.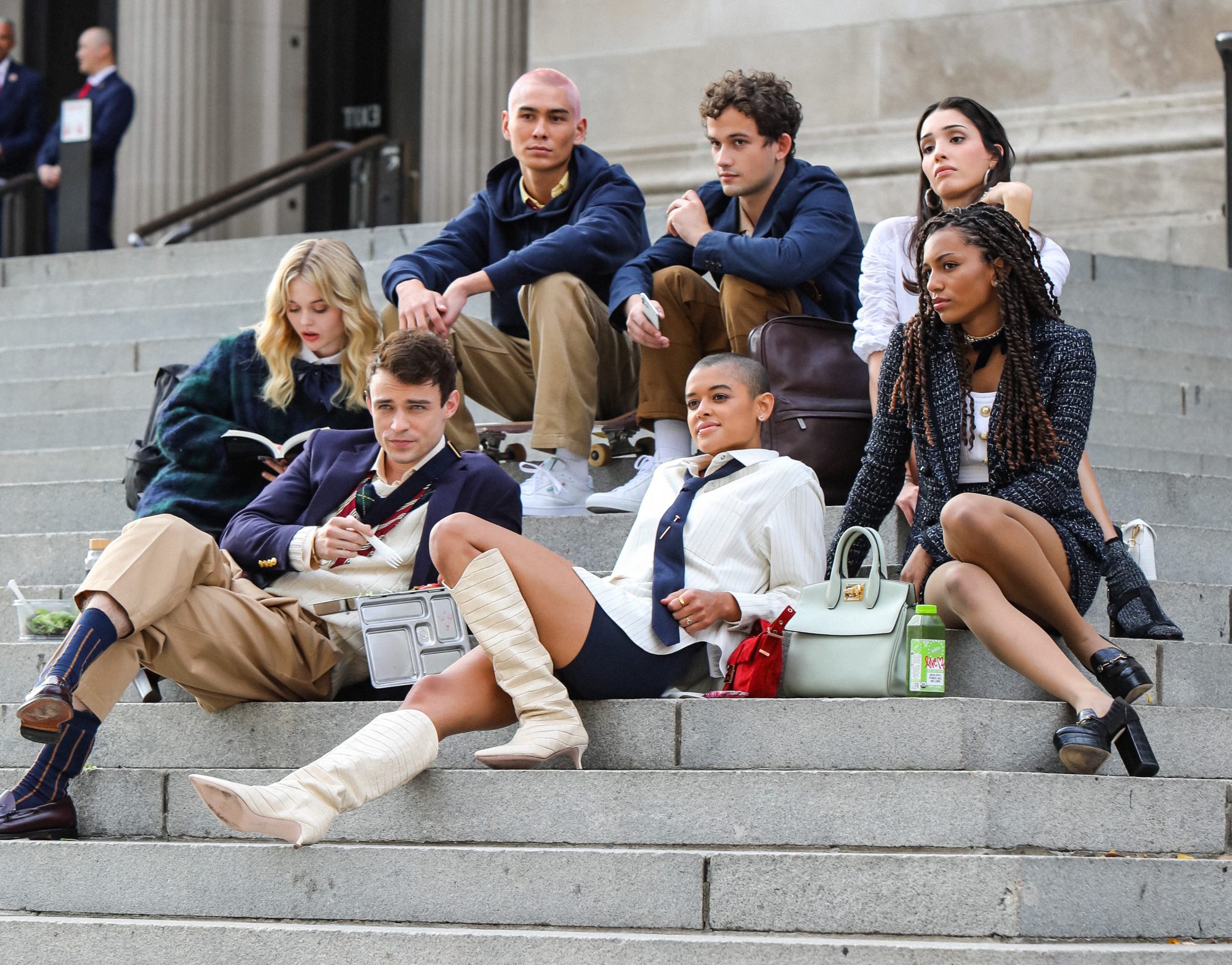 Costume designer, Eric Daman, who clothed the original Upper East Sider elites in the early 2000s, has returned to work on the renewed series, and the early-aughts influence is apparent. Those chunky-heeled loafers, tweed blazer, and white slouch boots? Yes, please.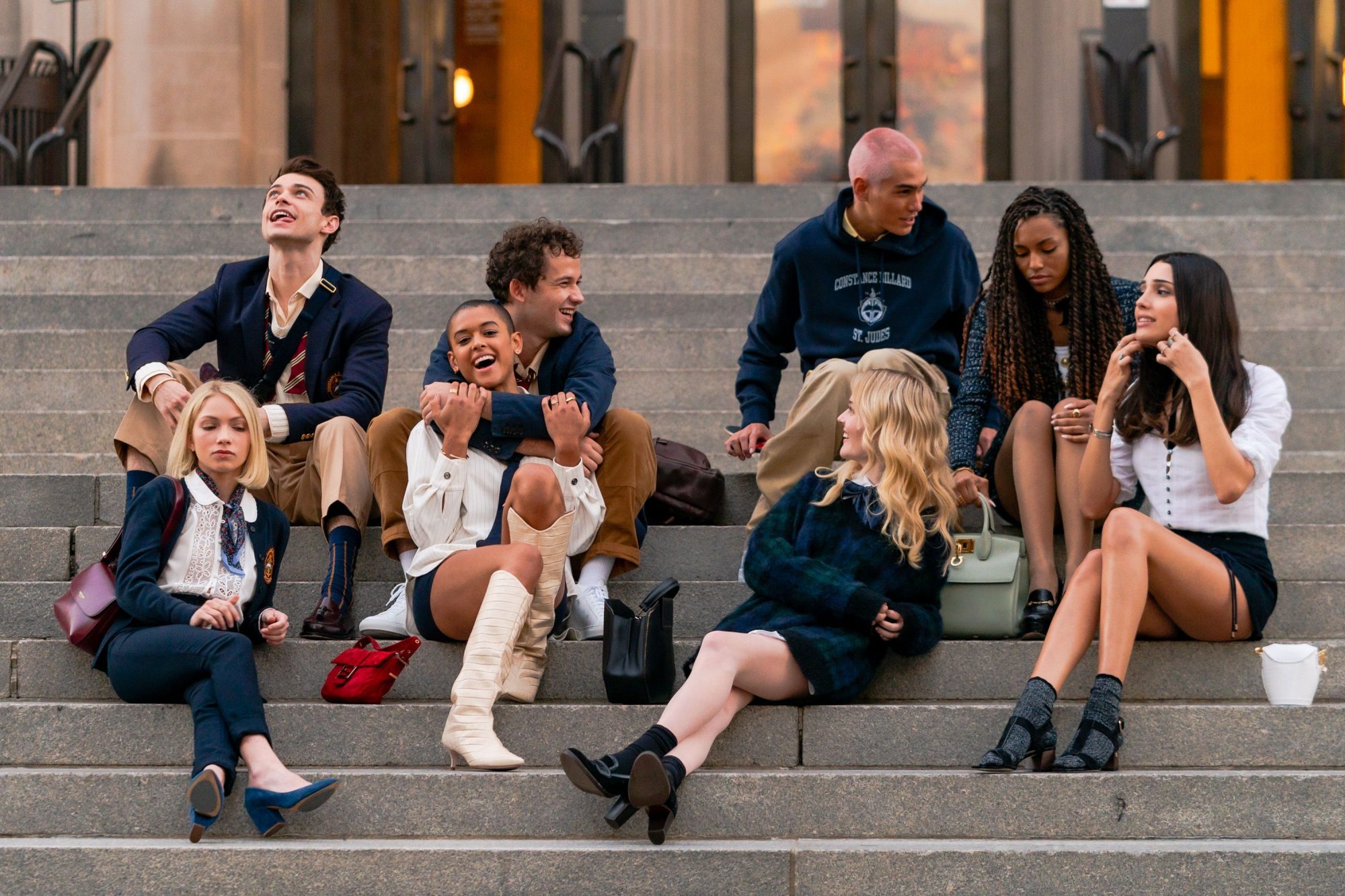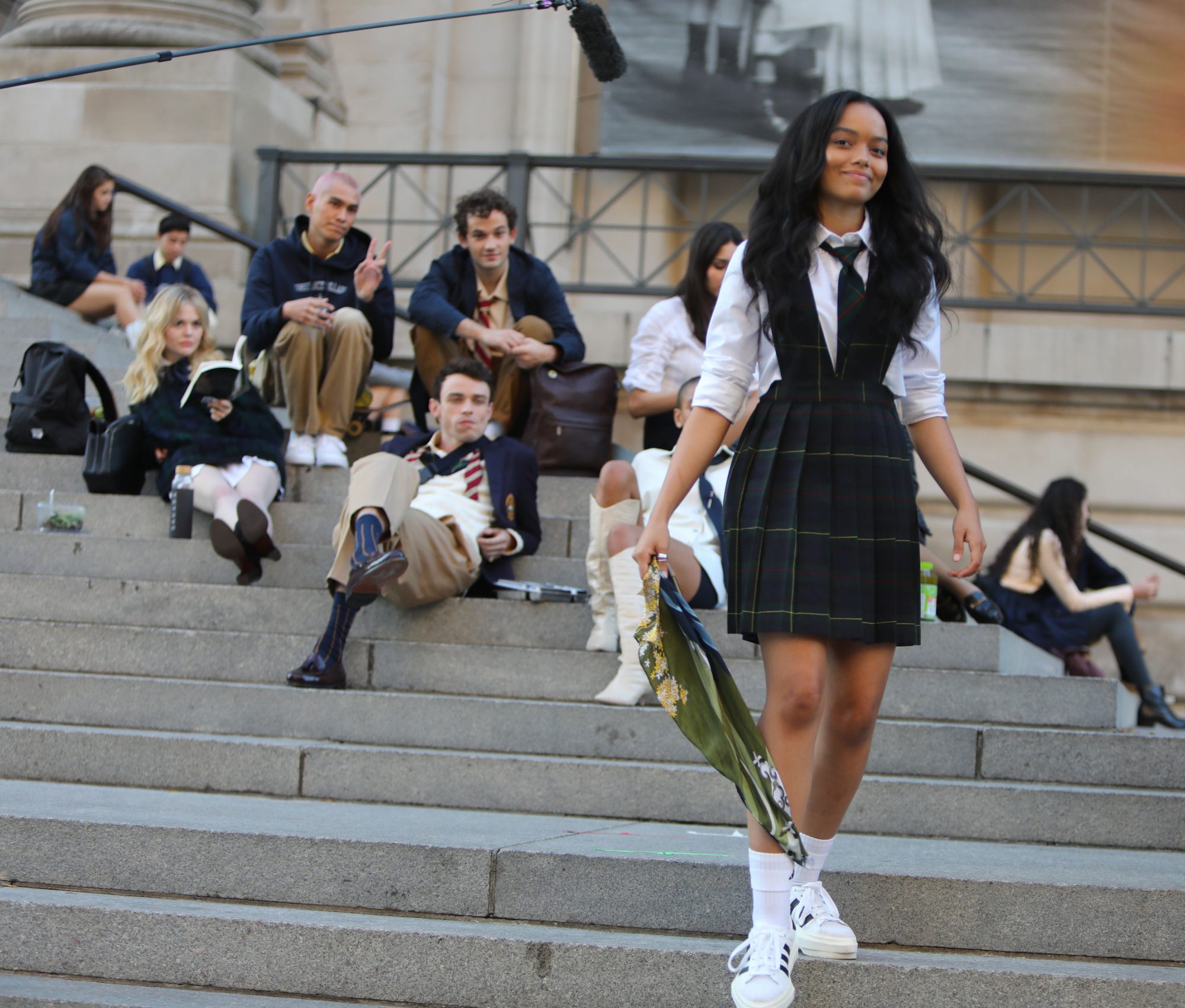 This crew looks like they could bully us to the point of tears. But for some unexplainable reason, we're more than okay with that. Bring on more production stills. We're so ready to get hit right in the nostalgia bone.
Update, November 5th, 2020, 1:02 p.m. ET: It's happening—like, it's actually happening. Production on the Gossip Girl reboot for HBO Max began on November 2nd in New York City, according to a report from Deadline. Furthermore, the series is set to debut on HBO Max as soon as 2021.
The first two episodes of the upcoming series are slated to be directed by Karena Evans, Deadline reports, who rose to prominence after directing several music videos for Drake including "Nice for What" and "God's Plan." Evans was also the first woman to receive the Prism Prize Lipsett Award for her approach to music videos, and she also picked up both the 2018 and 2019 BET Award for Video Director of The Year.
The reboot was slated to go into production earlier this year, but the coronavirus halted any forward movement in March. After making sure the team could handle a safe filming set up, the cogs started moving and Gossip Girl 2.0 is officially off the ground—and thank goodness for that.
Though there's still no word on whether original cast members are involved as of yet, but the current cast of unknowns, which includes Emily Alyn Lind, Whitney Peak, Eli Brown, Johnathan Fernandez, and Jason Gotay, look very promising and we're so ready to fall in love with yet another group of Upper East Siders with drama and secrets.
Update, January 23rd, 2020, 11:15 a.m. ET: It's official! The Gossip Girl reboot has a series order from HBO Max, which means we're 100% returning to Constance Billiard. Deadline confirmed the news today, January 23rd, and while we're super excited, we're still buried in some of the gossip about the returning (or not returning) cast members.
We do know that Joshua Safran, the original Gossip Girl writer, is on board to again develop the series based on Cecily von Ziesgar's books. And we have the reboot's synopsis, according to Deadline:
"Eight years after the original website went dark, a new generation of New York private school teens are introduced to the social surveillance of Gossip Girl. The prestige series will address just how much social media—and the landscape of New York itself — has changed in the intervening years."
The original voice of Gossip Girl, Kristen Bell, has also confirmed that she's returning. As for the rest of the cast, we still have no definite regulars or even cameo appearances. In a January 16th People interview with Sarah Aubrey, HBO Max's Head of Original Content, she was asked directly about the potential return of any of the original cast, which included Penn Badgley, Blake Lively, Leighton Meester, and Chace Crawford.
"We're having early casting conversations, drawing circles around a few people, but it's early days," Aubrey said.
Similarly, in a December interview with Entertainment Tonight, however, Safran said that he would "want to" have original cast members back.
"I would love for everyone to come back if they wanted to. The universe still exists. The characters talk about Serena, Blair, Chuck, Dan," Safran said. But when asked specifically about Penn Badgley as Dan, he said, "I don't know, I hope so," adding, "Now that you've said it, I want it to."
It seems like, for now at least, the cast details are one secret they'll never tell.
Update, November 11th, 10:40 a.m. ET: There's a lot of, well, gossip around the Gossip Girl reboot coming to HBO Max, but executive producer and writer of the original show, Joshua Safran, is here to set the record straight on a few things. And look, as much as we love everything Gossip Girl, we can admit to some of its faults. Hopefully, Safran said, some of those things will be remedied the second time around.
"There was not a lot of representation the first time around on the show," Safran admitted at Vulture Festival. "I was the only gay writer I think the entire time I was there. Even when I went to private school in New York in the '90s, the school didn't necessarily reflect what was onGossip Girl."
For the Gossip Girl reboot, Safran said he's making some changes to the world at Constance Billard. (Yes, he also confirmed that the reboot is set at the same fictional school. Yaaas!)
"So, this time around the leads are nonwhite. There's a lot of queer content on this show," Safran said. "It is very much dealing with the way the world looks now, where wealth and privilege come from, and how you handle that. The thing I can't say is there is a twist, and that all relates to the twist.
Well, it wouldn't be Gossip Girl without a twist. We can practically hear Kristen Bell's voice now.
Update, July 22nd, 12:15 p.m. EDT: Spotted: Kristen Bell talking about the Gossip Girl reboot and whether she'll reprise her voice-over role. Let's just say she had the most Gossip Girl answer to the question ever.
According to E! News, when asked if she'd return for the reboot, Bell said, "Maybe…I'll never tell." Fans, of course, will understand right away that she's quoting her own words as the voice of GG: "And who am I? That's one secret I'll never tell. XOXO, Gossip Girl." Obviously, we're fully on board with Bell's reprisal, but we'll have to wait for the rumors to be confirmed.
Original post, July 17th: When Gossip Girl aired in the late aughts, it made teen viewers secretly wish they could be like Serena van der Woodsen or Blair Waldorf. And since the series ended in 2012, there has been a lot of buzz about a potential Gossip Girl reboot, leaving fans wondering when—and if—they'll be able to return to the Constance Billard School for Girls. Now we can say with confidence that a Gossip Girl reboot is officially happening.
Deadline reports that WarnerMedia has ordered 10 episodes of the Gossip Girl reboot, which will be available on the company's streaming service, HBO Max.
But don't expect Serena and Blair to be the centers of attention. According to Deadline, the reboot is set "eight years after the original website went dark" and focuses on a new group of teens attending one of New York's elite private high schools. It's unclear if any of the original cast will be returning.
Joshua Safran, who was the showrunner and creator of the original Gossip Girl, will write the new version of the show. And like the original series before it, the reboot will be based on the series of books by Cecily von Ziegesar. Entertainment Weekly also notes that Josh Schwartz and Stephanie Savage, who also helped to create the original, will executive produce the new series.
With all this in mind, it sounds like the reboot will have just as much juicy drama as the show we obsessed over as teens. And, to be honest, we're definitely freaking out.
Safran told The Hollywood Reporter that he, Schwartz, and Savage had been toying with the idea for a while.
"Then the stars aligned and we had availability to jump, and Warners, obviously, it's something they're very passionate about," he explained. "It seemed like the best time and way to do it."
He added that the reboot would be an "extension" of the original, describing it as "a new look at this particular society in New York." He also noted that the new show would examine social media's effects on society.
We'll have to wait until HBO Max's 2020 launch or for Gossip Girl to confirm more rumors to find out more. After all these years, we still love Gossip Girl. XOXO.