For "Gossip Girl's" 10-year anniversary, I dressed like a modern-day Blair Waldorf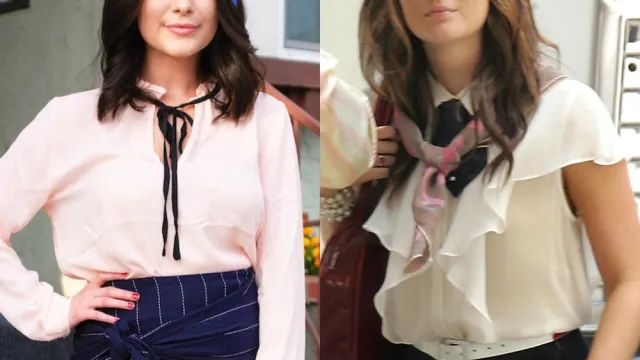 In high school, my best friend and I not only read the Gossip Girl novels but we glued ourselves to our TV screens to tune into the "scandalous lives of Manhattan's elite." So when I learned that Gossip Girl was hitting its 10-year anniversary mark, I wanted to pay tribute to my fave show and character, Blair Waldorf, in the only way I could: through fashion, of course.
Gossip Girl was like the American version of the telenovela Rebelde (which I also watched, btw, and it's just as juicy as GG). I religiously tuned in, because while I couldn't relate to #richpeopleproblems, I loved the fact that these characters were so independent, smart, and sophisticated. It was like my Sex and the City. Also, being the Scorpio that I am, I always related to the Queen B of the Constance Billard School for Girls.
I'm not exaggerating either when I say that Blair is my favorite character. In high school, I bought every gaudy, blinged out, big-bowed headband I could find (most of them came from Claire's). In fact, those same headbands are the ones I used for this fashion post. Yes, I held onto them in case this very opportunity presented itself. And while I'm not super bold with my fashion choices — I don't know how to effortlessly mix patterns, color block, or rock all of the trends — I learned to be more carefree and creative with my outfits for this fashion story. Thanks, B.
I do love wearing feminine and classic pieces, but channeling Blair meant throwing in girly accessories, bold prints, and adding some oomph to timeless outfits.
Not only did I replicate some of Blair's most iconic outfits, but I pieced together ensembles that a modern-day Blair would wear. So here's how everything went down….it's the one secret that I *will* tell.
The Constance Billard School for Girls Uniform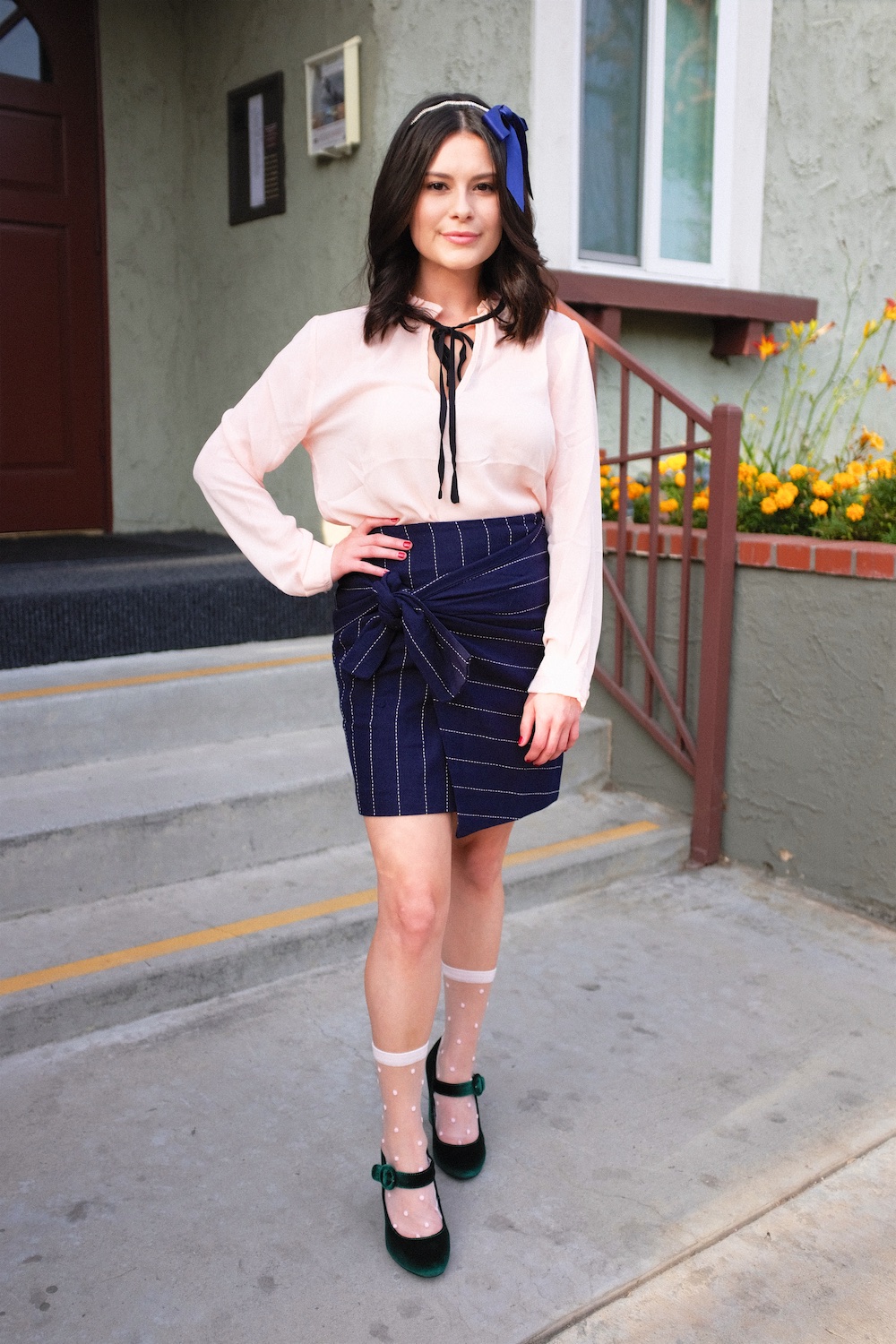 What I wore: Lulus Navy Blue Striped Wrap Skirt ($63), Lulus Blush Pink Blouse ($37), Lulus Blush Pink Polka Dot Socks ($10), Modcloth Green Velvet Heels ($64.99), and DIY Bedazzled Headband with a Blue Ribbon (this headband is from high school and I just tied a blue ribbon on it)
This is one of Blair's most iconic looks and us normals can *actually* pull this outfit off easily. Whether you're in school or you have your first grown-up job, this preppy look is classique. Instead of throwing on a spot-on blazer or white crisp button-down shirt, I wanted the skirt to do all the talking. Doesn't it remind you of high school when we would tie our jackets/blazers around our waist? Was that just me? Cool.
This outfit was fun to put together — it's not only feminine, but I loved mixing patterns with prints à laBlair (this is something I normally don't do, so I was out of my comfort zone but in a good way). All I needed to complete this look were my minions!
The "Wild Brunch"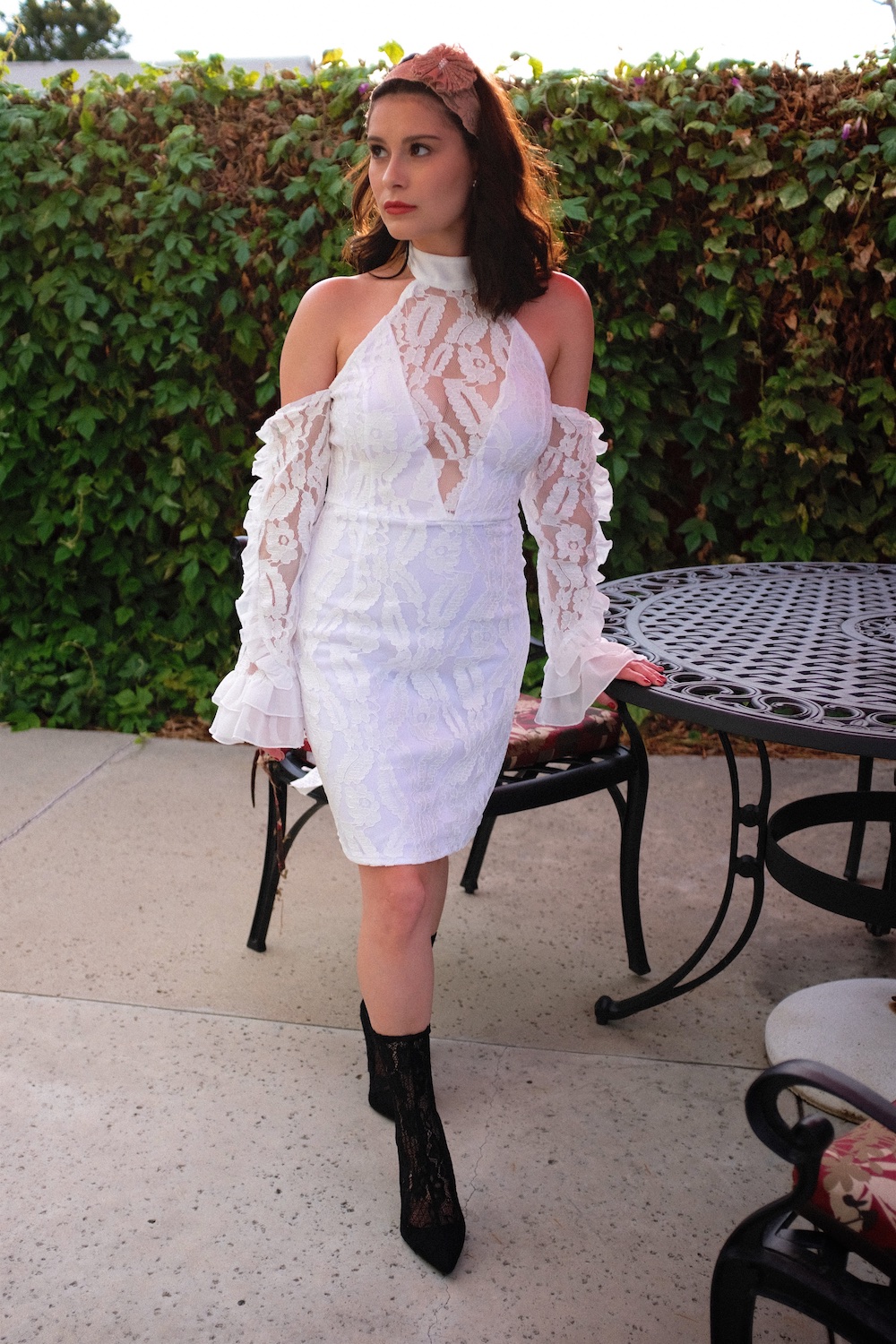 What I wore: PrettyLittleThing White Lace Dress ($70), Lulus Black Lace Booties ($44), and Pink Lace Headband (already had this)
Okay, so this all-lace ensemble was inspired by the second episode of Season 1: "The Wild Brunch." This episode is so juicy (mostly because Blair finds out that Serena slept with Nate, GASP). We see Blair as the bitch that we all know and love.
Instead of throwing on black lace tights like Blair, I let my lacy pumps do all the talking. To be honest, when I first threw on this outfit I was way out of my comfort zone two reasons: I'm not used to wearing one pattern from head-to-toe and the ruffles with the cut-out shoulders made me feel ~extra~ fancy when I wasn't doing anything important that day.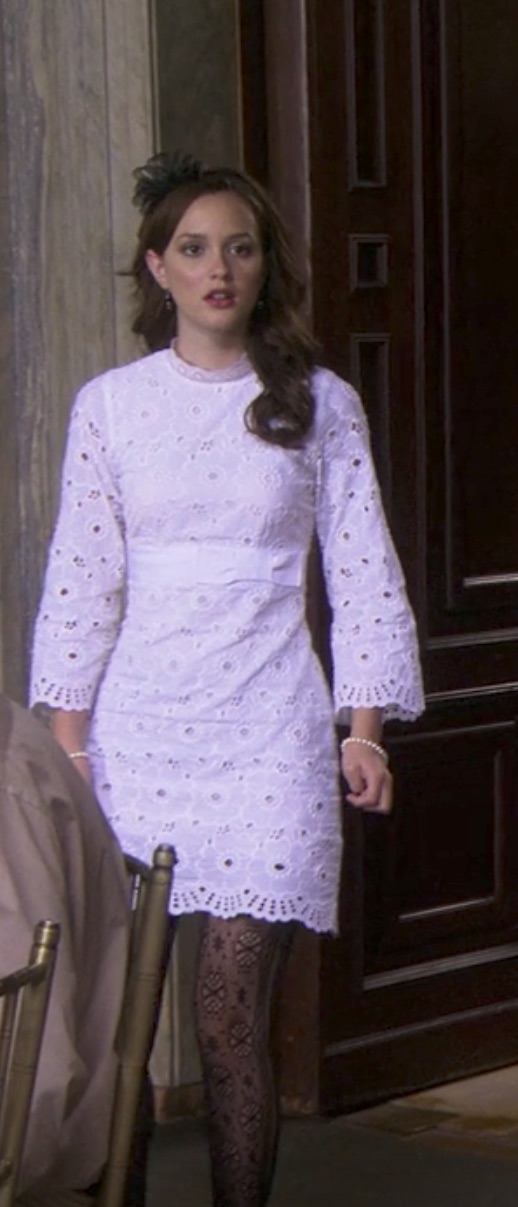 While I had some anxiety walking out of my apartment dressed to freakin' kill, I had to shut out my fear of being judged — we all know that Blair DGAF. It was a What Would Blair Waldorf Do? moment, and now I'm gonna live by that motto.
Little Black Dress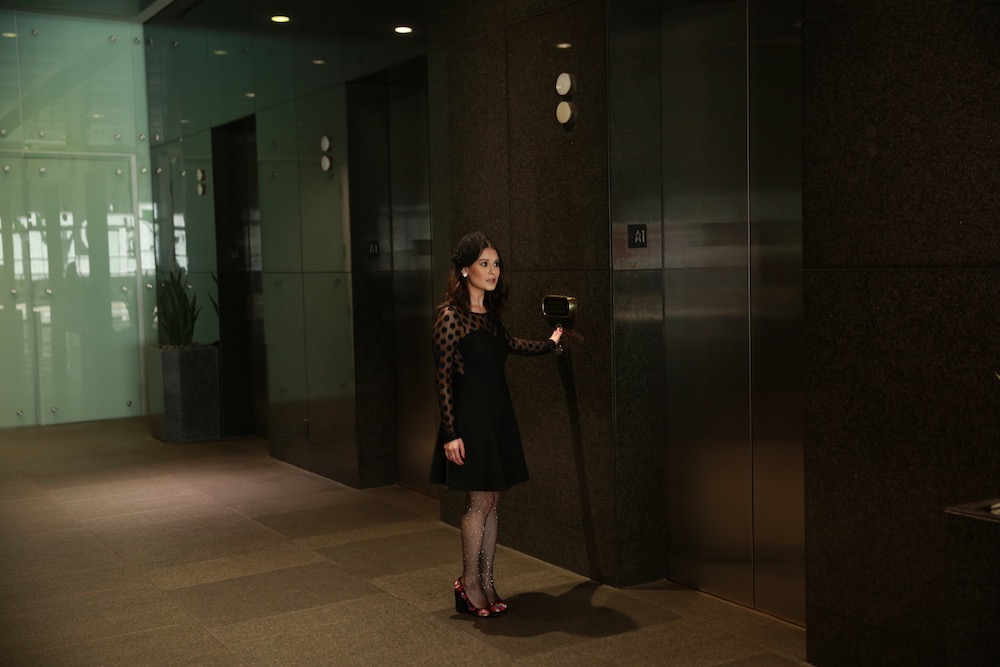 What I wore: Lulus Long Sleeve Black Dress ($43), PrettyLittleThing Diamond Tights ($17.50), Modcloth Embroidered Black Heels ($69.99), and Sweetest Spread Fascinator in Black ($19.99)
While I was channeling Blair from Season 1 (she wears a cute LBD in the pilot episode), I realized that this is something she would totally wear to sneak up and see Chuck Bass. Not only does she wear something similar for her sixteenth birthday party (when she and Chuck are kind of hooking up behind Nate's back — scandalous!), but throughout the entire show, Blair mixes feminine details and fun patterns with her LBDs.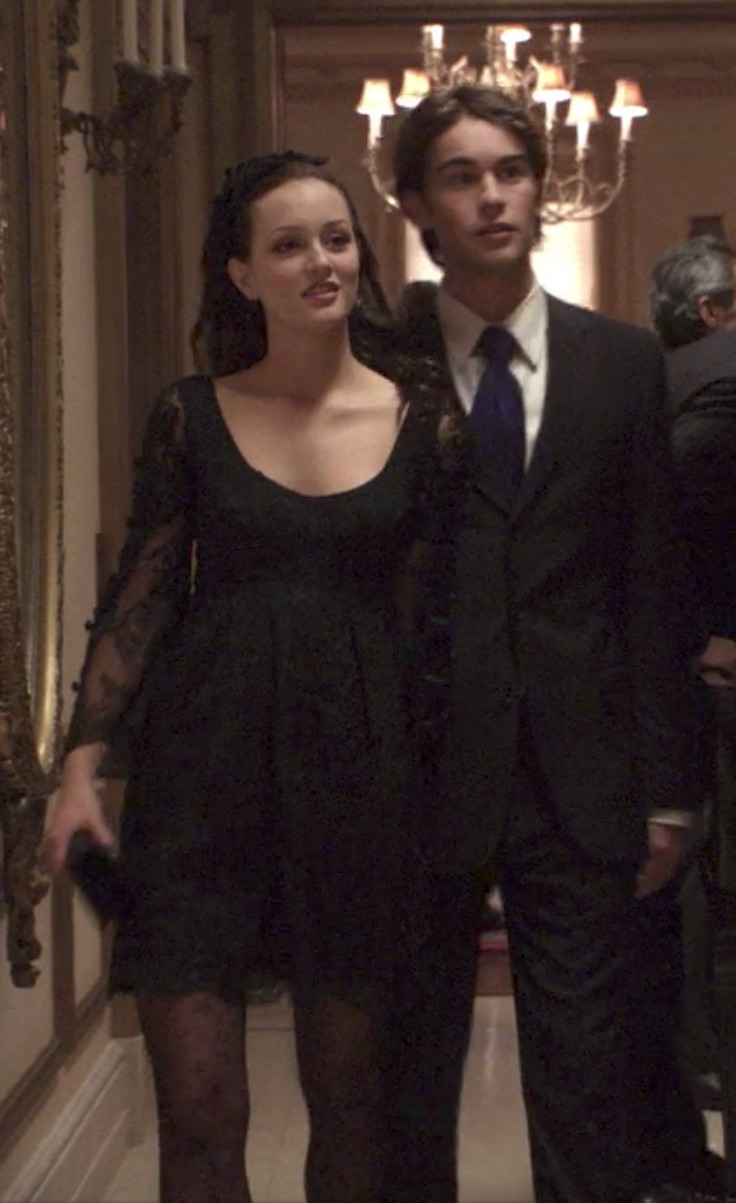 This was probably my favorite outfit to wear. It truly made me feel like Blair Cornelia Waldorf. Even though I looked ready to hit up my rich uncle's funeral, I definitely enjoyed adding fun accessories like the bedazzled tights and pink embroidered heels — it added that extra touch of glam.
I'll definitely be wearing this outfit again. Might have to slay some bitches (okay, I've officially gone to the dark side).
Florals In Fall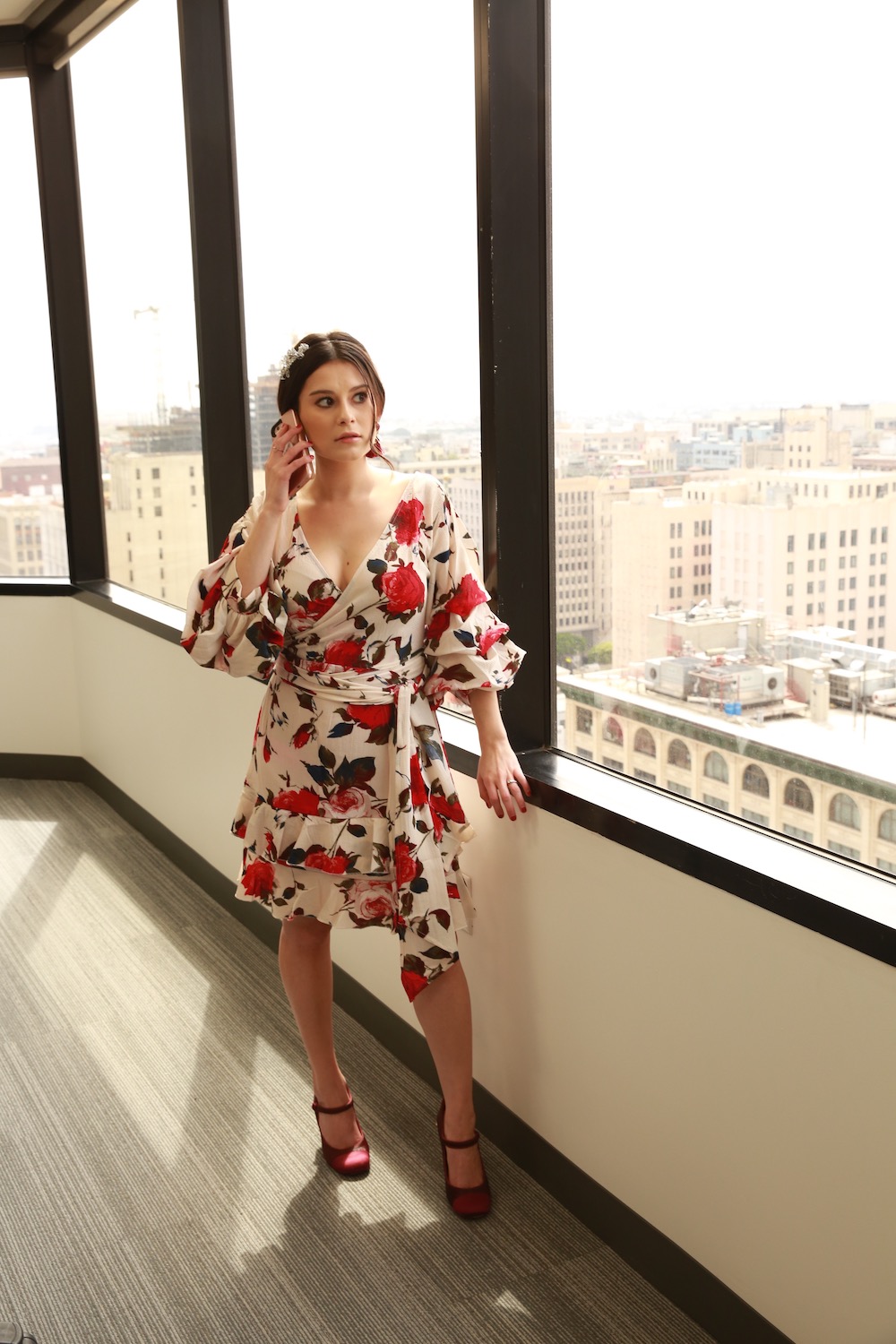 What I wore: PrettyLittleThing Floral Dress ($70), H&M Tassel Earrings (in-store), Tory Burch Heels (purchased a long time ago at Nordstrom Rack), and Crystal Headband (owned since high school)
So maybe I'm a little morbid for choosing this floral look, since it was inspired by the outfit Blair wears in the episode Riding in Town Cars with Boyswhen she and Chuck get into a car accident.
For this outfit, I wanted to keep it simple, but not boring. I made sure that my shoes and earrings matched the prints on the dress, and I paired this outfit with a crystal headband — still a statement piece but it's not in-your-face.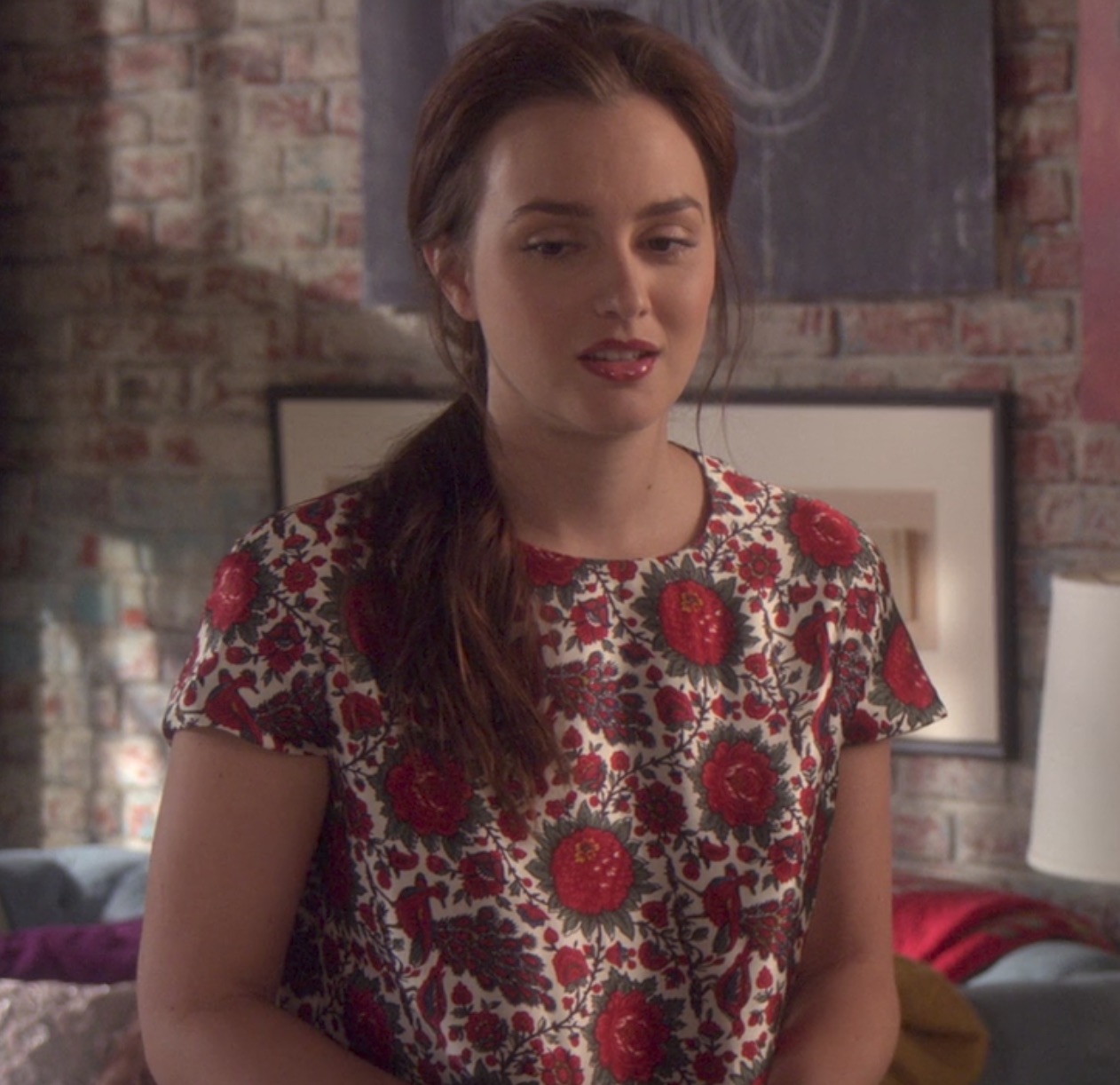 This is actually a rare time when Blair doesn't wear bold jewelry or crazy accessories, and I wanted to highlight that. The best part about this ensemble? I felt hella fabulous in my dress.
Final thoughts
While I loved dressing up as my all-time fave TV show character (come on, Blair has fabulous style), I don't think I could wear these banging outfits all day, every day. However, this fun little fashion experiment did get me out of my comfort zone, while also making me appreciate the art of styling. Mixing patterns and prints is not easy, y'all!
Will I incorporate Blair Waldorf-esque pieces into my clothing? Hells yes…I mean, I already have the headbands.
While every product on here was hand-picked by me, I did receive some of the fashion pieces.