These gorgeous floral tattoos will turn your body into a garden in the best way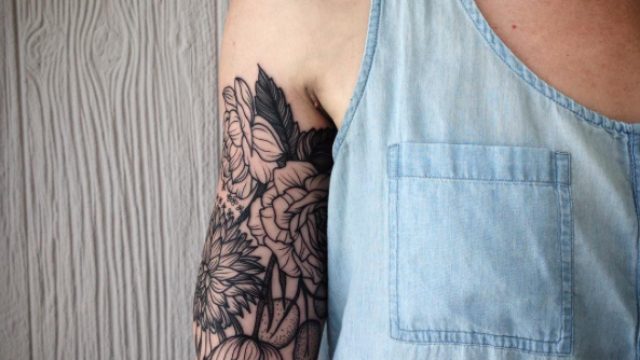 No matter what the season, we find ourselves constantly craving some lovely ~floral vibes~ to add some extra oomph into our worlds. And what does that better than a floral tattoo? We love the way that tattoos allow us to put our own spin on our little universe, so we were *thrilled* to learn about these floral tattoos, because who doesn't want to turn their body into a garden?
About the artist
Tattoo artist Kerry Burke is the owner of Heart of Gold Body Arts, one of the most beloved shops in North Carolina. Based in Hendersonville, Burke brings incredible blackwork tattoos to life with their unique designs and clean and beautiful lines. We are *huge* fans.
https://www.instagram.com/p/BFEsVhaEfiu
Here are some of our fave floral tattoos
1. This thigh piece
So killer.
2. This floral bunch
Truly beautiful.
3. This massive side piece
Impressive AF.
4. This nature-filled beauty
https://www.instagram.com/p/BHiUUEYDIUk
The more nature, the better.
5. This wedding bouquet
Just, like, AW.
6. This gorgeous dogwood
We *adore* this.
7. This blossom
Soft and beautiful.
8. This shoulder cap
So lovely.
9. This pretty combo
Such a stunning duo.
10. This empowering piece
Hell yes.
11. This stunning bouquet
We'd rock this.
12. This bird and flowers
Super sweet.
13. This floral sleeve
Yes, yes, yes.
14. This iris
Gorgeous as hell.
15. This gorgeous grass
So unique.