The internet is swimming in gorgeous artwork for #MerMay and blowing our mermaid-loving minds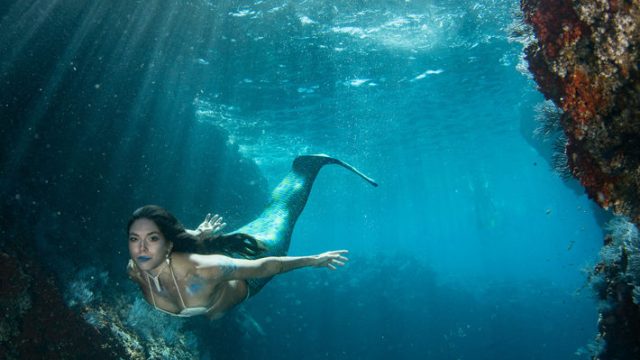 Calling all mermaid lovers! Animator Tom Bancroft started the #MerMay challenge, where illustrators create and tag a mermaid every day in May. The drawings are gorgeous and feature new visions of Rogue One character K-2SO, Moana, Catwoman and her catfish , and a million original fishy ladies we're crushing on.
The challenge got going when Tom Bancroft created his own original character, Lani the mermaid. Moreover, the artist decided to write a story about her called, "The Mermaid that Wanted to Fly." Every day, he's been publishing a little more of her story and her illustrations on Instagram, and now tons of amazing artists have joined in.
We picked out a few of our favorite #MerMay illustrations so far below!
A celestial mermaid.
This beautiful stylized mermaid by artist Vicki Tsai is both starry and sea-y, and that feels so magical!
 An Audrey mermaid.
Adorable Audrey a as a mermaid has us freaking out! We're doing dolphin flips over Brazilian artist Raiane Silva's #MerMay contributions.
Creepy mermaids welcome!
This cute skeleton illustration by illustrator and graphic artist Danielle Eden is weird and experimental! We love it!
Purple underwater goddess..
https://www.instagram.com/p/BUE9leqhibC
Love the experimental tail and style of this one! Even cooler, it's done by 17-year-old artist Pastel Pasty, and you can buy it!
Of course mermaid's have mommy's!
A sweet image of two mermaids. The artist, Jordan Caderao, dedicated it to Mother's Day! Do not miss her gorgeous portfolio!
Seriously, you'll find tons of deep sea treasure under the #MerMay tag. You'll find mermaids in a thousand different styles and interpretations, and get some new amazing artists to follow and support.
Mermaid tail high five!!