Female leaders of the GOP are pushing back against men in their party—"wake up, dudes"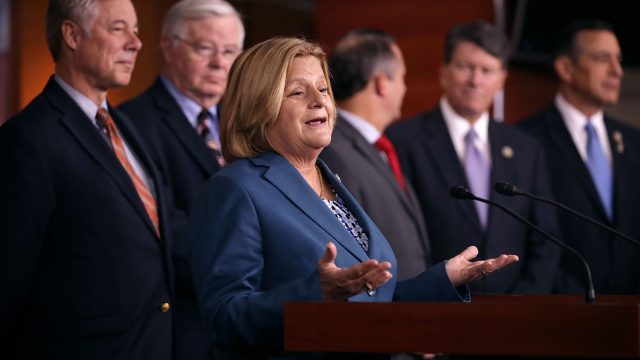 Many women made history with their victories in the 2018 midterm elections. But while the percentage of women in Congress is improving overall, Republican lawmakers are still overwhelmingly male and white. However, the women of the GOP are starting to push back on this gender disparity, calling for their party to support more diverse candidates. According to The Hill, the number of Republican women in the House of Representatives dwindled from 23 to 13 after this year's midterms. On the flip side, there will be 89 female Democrats serving in the House as of 2019—an all-time high.
"I encourage our party leaders to be more aggressive in seeking out and helping younger candidates, female candidates, and candidates of color," retiring Representative Ileana Ros-Lehtinen told The Hill. "We have to step up our game or risk having the nation look upon us as the political party of the grandparents." Ros-Lehtinen admonished the party's men directly, adding, "Wake up, dudes."
Roll Call reports that GOP Representative Elise Stefanik, the first female head of recruitment for the National Republican Congressional Committee (NRCC), has urged the party to publicly back women in primaries. Currently, the Republican Party does not endorse candidates during primaries, and Representative Tom Emmer, the chairman of the NRCC, called Stefanik's idea "a mistake."
Stefanik responded by tweeting, "I wasn't asking for permission."
Support for the Republican party has been declining among women for years now. According to Pew Research Center, 42% of female voters identified as Republican or Republican-leaning in 1994, while only 37% did in 2017. On the other hand, 56% of female voters preferred the Democratic party in 2017, up from 48% in 1994.
A separate Pew Research survey conducted in July found that 68% of women feel that more women running for Congress would be a good thing, which seems to indicate that more women within the GOP would help garner more support from women. Of course, increasing the diversity of the party is only the beginning. To attract even more female voters, the GOP would probably have to re-evaluate its stance on several key issues, like upholding Roe v. Wade, which 68% of women support, according to a June Kaiser Family Foundation poll.
Thoughts?