Here's how you can see the world's largest collection of Frida Kahlo artifacts, no museum fee required
On Wednesday, May 23rd, the Google Arts and Culture app will make available to the public the largest virtual collection of Frida Kahlo artifacts and artworks ever compiled in one place. This is extraordinary on its own, but it'll be extra exciting for those who haven't had a chance to see more than the artist's most popular paintings. The virtual exhibition is called "Faces of Frida" and will celebrate the life, impact, and legacy of one of the most (if not the most) influential female artists. Most importantly, the entire collection is digital, which means anyone, anywhere, can access and be inspired by Kahlo's work.
The Google Arts and Culture app teamed up with museums all over the world to bring more than 800 Kahlo-related artifacts together in one virtual collection. From personal letters to photographs, journals, clothes, and of course, works of art, users will be able to learn about Kahlo like never before.
"Faces of Frida" is divided into subsections that explore different aspects of the woman behind the famous paintings. One such editorial feature, called "Frida, Mexicanidad, and socialism," written by historian Alejandro Rosas, uncovers how Kahlo's art was influenced by the Mexican revolution and her socialist/communist political beliefs.
Another editorial feature examines how Frida's physical ailments impacted her life and career. Chronic pain was her constant companion after battling polio as a child and suffering hip impalement during a bus accident at the age of 18. To cope, Kahlo turned to art and painting as a way to deal with her emotional and physical pain.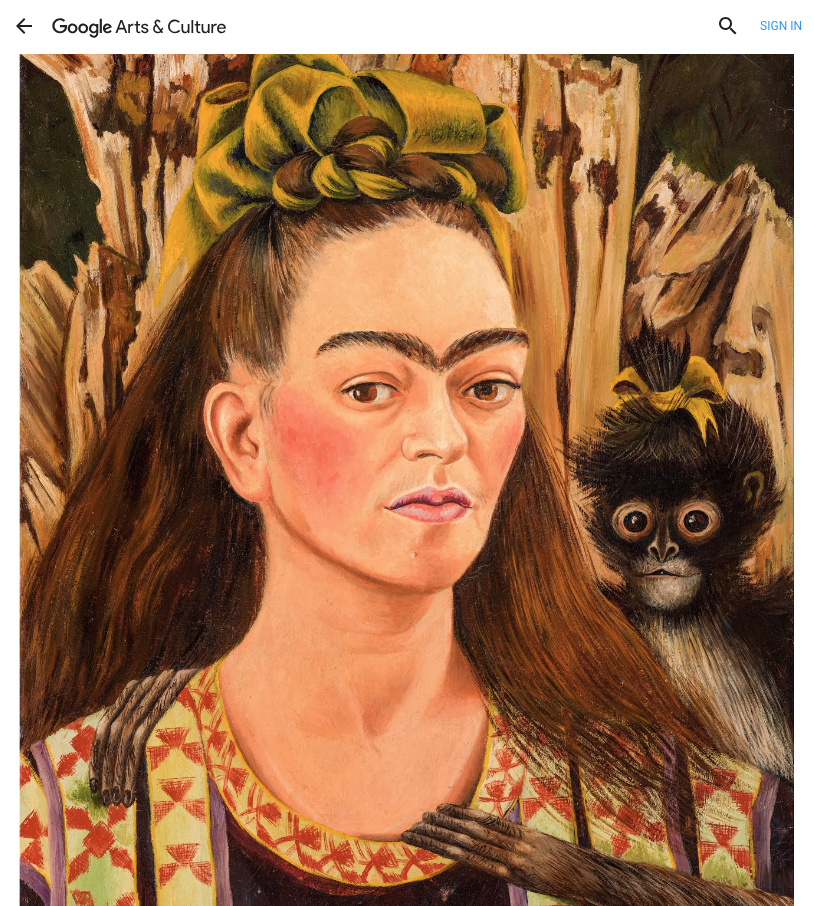 The Google Arts and Culture app — which came onto the scene in January 2018 with its facial recognition technology that matched users' faces to museum artworks — also allows visitors to take a magnified look at a multitude of famous Kahlo works. Within the "Faces of Frida" gallery, you can zoom in on some of the artist's most famous pieces, such as "Self Portrait Dedicated to Leon Trotsky."
You'll be able to see Kahlo's brushstrokes and overlooked details, and finally read what her letter to Mr. Trotsky contains.
Virtual tours of Kahlo's lifelong home, the "Blue House," are available via the app, as are street views of the various locations that inspired Kahlo to create. Users will also be able to watch and read a variety of curated interviews with modern artists, fashion designers, and choreographers who have all drawn inspiration from Kahlo's colorful past.
While it may not be ideal to view art on your phone, it is important to note that not everyone has access to creative spaces. Those who aren't able to visit art museums will now have a chance to witness Kahlo's artistic majesty — all from the palm of their hand. This is an opportunity they may not otherwise be afforded.
Make sure you have the Google Arts and Culture app downloaded on your iPhone or Android device. Then, on Wednesday, May 23rd, dive into access the plethora of information on the one and only Frida Kahlo.