Holy shirt balls, there was a major "Parks and Rec" Easter egg in the "Good Place" season finale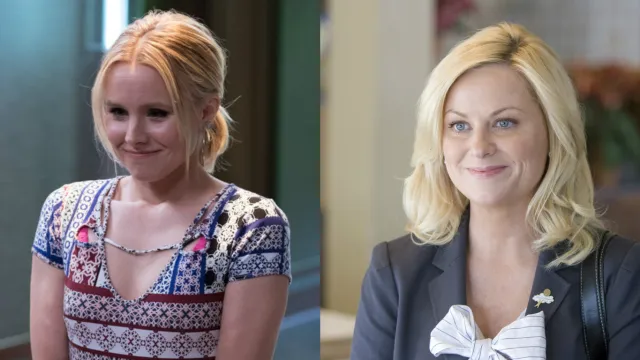 Have you heard the news? Yeah, it's that The Good Place is the best show on television — not a forking exaggeration. The show might even be inching close to *best ever* show on television, because of all the weird, perfect, and subtle ways it works. The NBC series capped off the end of Season 2 by (SPOILER) bringing the very dead characters back to life and, honestly, what will they do next?
Seeing as how we're back to the land of the living for Eleanor, Chidi, Jason, and Tahani, a trip to Pawnee, Indiana might soon be in their future. For real. The season finale gave us a glimpse into everyone's life back on Earth, and how though she's trying to be SO GOOD, eventually Eleanor returns to reading her trashy gossip magazines. And we learn that a former Pawnee resident is currently trying to hawk some pretty expensive — and probably terrible — alcohol. The only thing that would make this better is if it were Snake Juice™.
Why yes, it appears as if Parks and Recreation's very own Mr. Jean-Ralphio Saperstein is selling some sort of fancy bubbly beverage, but the real kicker is the product's tagline: "Turn that frizown upsidizity."
Yeah, that sounds like our Jean-Ralphio.
While this is an exciting enough joke for Good Place, and we'll honestly take all the Parks and Recreation jokes we can get, this does beg a bigger question: Does this mean that Good Place and Parks and Rec happen in the same TELEVISION UNIVERSE? Does this mean that we can hold onto the tiny sliver of hope that one day, maybe if we're good people ourselves, the two worlds could actually collide?
Let's be real — we all know that Ron Swanson got to the Good Place and was like "there are too many people here," and requested to be transferred to a Middle Place so he can spend the rest of eternity by himself. Let's hope that this is the only the beginning of Showrunenr Mike Schur's Television Universe.