Not a forking drill: NBC just released some *extended* episodes of "The Good Place"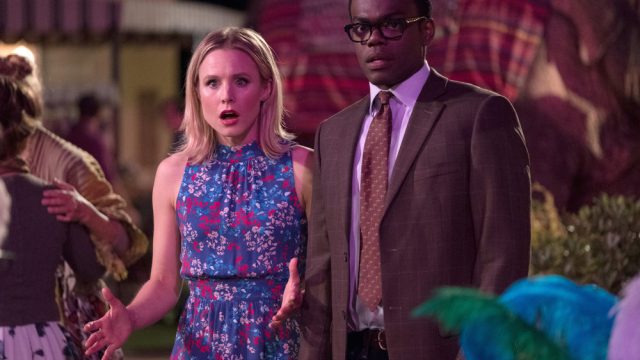 Our beautiful comedy fave The Good Place might be on a winter hiatus (thanks a lot, football!), but we just got some news that makes us feel like we're in the Good Place after all. NBC just announced that they're releasing *extended* episodes of The Good Place Season 2. Oh, and they're not forking kidding you.
NBC is releasing super-sized episodes of The Good Place exclusively on the NBC app (but you can also find them on Hulu).
The director's cut-length episodes include more jokes from Eleanor, more burns on Chidi, and — best of all!! — more ludicrous rants from Jason. In the clip below, it looks like Jason's mouth is stained blue from the lollipop he's eating. Oh, shirt yes.
We know we literally just got this trailer, but the more we watch it, the more ideas we have for potential spinoffs of The Good Place. For example: An all-Jason web series, shot from an iPhone. Or an advice line that people can call into and leave messages for D'Arcy Carden's Janet, and she'll record video answers for the best ones. Ooh, and a real-life fried shrimp vending machine like Eleanor has! That's not so much an original ideas as much as it is something we really like and wished existed IRL, though.
The extended Season 2 episodes are available to watch right now.
All you need is a TV subscription and access to the NBC app. In case your stomach hurts Chidi-style from how much you miss the show, just take a deep breath! Brand new episodes of The Good Place will return on Thursday, Jan. 4. That should give you enough time to work out the trolley problem, or fix any kinks in the human person you created (ahem, Derek) beforehand. BRB, we're going back to our void.