You can get a good facial in a hurry at this new skincare bar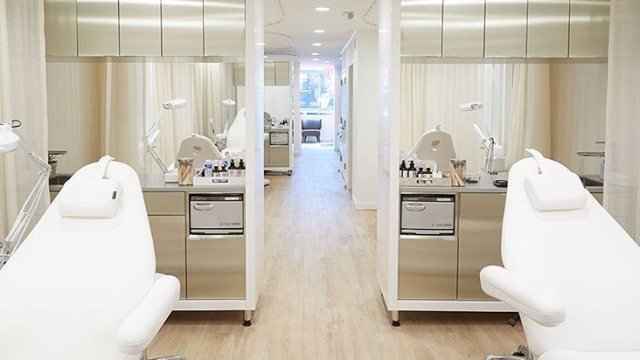 We can probably all agree that facials are ~amazing~. However, sometimes they take a whiiiile. But, not anymore. You can get a good facial in a hurry at this skincare bar, Silver Mirror, reported Brit + Co. Not only is the facial quick, but it's also cheaper than a lot of other facials out there. The Silver Mirror Facial Bar is on NYC's Upper East Side, and we definitely want to take a field trip there. Who's in?
Yes, at home, you can use a facial beauty mist to keep your face in check.
Or, you can use a certain facial bar soap face cleanser to keep your skin healthy on a day-to-day basis. But when you're looking for a professional, Silver Mirror seems to have everything we want and need in a facial.
So what's Silver Mirror's deal? Cindy Kim, aka the co-founder of Peace & Lily and a beauty industry guru, runs it along with Matt Maroone, her business partner.
"We created Silver Mirror to make it easy for people to make their skin a priority, Kim told Brit + Co. "Just like going to the gym regularly or getting weekly manicures, you have to perform ongoing maintenance in order to see results.
We def hear that. And the setting is so nice, too!
At Silver Mirror, you can get facials with everything from masks to peels. And they'll work with you to see what services will suit you and your face best.
We know: How much does all this cost?! If you want a half-hour facial, it's $75-90. If you prefer a 50-minute one, it'll run you $110-130. And then there are additional services, of course, such as LED therapy or extra extractions.
You can check out more of Silver Mirror's services here. And for those of us not on the East Coast? Time to take a trip to NYC! After all, Spring is coming up, so what better a time to go to New York, right?!