The internet has gone nuts for rose doughnuts, and we can see why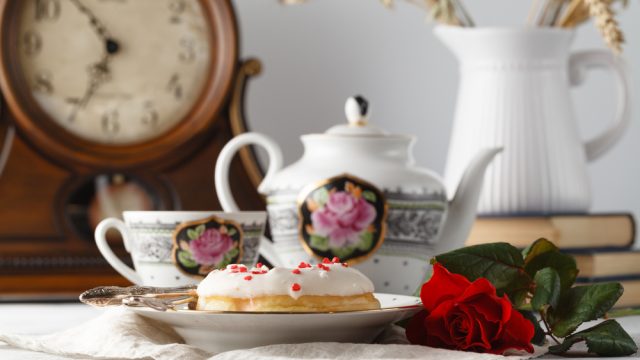 Holy moly do we love a good novelty donut. We became obsessed with Cronuts. And who could forget sushi donuts? Plus, we loved those delectable dessert bagels. (Which, let's be real, if a bagel has THAT much sugar, it's basically a doughnut.) And now we have a new contender for Most Wonderfully Weirdo Take On a Doughnut: Rose doughnuts!
Just in time for Mother's Day, the good people at New York's Doughnut Plant are bringing us "Doughflowers."
Because why get your mom a dozen roses when you could get her a dozen ROSE DOUGHNUTS and you guys could EAT THEM TOGETHER!!!
We're actually a little surprised that it took this long for the Dessert Inventors of the World to light upon the idea of making donuts rose-shaped. But greatness takes time, ya know? Or maybe the world just wasn't ready before. Well, we are SUPER ready for rose doughnuts now.
As The New York Times reports, Mark Israel, owner of Doughnut Plant, recently came off a stint making mini-donuts for the Met Ball.
And now he's bringing some of that high-fashion doughnut magic to the masses with these doughflower beauties.
The yeast doughnuts will be available in SO many fancy and delicious-sounding glazes. There's strawberry glaze, made from real berries! And of course there's rose glaze (natch and natch), made with rose water and sprinkled with crushed petals! And we have to try the sweet/tart Italian Blood Orange, with orange blossom water.
When it comes to the new doughnut kid on the block, we are all these two Twitter pals below:
We are also this person:
The doughflowers are currently available at Doughnut Plant. New Yorkers have several locations to choose from. There are Doughnut Plants on the Lower East Side and Chelsea in Manhattan, and in Long Island City, Queens, and Prospect Heights, Brooklyn.
The doughflowers will reportedly be available for a while. This isn't just a Mother's Day stunt, yay and more yay! So doughnut obsessives outside the NYC area, start planning your doughnut vacation!