Seth Meyers is going after Hollywood more than the White House at this year's Golden Globes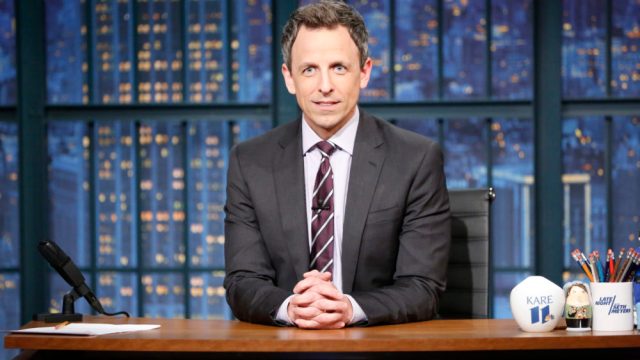 When Seth Meyers takes the stage to host the 2018 Golden Globes on Sunday, he doesn't plan on holding back about the numerous sexual harassers in Hollywood during his opening monologue.
Following the announcement that a number of actresses attending the Golden Globes will be banding together in solidarity with the women speaking out against alleged sexual assaulters and harassers in Hollywood — like Harvey Weinstein, Kevin Spacey, James Toback, and Brett Ratner — by wearing black to the awards show, Meyers revealed to People that he plans on directly addressing the scandal during his monologue.
Meyers said that while Donald Trump has been the subject of many monologues over the course of the first year of his presidency, he feels like the sexual assault and harassment situation in Hollywood, which has been deemed an "open secret" for decades, needs to be addressed first and with depth.
"With the monologue, as far as talking about anything in the news right now, it seems like this year more than ever Hollywood has its own internal politics that obviously deserve to be talked about, he said. "Going into it our focus is far more on the worlds that make these films and less on anything that's happening in Washington.
As the first major awards show since the revelatory Hollywood sexual misconduct scandal, which has steadily made headlines since October, all eyes are on Meyers to see how he'll address the issue. Meyers revealed to USA Today that he and his team of writers are looking to bring a sense of catharsis.
"We're certainly not going to ignore it, but we want to talk about it in a way that's cathartic, as opposed to reminding us all how awful it is," he said. "That's the tone we're certainly trying to strike, which is to release the pressure rather than build it up."
We're certainly curious to see how Meyers addresses the scandal and the women (and men) affected by the abhorrent sexual abusers in Hollywood. Most of all, we're glad he's not shying away from the conversation.