Gold medalist Aly Raisman teaching this celeb's little girl gymnastics is precious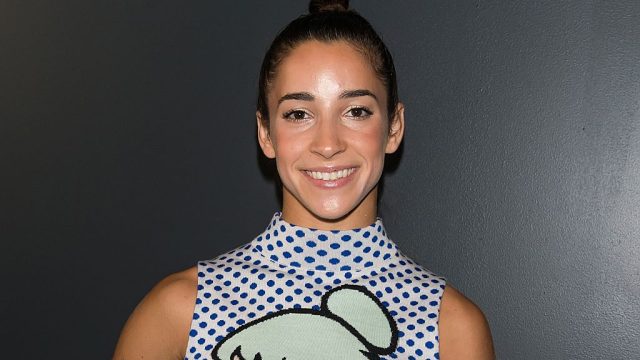 Every since the Final Five team of incredible US Olympic Gymnasts flipped into our hearts at the Rio Olympics, we've been totally obsessed with them. They are all such fierce, awesome athletes, and we are in awe of their incredible talents. Aly Raisman, the captain of the Final Five, has been on the Kellogg's Tour of Gymnastics Champions, which features Aly, Gabby Douglas, and Simone Biles, as well as former champions Nastia Liukin and Shawn Johnson. Aly has been spreading her love of gymnastics all over the country, and no more so than in this adorable video.
Aly Raisman posted this video of her teaching gymnastics  to JoAnna Swisher Garcia's daughter Emme, and it is too cute.
JoAnna Swisher Garcia is not only the coolest mom for setting up this adorable gymnastics sesh with Aly, but she's also the fabulous red-haired actress you've seen in TV shows like Animal Practice, Astronaut Wives Club, and Better with You.
When Emme showed Aly her best somersault, we squealed a little at the cuteness, especially the way her little legs just flop at the end. Aly tried to step things up a notch by having Emme do a cartwheel, but as soon as Aly tried to get Emme to flip, it all kind of fell apart.
You can hear JoAnna's voice in the background exclaiming, "Future olympian!'
It's so sweet these two finally got a chance to meet! Emme's been a big fan of Aly's since she saw her in the olympics.
"Go Aly!"
Too cute! We're so glad to see this adorable dream come true!
Although it might take a little time before Emme can flip at quite Aly levels.