We're *so* touched by this swimmer giving her gold medal to Prince Harry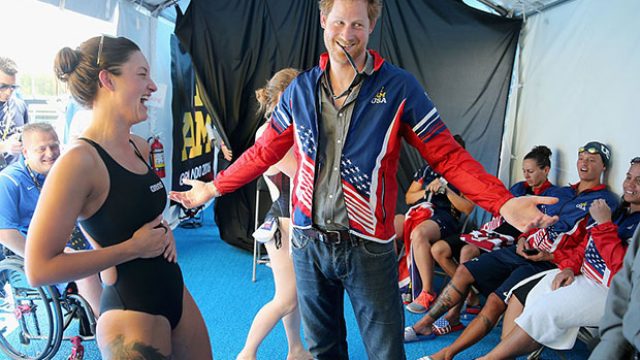 If anyone deserves a gold medal, it is Elizabeth Marks. Yesterday at the Invictus Games, an international athletic event for injured veterans, the U.S. Army Sergeant and Paralympian absolutely ~dominated~ in several swimming competitions. But the 25-year-old, who was badly injured in Iraq in 2010, did something extraordinary with her gold medal for the 100-meter freestyle: She handed it to Prince Harry, patron of the Invictus Games, and asked him to give it to the doctors back in Britain who once saved her life.
Elizabeth fell ill while visiting the UK for the 2014 Invictus Games. She had a collapsed lung condition, which lead to her being put in a medically-induced coma. "I was in hospital in London and went into respiratory distress syndrome," she told the BBC. "They shipped a team down from Papworth [Hospital] who put me on ECMO [extracorporeal membrane oxygenation] life support and that ultimately saved my life."
Able to compete at the Invictus Games held in Orlando this year, Elizabeth Mark won four different swimming competitions she entered: 50 free, 50 backstroke, 50 breaststroke, and the 100-meter freestyle. That's crazy impressive! She has every reason to celebrate her incredible success but wants the doctors who cared for her to share her glory. "I gave Prince Harry one of my medals and hope it finds its way back to Papworth," she said.
Elizabeth deployed to Iraq as a combat medic in 2009 and suffered a hip injury the following year. According to the Medill News Service, Elizabeth began swimming in 2012 as part of her rehabilitation. Only six months later, she joined the military's World Class Athlete Program, which let her train as a swimmer while still serving her duty.
Not only is it extremely touching that Elizabeth wants to share her win with the doctors who save her life, but she also kept someone else in mind on this special day: her father, who is a Vietnam War veteran. "When I'm like 'I don't think I can make this last 50 [meters], but my dad would make this last 50," she told Medill.
We're hugely impressed with Elizabeth's strength and determination and sure Prince Harry is, too!