Catch up on the entire first season of Glow in just nine minutes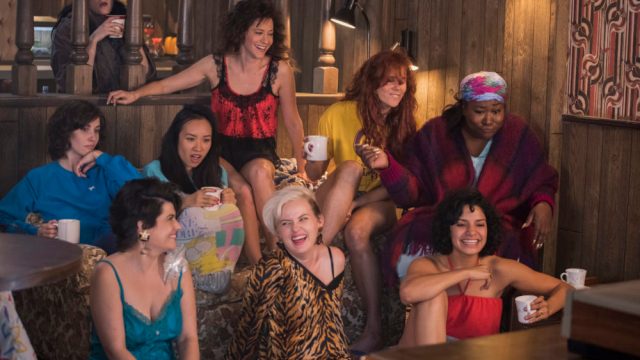 The second season of Netflix's GLOW just dropped, but it's already winning fans over. The "Gorgeous Ladies of Wrestling" are back, and this time around the '80s-inspired show dives deeper into topics that resonate all too well with modern audiences (not to spoil, but there's a hint of #MeToo in there). If you haven't watched the first season of GLOW and can't find the time to do so, don't fret. The GLOW cast, including star Alison Brie, recently recapped Season 1 in just nine minutes.
Brie is joined by costars Marc Maron, Sydelle Noel, Britney Young, and Jackie Tohn in an episode for Vanity Fair's YouTube mini-series "The Story So Far." In nine minutes and 25 seconds, the cast zooms through what went down in Season 1 of GLOW, bringing new fans up to speed.
Check out the video below if you need a refresher. The cast does a remarkable job of raising the stakes and making us yell, "AND THEN WHAT?"
(This video is also loaded with spoilers. So, if you plan to binge the first season of GLOW, you might want to shield your eyes.)
https://www.youtube.com/watch?v=OacRjOPpbSw?feature=oembed
The show's second season touches on the controversial themes brought up in Season 1, including the super stereotyped racial personas the female wrestlers are forced to embrace. Brie's character Ruth also gets a taste of industry sexism and manipulation.
https://www.youtube.com/watch?v=9iM7W1Dvl6Q?feature=oembed
The new episodes, once again, show the strong women pull together despite differences. Head over to Netflix to watch both seasons of GLOW.