Korean beauty gurus Glow Recipe gives us the deets on their new skin care launch at Sephora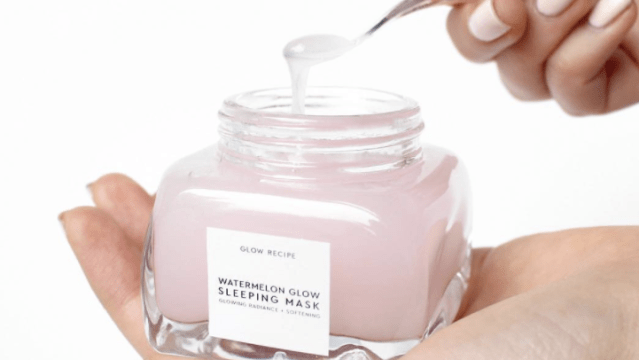 For those of us who are fascinated with all things Korean beauty, the Glow Recipe website has been bookmarked on our browsers for quite some time. Founded by beauty industry veterans Christine Chang and Sarah Lee in 2014, Glow Recipe has become one of the top online destinations for learning about skin care innovations in the K-beauty scene. Christine and Sarah are extremely passionate about what they do, traveling to Korea several times a year in order to curate the best products for their site. Now the duo has launched their own line of skin care products under the Glow Recipe brand, and it's already in high demand (the Watermelon Glow Sleeping Mask quickly amassed a 5,000+ person waiting list).
To celebrate Glow Recipe's launch at Sephora today, we spoke to Christine and Sarah about their new line, how watermelon is an old-school Korean beauty secret, and whether or not the K-beauty trend is here to stay.
HelloGiggles: How did you come to the decision to create your own products?
Glow Recipe: We actually started to see a lot of technology and ingredients we thought were incredible, but weren't really being harnessed. For us, it was to bring over those technologies in a condensed, distilled way that really worked for U.S. women. We don't subscribe to the 10-step routine at all. I don't really think it reflects reality here or in Korea because women there are not counting the number of steps to achieve some satisfactory routine. It's really about listening to your skin and having that fluidity and that dialogue with it more than anything else. We wanted to bring that sensorial and holistic approach to skin care and launch it here. The response has been extremely humbling. We're really excited to sell out of our first batch so quickly.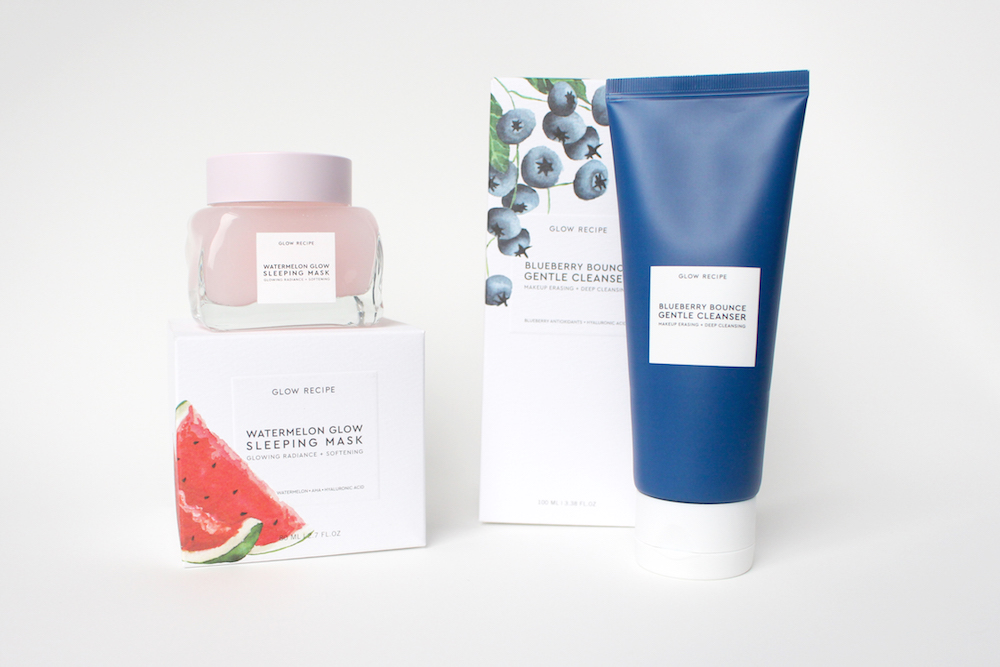 HG: Can you talk a bit about the products that you're launching with?
GR: The first is the Blueberry Bounce Cleanser. Cleansing is incredibly important part of the routine for both Sarah and myself because it's really the foundation of a healthy skin routine. For us, it's really the double cleanse, but not everyone can do that so we wanted to make a makeup melter and deep cleanser all-in-one.
It's that super hybrid that has not only incredibly efficacy, but also takes the place of multiple products in your routine. It also is really versatile because the cleanser is usually a wash-off product with people often relegating it to, "Oh well, I'll spend on my serum but a cleanser, whatever, I wash it off my face anyway." We wanted to make it more of a treatment product even in the short term. We loaded it with blueberry antioxidants and hyaluronic acid and AHA, so it offers a more upgraded experience to the typical cleanser. Additionally, you can also use it as a five to 10-minute mask. During the process of washing it off, it will turn into a cleansing salt.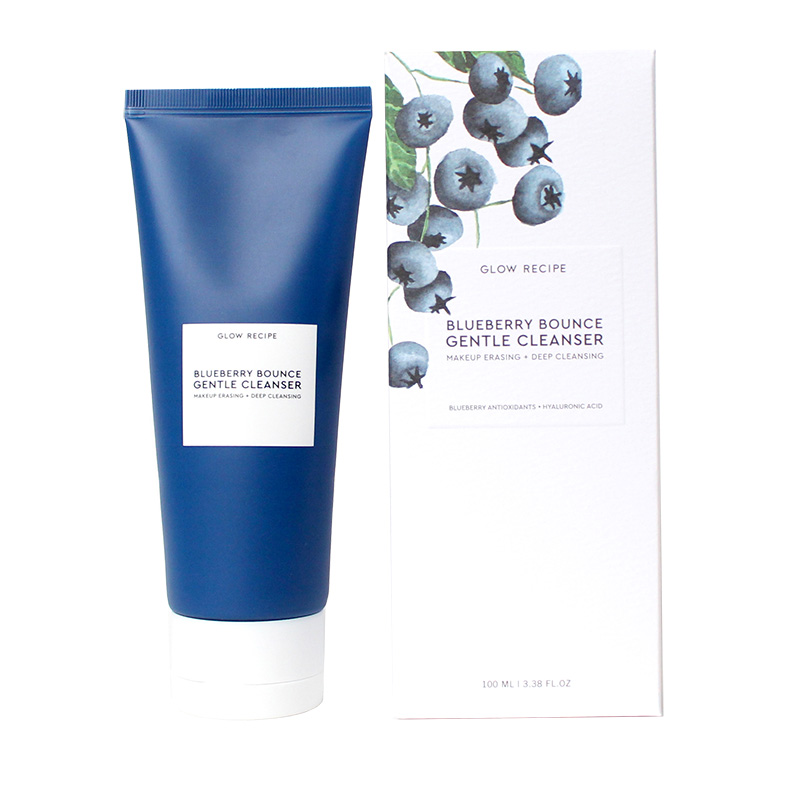 GR: Watermelon is such a time-tested beauty ingredient in Korea. Our grandmothers used to rub the rinds on our backs when we were growing up. It cures heat rash and irritation. Women actually use the shavings — they shave the rind in very thin slices, chill it in the refrigerator, and then you can have a face mask. It's an incredible ingredient to soothe and hydrate and calm the skin.
When you combine it with a AHA and a hyaluronic acid, it not only hydrates and soothes the skin overnight, it also exfoliates. In the morning you get this instant post-facial result. The real magic happens when you wash off the mask after you sleep and you feel that baby soft skin. You've unearthed it from underneath. We wanted to bring this incredibly lightweight gel texture to a sleeping mask because we tried so many treatments and many feel thick, clunky, and not really breathable, so we wanted this experience to be better.
HG: What advice would you give to someone who's only beginning to get their skin care regimen together?
GR: Don't be overwhelmed by the routine. It can be very much more simple than you think it is. You can use a great cleanser and a great treatment product, that's really a good first step as long as you do it everyday. Definitely use a SPF daily because without it, you're leaving your skin bare to the elements and vulnerable to environmental factors. Have fun with it. We call it "skintertainment." There are all these fun, amazing formulas from Korean beauty and I think that's really the magic. Makeup is usually the fun, transformational part, and skin care was just something that fell through. I think the fact that there's these bouncy, floaty, gel textures in our products really brings that element of fun back to skin care and makes the process much more enjoyable so that you're likely to do it everyday. That little, daily investment in your skin will pay you back tenfold later.
HG: It seems like the Korean beauty trend isn't a "trend" anymore, and is becoming a mainstay. Do you see the same and if so, why do you think that is?
GR: I absolutely agree. I think every year there are questions. Will the trend last? Will this be the peak? I don't think it's anywhere near the peak yet because the U.S. market is so dynamic and diverse. Korean beauty has come a long way, but it has a long way to go to really penetrating a huge market, educating around what Korean beauty really is, all of these new categories. There's still a lot of potential. We're seeing new brands come on board, but there needs to be a really clear brand down the road for K-beauty to become more than a trend. K-beauty is not only fun and sensorial and creates a skin care experience that's no longer a chore — it's really about that indulgence — but it's also grounded in efficacy, and that's what will help its longevity.
HG: What's next for Glow Recipe? Can we expect more products down the line?
GR: It's really a collaborative process. We base it on what our customers are saying and what we hear. We've heard so many customers in the past talking about overnight mask textures that they were hoping to be a little different, or a cleanser that would keep them hydrated while they are cleansing. So these products are all derived from the customer and whatever we do next will be once again from them, and in collaboration with them. We went through multiple rounds of panels for our own launch and it was really an incredible experience. We're excited for our pop-up at Saks which we just launched, then we'll have to see. We'll also have a few more QVC segments planned for this year.