Glow's #MeToo episode in Season 2 is one incredibly powerful moment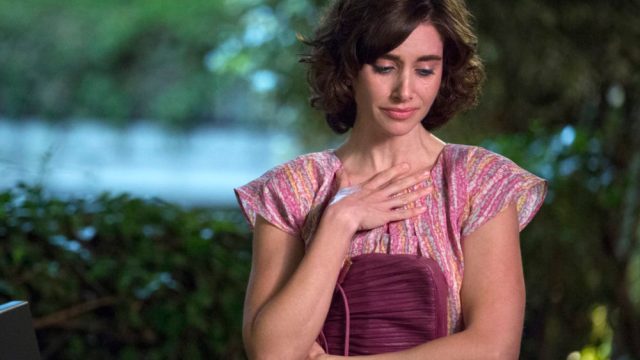 This past weekend, Glow Season 2 dropped on Netflix and landed with a thud  — and that thud is the sound the ladies make when they bodyslam each other in the ring, and it's a good thing, because they know how to throw down. Picking up shortly after the end of Season 1, Season 2 of the series brings us back into the action and into the lives in and out of the studio for our badass women of wrestling. While there's certainly enough drama and laughs to go around for everyone, there's one episode of Season 2 that seems almost ripped-from-the-headlines, since it's very much a strong #MeToo moment.
And yes, it was very much inspired by Harvey Weinstein.
Though the show is set in the 1980s, at one point during the season Ruth (Alison Brie) finds herself in a very awful situation. She's been brought in for a dinner meeting under the assumption that she's meeting with television executives at the network to discuss her Glow character. Arriving to dinner, she's told that the executive likes to take meetings in his hotel room (and that's red flag number one) and once inside his room, everyone else in attendance disappears (that's red flag number two).
And it then gets even worse, because Ruth still thinks this is FINE (reader, it is not fine). The slimey dude she's now alone in the hotel room with asks to see some of her wrestling moves, and he uses this opportunity to grope Ruth. Then he has the audacity to suggest the two take a bath together, and while he's filling up the tub for them, Ruth makes the decision to GTFO of there. She hurries away and doesn't look back.
It's scary how timely this moment set in 1985 fits into 2018. Since living in a post-Weinstein world, we've heard this story what feels like thousands of times since last October.
"We had talked prior to the Harvey Weinstein news breaking about wanting to do something about sexual harassment, because we have the girls in an environment now where they were part of the network, the network was run by men and there was a new power dynamic we could introduce if we wanted to," Glow creator Liz Flahive explained to The Hollywood Reporter. "We were definitely emboldened to go further with our story once the Weinstein news broke, but showing that side was always in the foundation for us, given the story that we were telling of actresses in 1985."
While you might think that Ruth leaving the hotel room is the end of this story, it is sadly not. In retaliation to her escape, the Glow television show is moved from its primetime television slot to…2 a.m., when no one is going to watch it. Ruth tells Debbie (Betty Gilpin) what happened, and Debbie does not react kindly, instead blaming Ruth and even going so far as to turn on her frenemy, yelling, "That is how this business works! Men try shit and you have to pretend to like it until you don't have to anymore." 
"The event felt like the event and [Ruth and Debbie's] conversation felt like the thing to grapple with," Flahive told THR. "The conversation between these two women who were both in the industry, who both had different perspectives and experiences, who both had a different experience with success, or lack thereof. That was the meat of it for us."
It's intense and powerful meat to digest; we see both sides of their argument and it's hard to figure out who is right and who is wrong (but Ruth's in the right, of course). You can read the full interview about this moment right here, and Glow Season 2 is now streaming on Netflix. Watch (or rewatch) the most powerful episode right now.