We were intrigued by glow-in-the-dark hair. So, we tried it.
I've been bleaching and dyeing my hair for almost four years now, and I've gone from rosy pink to dark purple to teal-and-purple-and-bright-red. So, when I first read about glow-in-the-dark hair, I got instant heart eyes — and knew I had to try it out for myself.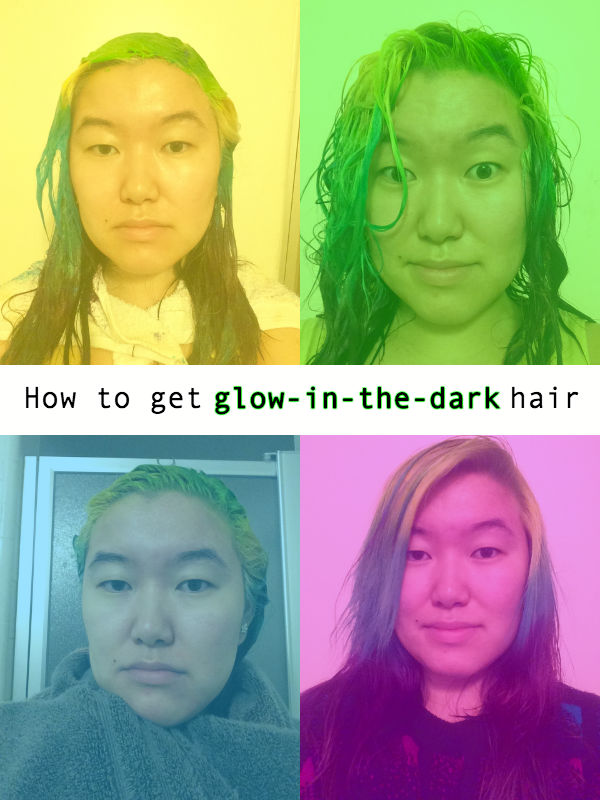 Glow-in-the-dark hair is a bit of a misnomer; no, your hair isn't going to attract moths at night; yes, you will be able to sleep just fine. But as anyone who's ever been to a concert or a blacklight party knows, neon anything will glow under UV light. Glow-in-the-dark hair mostly just translates to really, really bright hair.
A search of #neonhair on Instagram reveals some pretty intimidating results: Perfectly styled neon strands, gorgeously glowing colors, and a lot of comments along the lines of "No way!!!" "Unreal!!!" "Sooo cool." The cleanest dye results were naturally all from salons, but I was interested in if/how it'd be possible to get glow-in-the-dark hair at home. And well, let's let the results speak for themselves: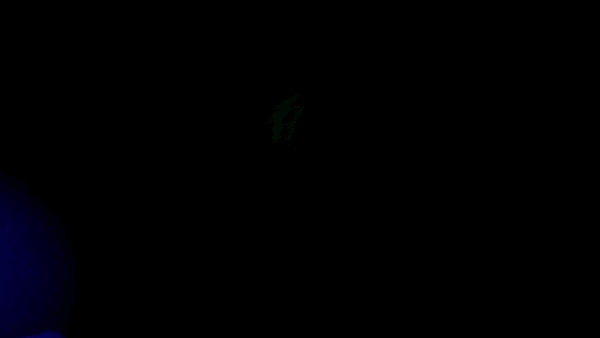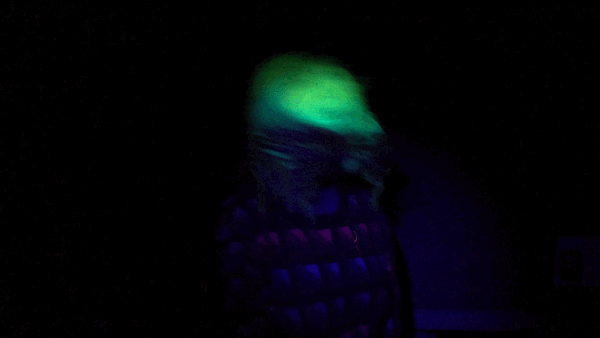 Suffice it to say, It. Worked.
Here's how I got there:
While Manic Panic in particular is known for its blacklight-friendly temporary dyes, with support from our friends at Pravana, a favorite brand of professional salons everywhere, I decided to try out their neon yellow, green, and blue dyes. (Their ChromaSilk Neon dyes pack a potent, semi-permanent punch, a better bet for super-saturated, long-lasting color rather than Manic Panic's temporary thrill.)
https://www.instagram.com/p/BAxVUmrsDBX
Since the ends of my hair can't handle another round of bleach, I would be dyeing them over with the brand's darker ChromaSilk Vivids purple and red; then, I'd dye my roots lime green, do a strip of neon yellow as an unnatural "highlight" (inspired by this Pravana look), and fill in the rest with a mix of neon green and blue.
For reference, here's what my hair looked like before:
https://www.instagram.com/p/BBD1tZRvU1g
Now, onward.
1. Apply the dye on pre-lightened hair
Armed with some mixing bowls, brushes, various towels, and an assistant, I applied the dye on top of my lightened hair — giving my hair plennnty of time to rest and regroup between my bleach and my dye. Even if you have blonde hair naturally, it's still a good idea to at least tone your hair. For the neon yellow dye especially, if you don't pre-lighten your hair, it might just end up looking like an extra-brassy blonde; not exactly what anyone's looking for.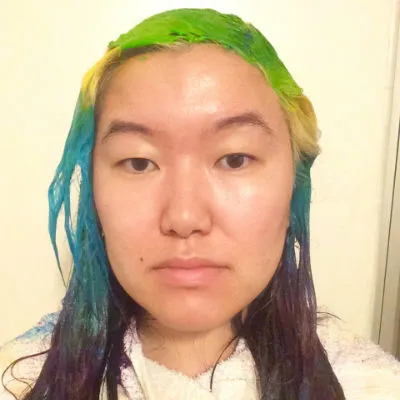 2. Wait 30 minutes, then rinse the dye out.
I personally like to add an extra step: I'll put a shower cap over my hair, then hold a blow dryer about six inches away and apply indirect heat to my hair. Since most people don't have spa dryer chairs, this is my way (adapted from this blog) of safely adding some heat to my hair.
Afterward, my hair felt — in a word — tender. But, the brilliance of the neon dyes was already starting to come through in a big way.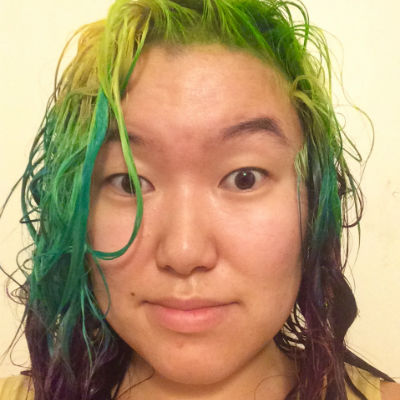 3. Let your hair dry to see the full color impact.
I let my hair air dry to avoid tangling it even further, and voilà: Three-ish bands of color: Ridiculously bright, lime green hair; darker green hair with some bright blue streaking and undertones; and, a band of dark reddish purple hair to "hide" my ends.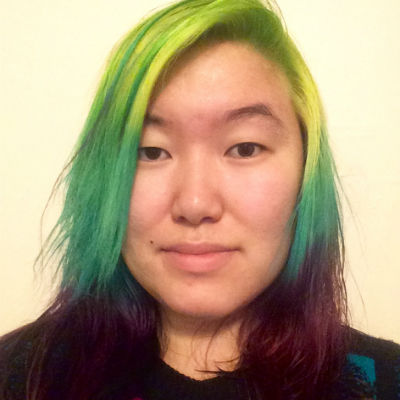 Since then, I've been maintaining my hair with limited washes and regular rounds of deep conditioning. Check the final results in this side-by-side, between non-glowing and glowing hair: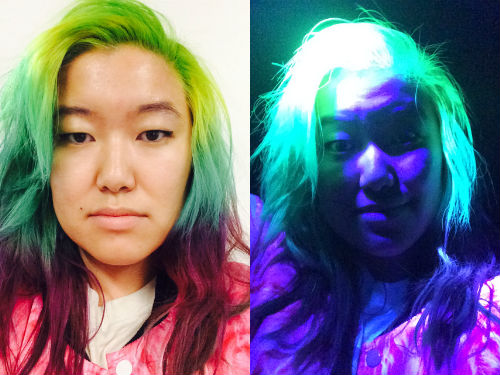 The first time I saw my hair glow, I screamed. The color is absolutely brilliant even without a UV assist, but there's something kind of ridiculously awesome about glow-in-the-dark hair. And, I did it all at home. (Though of course, for the ***best*** results, head to a salon. Colorists are literal magicians.)
So while there are some real precautions you should take before committing to bleach or dye of any kind, I can say with confidence that glow-in-the-dark hair isn't just another one of those weird Internet hair trends. (Has anyone seen gold leaf roots in the wild? Anyone?) For those of us who like to live our lives with a little more (okay, a lot more) color, glow-in-the-dark hair is a way to indulge your secret deep sea creature dreams, or perhaps better mirror the glow we all have inside ourselves. And, isn't that what it really comes down to — expressing yourself, even/especially if it means having hair that glows in the dark.
Related reading:
There was a "Star Wars" hairstyle context on Insta, and it was out of this world
The important reason why these rainbow hair selfies are going viral