16 highlighters that leave your skin looking dewy and healthy—never glittery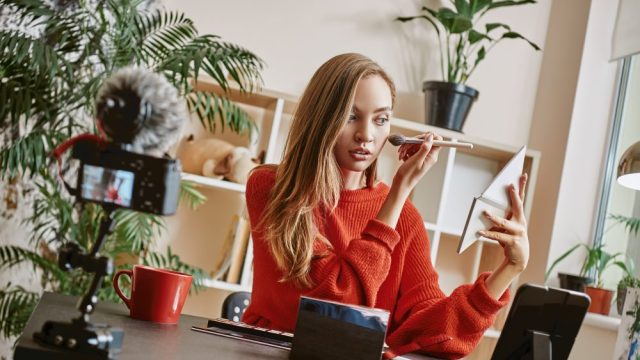 These days, when you think of highlighter, you probably picture what we'll call, for lack of a better term, the Instagram glow. That is, a strip of powder highlight in some sort of metallic, holographic, or pearlescent shade, usually applied at the end of a makeup routine—after contouring and baking.
There's nothing wrong with that type of hyper-glow, but it's not for everyone. And it's certainly not meant to emulate a natural sheen that just hits the high points of the face, making you look healthy and glowy. But sometimes, that natural look is all we want. If you're looking for a subtle, dewy sheen this summer, we've picked out 16 of the best glossy highlighters out there, ranging from $4 (yes, really!) to $62.
Shop our glossy highlighter picks below, and get ready to glow—naturally.
1NYX Cosmetics Dose of Dew Face Gloss
The name says it all—there's nothing shimmery or sparkly about this gorgeous highlighter.
2Kevyn Aucoin Glass Glow Face Liquid Highlighter
A real OG—you can't go wrong with this pick.
3M.A.C. Cosmetics Mixing Medium Shine
Makeup artists often mix this with eyeshadow or other pigment to create a glossy finish, but we love it on its own as a subtle highlighter.
4Make Beauty Face Gloss
Totally colorless and fragrance-free.
5Milk Makeup Hydrating Oil
Okay, so this isn't technically a highlighter, but it's one of the best (and most hydrating) ways to get a subtle shine.
6Nudestix Skin Glossing Pencil
Easy to apply, not a hint of shimmer in sight, and can be used all over—there's nothing we don't like about this glossing pencil.
7Glossier Haloscope
It's basically an Instagram celebrity—and for good reason.
8Marc Jacobs Beauty Glow Stick Glistening Illuminator
Don't let the color fool you—this cream stick is perfect for creating a wet-looking sheen.
9E.l.f. Cosmetics Liquid Highlighter
A little goes a long way, so just a couple of dots on each cheek will do the trick.
10Giorgio Armani Beauty Fluid Sheer
Yes, the price tag is steep, but this will always be one of our faves.
11Charlotte Tilbury Hollywood Flawless Filter
This primer/highlighter/foundation hybrid has been a game-changer since its launch.
12Ciaté London Dewy Stix Luminous Highlighting Balm
Perfect for travel.
13Kjaer Weis Highlighter
So subtle and pretty—and it comes in refillable packaging!
14Tata Harper Very Highlighting
You'll love this cream formula and its natural-looking dewy effect.
15ohii Soft Glow Highlighter
It may not look it in the packaging, but this delivers one seriously natural-looking glow.
16VDL Lumilayer All-Over Stick
Use this balm all over your face for a wet-looking finish you'll be obsessed with.