Glossier's New Bronzer Gave Me the Goddess Glow of My Dreams
Welcome to Game-Changers, a weekly series in which we reveal the holy grail beauty products we're loving now—the ones that saved our hair, cleared our skin, and, in some way, changed our lives.
When Glossier launches a product, we pay attention. The brand is responsible for some of our favorite skincare and makeup products, such as Cloud Paint, Balm Dot Com, and Cleanser Concentrate, so when we learned that it was about to launch bronzers, we were pumped. Enter: Solar Paint.
If you've ever wanted a bronzer that looks like skin, can sculpt your face, and gives you that lit-from-within glow, Solar Paint is your answer. I had the opportunity to try the bronzer before its official launch, and I was impressed. (This is coming from someone who despite working in beauty, rarely finds a "wow" product.) I have medium, olive-toned skin, so I used the shade "Heat" to give my face some extra-high cheekbones and a just-came-back-from-yachting-with-Harry-Styles glow. Solar Paint gave my skin the perfect shadow-like depth I've only ever dreamed of achieving, and it stayed put all day despite the New York heat and my stubbornness to bike everywhere. In just one day, I became a loyal fan.
Solar Paint has a gel-crème texture and a doe foot applicator that makes precise application super simple. Since the initial try, I've taken to using it on the bridge of my nose for that TikTok contour, on the tops of my forehead, along my jawline, and, of course, by my cheekbones. It's buildable, blends really easily into the skin, and looks so natural.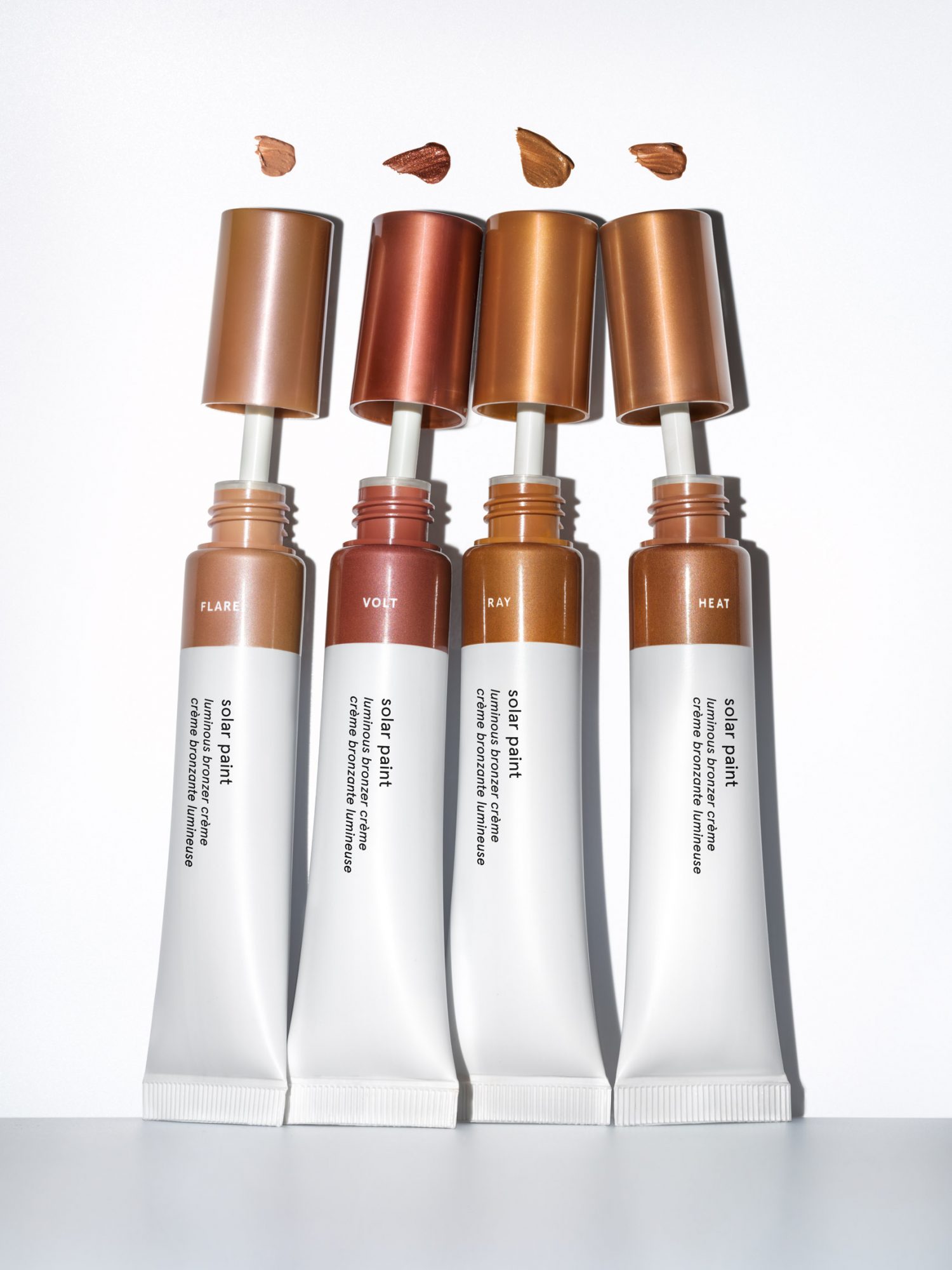 Glossier Solar Paint
$20 each
Shop it
Glossier
Glossier Solar Paint comes in four shades: Flare (a light, neutral bronze for fair-light skin tones), Ray (a medium, warm bronze for light-medium skin tones), Heat (a rich, brown bronze for tan-deep skin tones), and Volt (a deep, red bronze for deep-rich skin tones). In an e-mail, the brand said that "each community-tested shade has a touch of ultra-fine, light-reflecting pearls that are fine-tuned to complement each range of skin tones," and the website adds they were formulated "with different color pearls and pigments to realistically capture how the sun warms each range of skin tones."
The formula itself is skincare-friendly, too. Apart from being vegan and cruelty-free, it uses a unique combination of plant oils and extracts, such as sunflower seed and jojoba, to nourish and condition the skin, as well as hydrating glycerin and a proprietary botanical blend traditionally used in Ayurveda to give skin a healthy glow. I love a skin-boosting makeup product, and when one works as well as Solar Paint does, it almost immediately becomes a forever favorite.