Glossier's new eyeshadows come in the prettiest colors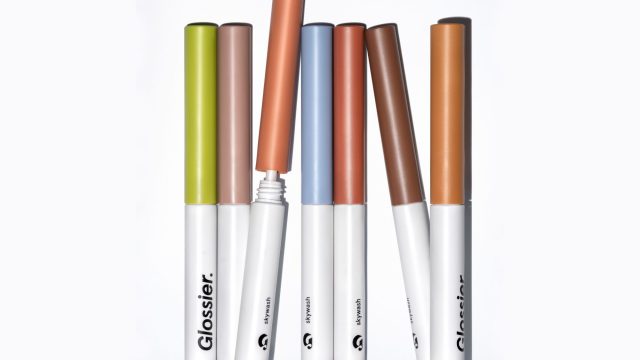 Listen up—Glossier has a new product launch, and this is not a drill. The ultimate millennial skincare and makeup brand just launched its newest cosmetic product: Skywash. It's a sheer matte lid tint that has a buildable formula so you can customize the intensity of your eye look, and comes in seven Southwest landscape-inspired shades: Pool, pebble, echo, terra, valley, palm, and lawn. **Swoon**
Glossier Skywash comes in a convenient pen-like shape, making it extremely easy to fit in every single one of your bags and take with you while on-the-go. Its longwear formula lasts for up to 12 hours, it has a gel-to-powder look and feel, and it has a silky matte finish you'll quickly come to love.
https://www.instagram.com/p/B8_XNOVBpGX
Below, all of the Glossier Skywash shades:
Glossier Skywash in Pool
Blue eyeshadow has never looked so good, thanks to its cool cornflower blue shade.
Glossier Skywash in Pebble
This neutral taupe will soon be your everyday shade.
Glossier Skywash in Echo
This cocoa brown shade is the deepest of the collection and is universally flattering.
Glossier Skywash in Terra
This burnt sienna is the second darkish tone in the Skywash line, and it's perfect for date night and a girls night out.
Glossier Skywash in Valley
This warm peach will warm up your look, even during the coldest of days.
Glossier Skywash in Palm
A golden beige eyeshadow is the perfect everyday tone. Use one layer for a subtle hint of color, or pile up the layers for a more obvious shade.
Glossier Skywash in Lawn
This fresh green comes right in time for spring! Use it as a solid look over your lids, or apply it to the inner corners of your eyes to make them pop.