Gloss smudging is the hair highlighting trend you're about to see everywhere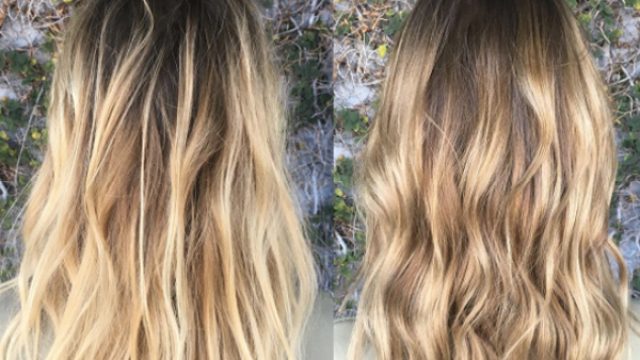 Hair alert: this summer's hair highlighting trend is gloss smudging and it's awesome. Seriously, this is the way to get your hair the perfect hue this season.
If you've spent a few hours in the salon chair, it's pretty awesome to hit that shampoo bowl for the final time. What we didn't know before now is that this final step can actually be crucial to how your color comes out.
In fact, according to stylist Kari Hill, the final step, makes or breaks how your color looks. The magical moment when you see the color you want (highlight wise) is thanks to a technique she calls "gloss smudging."
Hill is one of Los Angeles' best blond colorists, who works at Meche Salon. In an interview with Refinery 29 she opened up about gloss smudging and why it's so fabulous.
"I smudge everyone who walks in the door," Hill told Refinery 29. "It takes away the line of demarcation we all had when we got highlights when we were younger."
The hair colorist works with celebrity clients including, Michelle Williams, Anna Faris, Karlie Kloss and more.
Clearly, she knows what she's doing with blondes and highlights!
So what is gloss smudging exactly? It's a lot like what it sounds…smudging color at the root of your hair to help it blend better and hide the line of where the highlight begins and ends.
"Think of it almost like an eyeliner with a smudger at the end," the L'Oreal ambassador explained. "It takes out the deliberate look of the highlight at the root."
Even though Hill works with blondes a lot, this technique can be used on any hair color. As long as you're going lighter you can smudge.
Any colorist can do this technique as well. All you have to do is be a little more patient. Once your hair is highlighted, and the color is washed out, it comes down to the final step.
This is when the colored gloss or toner is applied — with a brush — just to the roots. In the end you get a more natural finish to your highlights.
"We can choose anywhere from the lightest, subtle shadow all the way to a deeper, darker hue, like you have a natural root," Hill revealed.
The best news is that if you use this technique you won't have to come back to the salon as often.
"It actually buys you time between appointments," she said. "When we first started doing it, we called it 'recession hair.'"
Why? Because the gradual fade of the toner takes a few months, and, thanks to the smudging, it blends in better with the surrounding hair. This means no weird stripes as your color starts to fade; instead, it naturally blends right back into your roots.
Highlights that look more natural AND last longer? You can see why gloss smudging is about to be our new best friend!!