This glorious crystal crown is perf for Coachella, and basically every day of your life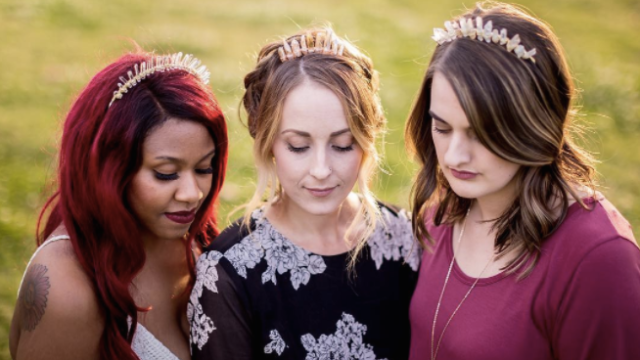 Festival queens rejoice, for we have found the perfect crown for Coachella and beyond — and it's not made of flowers!
If you're tired of swimming in a sea of flower crowns at summer shows, and lean more towards terrestrial than mermaid, this glorious headpiece will enchant you.
Designer Sarah Cosper started making crystal crowns as special Christmas gifts for friends. Her gifts made people happy (duh, they're gorgeous) so she expanded into other pieces, like combs and hat bands. Her wares are currently available on her Etsy shop, Lux Exteriors, and range from $59.99 to $125.
All of the pieces are made by hand with love and positivity. They're perfect for special occasions, like weddings, full moon parties, or going to the grocery store.
The crown craftstress loves exploring the magical world of crystals. She told HelloGiggles,
"My dad is a rock guy. He's always looking for hunks of quartz and cool rocks, and he used to take me panning for gold. So, I'm a rock guy, too lol. Geodes, agate, spheres, just pretty ones, we're always scanning the ground. Also, I've been obsessed with space and stars for as long as I can remember, and sometimes I just TRIP OUT on these pieces of planet. People would try to tell me pyrite was worthless and I never saw it the same way, you know? Like, this shit is sparkly and it makes me happy. That's not worthless."
Agreed!
Crowns for the whole coven.
Mini crystal crowns match any mystical babe's hair color.
Rose quartz for love!
This comb can complete your wedding look, and you'll definitely wear it again. Or use to attract love…or encourage your own self-love.
Buy Sarah's crystal crowns and more at her Etsy shop, Lux Exteriors, and get 30% off using the code: FULLMOON30.
Check out more Items of the Day, here!