If you wanna rock glitter makeup at Coachella, because you totally do, you'll want this smudge-proof product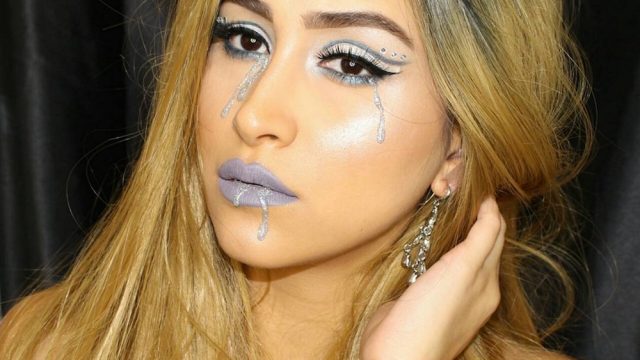 Need a magical makeup look for Coachella? Check out the glitter product that'll stay on your face even if you're sweating your ass off.
So you snagged an elusive pass to Coachella, you lucky thing! Surely you're already dreaming off your 'fit for the fest. (We can't wait to see what the celebs will be wearing this year.) Forget the flower crown (and for the love of all that is good and holy the problematic-ass headdress), and shift your focus to your face.
Dermaflage was developed by Hollywood special effects artists to cover scars, wrinkles, and imperfections. But the company also offers a fun 3D glitter product called Dimension that's great for creating party, drag, and costume looks. The glitter tear look is making the Internet rounds, and it's kind of the perfect thing for Coachella.
This video shows you how to achieve some super statement-making sad girl tears.
They don't budge! Even if you're getting Father John Misty-eyed during your favorite breakup song.
Dimension reminds us of glitter puffy paint, and is easily removed in an elementary school era peeling-glue-off-your-hand manner.
https://www.instagram.com/p/BREnnqHAfU-
The Coachella lineup includes Radiohead, Kendrick Lamar, and a much higher percentage of women artists than in past years. We're crying tears of joy over that!
If you're figuratively drooling over your musical crush.
https://www.instagram.com/p/BReD3qDjuZi
The glitter look would certainly be approved by headliner Lady Gaga, and the gold shade can tide you over til Beyonce's triumphant return to the Coachella stage next year.
Tears of blood for the goth girls. (Or glitter lips for the less brutal.)[/header]
https://www.instagram.com/p/BP-5i-CjQDv
Check out Dimension for $24 from Dermaflage.