This glitter ice cream cone cake looks as pretty and delicious as it sounds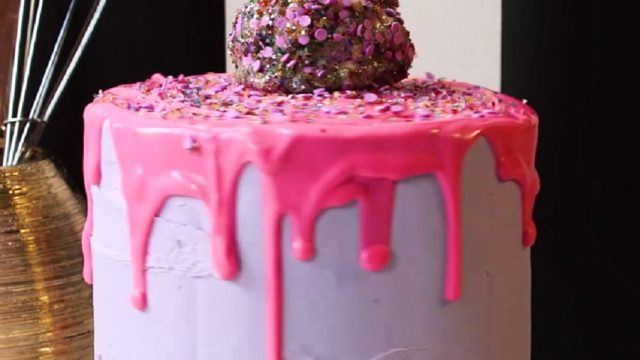 Does a cake with an ice cream cone on top of it sound like way too much for your sweet tooth to handle? Well, we're #sorrynotsorry to introduce you to this glitter ice cream cone cake from Cosmo Bites because it's simply too pretty to ignore. C'mon, your teeth won't mind if you indulge in a brief yet intense staring sesh with this cake and its edible glitter topping because the trend of putting glitter on everything is poppin' and you'll never forgive yourself for missing out on it.
Cosmo teamed up with chef Ashton Keefe to bring us this glittery blessing of a dessert, which consists of three purple tiers, that ice cream cone we mentioned earlier and enough shimmer to convince us that it's totally nom nom-worthy:
SOLD.
If you see us wearing a face full of the sparkly stuff, let's pretend like we didn't just devour an entire glittery cake and stick to telling everyone we went a little overboard with the glitter lip gloss, mkay?