Watch Glee's Amber Riley sing an emotional Beyoncé song while protesting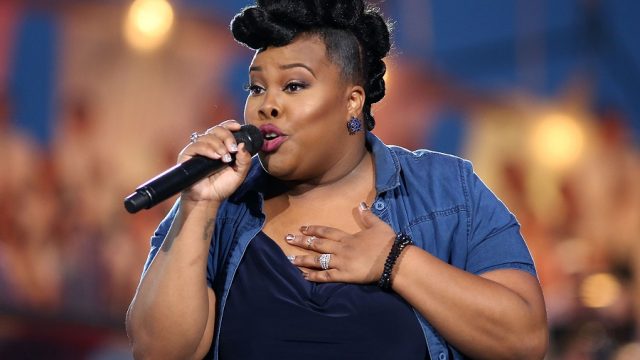 On Tuesday, June 2nd, peaceful protesters participated in a sit-in in front of Los Angeles Mayor Eric Garcetti's house. The protest was one of hundreds across the world that took place in response to the killing of George Floyd, who died when former police officer Derek Chauvin kneeled on his neck for more than seven minutes. At the sit-in, Glee's Amber Riley led the crowd in singing "Freedom" by Beyoncé, and the video will give you chills in the best way.
"What an honor," Riley captioned the video of her performance from the sit-in. She added the hashtags #BlackLivesMatter, #DefundThePolice, and #ProsecuteKillerCops.
Riley protested alongside stars like Zendaya, Chika, Kehlani, SZA, Lizzo, and Black Lives Matter co-founder Patrisse Cullors. All protestors demanded that the LA mayor take action to defund the police—and their effort worked. Garcetti announced yesterday, June 3rd, per Deadline, that he will be cutting $100 million to $150 million from the LAPD budget, "so we can invest in jobs, in education and healing," within communities of color, Garcetti announced.
Watch Riley's powerful performance of Beyoncé's "Freedom," using a megaphone, in her Instagram video below:
https://www.instagram.com/p/CA9mXInBeRa
Riley also shared more footage from the event, including a speech from Chika, who said, "We are here to fight for our cause. Take care of each other. The whole point of us being out here is to take care of each other."
Chika continued, "They want to talk about us needing to go home. We shouldn't have to fucking be here, how about that?"
On Wednesday, June 3rd, Riley appeared on an Instagram Live interview with Essence writer Danielle Young, and she wanted to make sure the focus stayed on the critical issues at hand, amid drama from her former show, Glee. When asked to respond about her former Glee costar, Lea Michele, and her problematic behavior on-set, Riley said, "I don't give a shit. People are out here dying, being murdered by police."
"I'm not going to say that Lea Michele is racist. That's not what I'm saying. That was the assumption because of what's going on right now in the world and it happened toward a Black person," Riley said, referring to how Michele was called out by Samantha Ware, who said Michele made her experience filming Glee "a living hell."
She continued, "But at the same time, in my inbox there are a lot of Black actors and actresses telling me their stories and letting me know they have dealt with the same things on set, being terrorized by the white girls that are the leads of the show."
Riley, and those who sat alongside her at the mayor's house, showed us that protesting does result in change. Let's keep working together to keep the change coming.