A glass slide 1,000 feet in the air just opened in Los Angeles and people are freaking out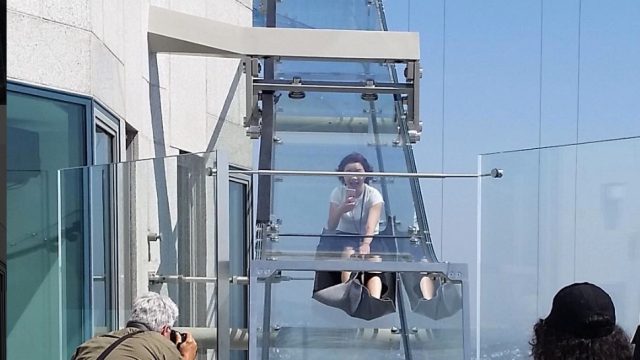 Los Angeles has a great many attractions it is known for: the Hollywood sign, the TCL Chinese Theatres, the stars along Hollywood Blvd, just to name a few — and that's not even touching on the many great art and history museums in the city (or, for that matter, nearby Disneyland.) Well, now LA has yet another fun attraction to add to its collection: a glass slide that's 1,000 feet high.
Almost a thousand feet above the city, there is a 45-foot long, 1.25 inch thick clear glass slide attached to the side of the U.S. Bank building, which allows riders to slide down from the 70th floor to the 69th. There is also an adjoining 360-degree observation deck called the Skyspace, which gives visitors more time to enjoy the view or realize their fear of heights.
According to Instagram fans, the "Skyslide" is pretty darn cool:
We hope the slide is as cool as it looks — it cost as much as a roller coaster to build: $3.5 million! We're not sure what's more terrifying: the price tag or the actual experience. To ride, visitors board a gray mat and pull it up over their feet to form a makeshift sled, then scoot themselves over the precipice. Commence screaming! (Concerned about traffic jams? Don't be: Only one person may go at a time.)
And don't worry, the slide is perfectly safe. Lucy Rumantir, president and chief executive of the company that owns the building, told The Los Angeles Times that "the slide is strong enough to hang a school bus filled with people off of it." That's pretty darn strong.
Nonetheless, if you are not comfortable riding the slide, you can chill out on the Skyspace and take in the view. To ease those nerves with liquid courage, the Skyspace will also host a small bar.
Tickets to visit the Skyspace are $25 for adults, $22 for seniors, and $19 for children ages 3-12. A ride on the Skyslide costs an additional $8.
With this and the arrival of The Wizarding World of Harry Potter at Universal Studios Hollywood, we don't know which new attraction to visit first!