The Glass Hair Instagram trend is making celebs say goodbye to their signature beachy waves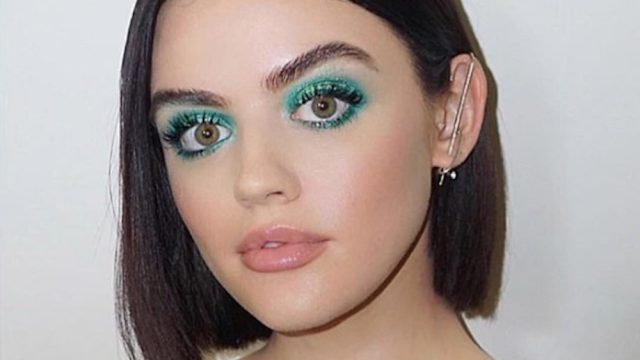 If you're yearning for a hair change, look no further than the latest celebrity trend: Glass Hair.
This summer, sleek, short bobs are more popular than ever. Almost all of our favorite stars have gotten the big chop, including Kim Kardashian, Rihanna, and Jenna Dewan. But the classic short hairstyle is getting a chic upgrade. Instead of styling your bob with beachy waves or a textured, lived-in look, celebs are opting for a super shiny finish—hence the glass hair name.
Similar to the Korean beauty "glass skin" trend, glass hair is now all the rage. Refinery29 (who first reported on this trend) explained the hairstyle perfectly. The publication wrote:
"It is a sharp cut that is styled to look perfectly polished, smooth, and shiny—resembling the reflective qualities of the material."
And while it doesn't seem like this trend is slowing down anytime soon, it's important to note that Black women are the true originators of this trend. Celebs like Taraji P. Henson, Kelly Rowland, and Yvonne Orji have all worn this hairstyle, long before it was dubbed "glass hair".
People on Twitter quickly pointed this out after a few outlets, including ours, failed to give credit where credit is due.
Look no further if you want some hair inspo, ASAP.
Insecure's Yvonne Orji looks flawless.
Lucy Hale had this look for quite some time.
Kelly Rowland's glass hair is goals.
Selena Gomez rocked it in her "Back To You" video.
Taraji P. Henson has had this hairstyle before it was a trend.
Jenna Dewan took the plunge with this trend earlier this summer.
This is one of our fave looks on Emma Roberts.
Even Ashley Tisdale jumped on the bandwagon.
Kim, Khloé, and Kourtney Kardashian have the glass hair trend on point.
https://www.instagram.com/p/Bl09VX6AoVn
This is a trend worth trying, especially if you're looking to switch up your 'do before the summer ends.