8 ways to have a glamorous, Mariah Carey-inspired summer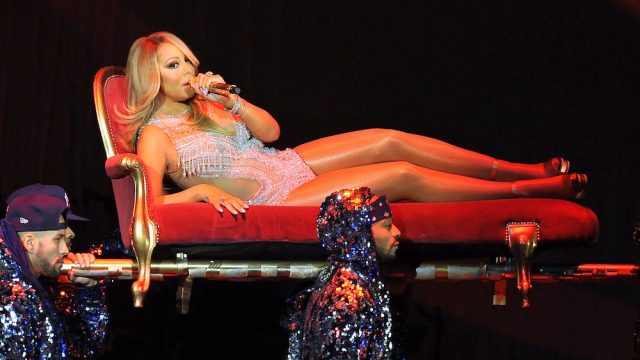 There are many different ways for a person to experience a summer filled with glamour — book a luxurious vacation, entertain friends with a sophisticated brunch, or splurge on a clothing or beauty item you've had your eye on. If you're looking for inspiration for your own glitzy summer, there's no better person to turn to than the great Mariah Carey.
Let's be real: Mariah Carey is decadence and glam personified. Aside from her mind-blowing vocal talents, one of the best things about her is that she likes to have fun by playing into her supposed diva persona. Hello, she even threw herself a Mariah Carey-themed party!
To create our own decadent summer of glamour, let's take a cue from The Elusive Chanteuse herself with these eight tips below.
1. Put bubble bath in a jacuzzi
https://www.youtube.com/watch?v=
As evidenced by this infamous episode of MTV Cribs and this recent appearance on Jimmy Kimmel Live!, one thing is for sure — Mimi LOVES her bubble baths. Sure, you can easily unlock this level of glam by planing a DIY spa day in the comfort of your own home, but why not kick it up a notch? If you find yourself at a pool party where there's some hot-tubbing going on, throw in some Mr. Bubble!
2. Three words: champagne, champagne, champagne
Mimi loves her champs! Pop open a bottle at any opportunity. Summertime brunch with the gang? Champagne! Doing some yard work? Champagne! Plucking your eyebrows? CHAMPAGNE.
3. Demand to be hand-fed grapes (or pizza) at all times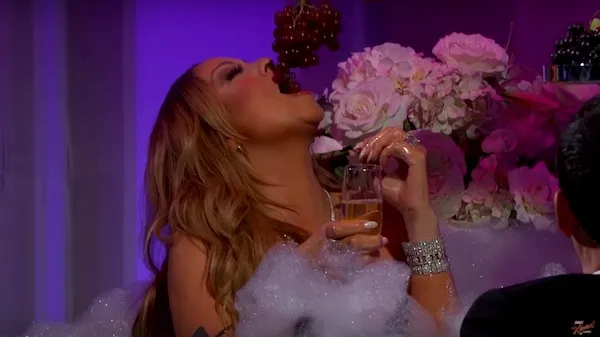 Using a fork and a knife yourself is an act for plain people and you are anything but plain.  
4. Speaking of pizza, make your own wearing NOTHING but lingerie
Forget wearing an apron. All you need is Mariah's silk lingerie set and cha-cha heels.
5. Instead of a bathing suit, swim laps in your evening gown
Earlier this year, Mimi confessed to Us Weekly that she went swimming in evening gowns and heels, which reminds us — NO flip flops allowed! Opt instead for poolside platforms or stiletto swim shoes.
6. If you find yourself on the beach and in the (GASP) sand, make sure you have your poses down
Supermodel poses on the beach > yoga on the beach.
7. Never remove your sunglasses, ESPECIALLY if you find yourself in fluorescent lighting
This is a non-negotiable. As Mimi says, overhead lighting is "abusive."
8. Don't dare compromise your style even when attempting a rigorous outdoor activity…like going to the park.
At least you'll look good as your heels sink into the ground like quicksand.