GlamGlow came out with a blue mask that pays tribute to Sonic the Hedgehog, and we are screaming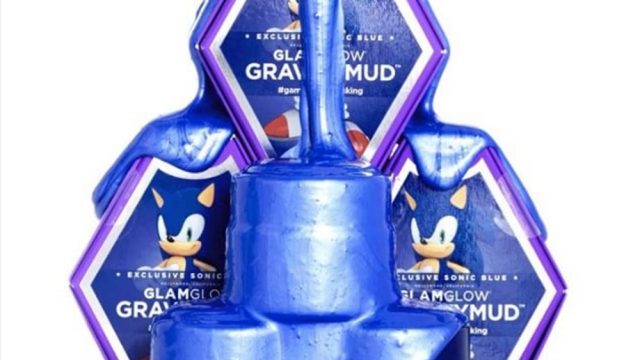 Masking is one of the true joys of our lives! It's a time to indulge in some self-care, pamper ourselves, and feel like the empresses we know we truly are. Yes, we love our utilitarian, hardworking masks, but we aren't gonna say no to a novelty mask like GlamGlow's latest, hilarious, Sonic the Hedgehog blue mask! We don't even care if it actually does anything for our skin (though knowing the quality of GlamGlow's awesome products, we know it's probably rad as hell) we want it now!
The limited-edition Sonic Blue GravityMud mask is already sold out on the Sephora app, though we can't say we are surprised to hear that one! Who doesn't want to look like a lil blue alien cutie? We certainly do!
Luckily for you, the mask officially comes out on January 17th, so if you want it, you'll still be able to get your paws on it very soon!
And whose idea was it anyways to make a mask in honor of Sonic the Hedgehog? How did they know it was the perfect collaboration that we never knew about, but clearly desperately need in our lives? The mask is in honor of Sonic's 25th anniversary, and we can't think of a better way to rep our favorite classic video game than by slapping on this mask and playing some Sega!
Not only do we get the fun of wearing a blue shimmery mask while relaxing, but you get all that added goodness that comes in those amazing GlamGlow GravityMud masks. Your skin will feel ultra-hydrated, smooth, and refreshed afterwards.
And is there anything more fun than a peel-off mask? Use it to freak out your dog or baby for maximum excitement!
If you can't wait for the Sonic Blue mask, take a gander over at GlamGlow's site and pick up a little treat for yourself!
Mondays are hard, and you earned it!