Banana Republic is Donating $10 of Every Sweater Sale to Feeding America—Today Only
From cozy cardigans to cashmere sweaters under $45, here's what we're shopping.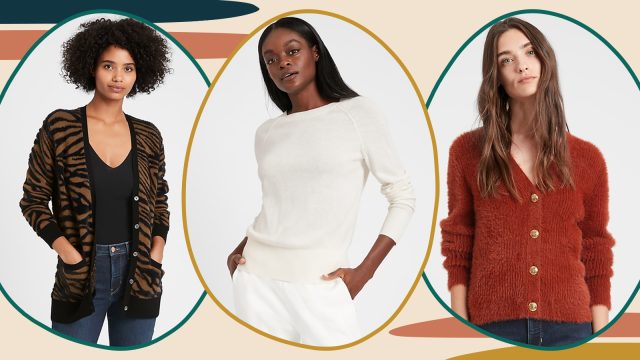 For Giving Tuesday, Banana Republic has committed to donating $10 of every sweater purchase to Feeding America, a non-profit hunger-relief organization that feeds millions of people every year. "In 2020 alone, 1/6 people may face food insecurity due to the economic impact of the COVID-19 pandemic," explained Lauren Biedron, VP of Corporate Partnerships at Feeding America, in a press release. Banana Republic has committed to donating up to $25,000 this Giving Tuesday, adding on to the over $220,000 the brand has donated to the charity to date.
Donating is one of the best ways to contribute and help, so if you're split between buying holiday presents for your loved ones or making a donation to your favorite charity, know that you can do both at the same time by shopping on Giving Tuesday. In addition to Feeding America, Banana Republic is also making a $35,000 donation to CARE, an organization dedicated to defeating poverty and achieving social justice for women and girls around the world. Knowing that our buying power can directly contribute to these non-profits makes spending our money a little easier.
Banana Republic has a wide array of styles that are both classic and trendy, many of which are still seriously discounted post-Cyber Monday, so you can get high-quality sweaters for much more affordable prices than usual. From modern classics to trendy animal-print pieces, here are the 11 sweaters we're shopping.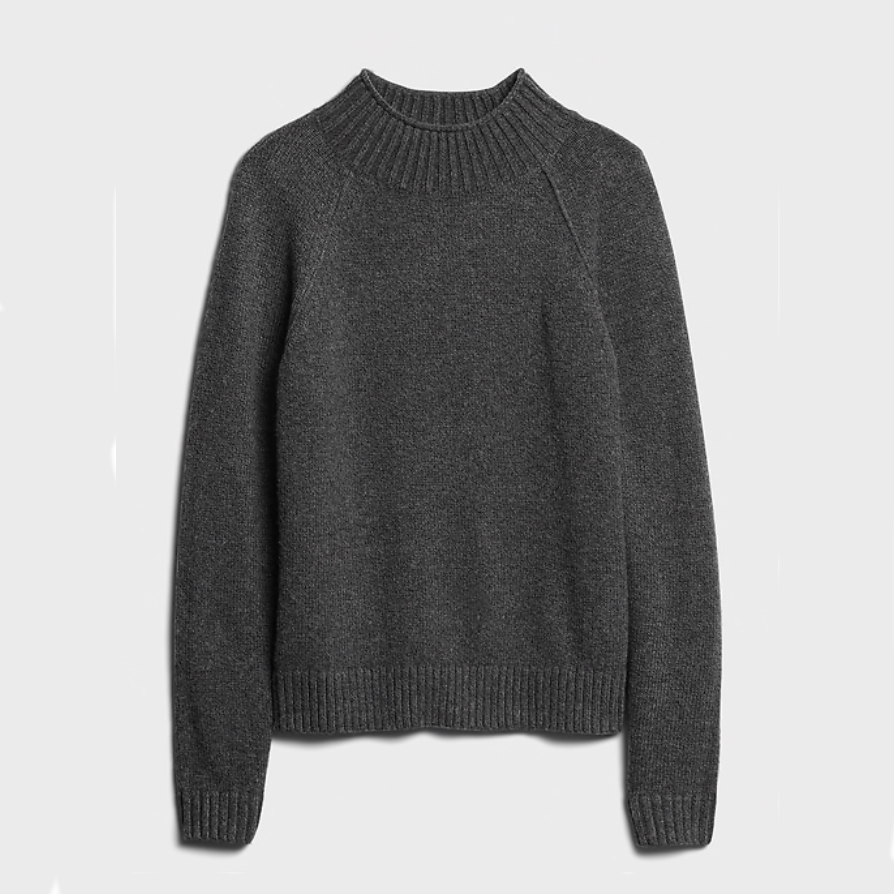 Chunky Mock-Neck Sweater
$$79.50
Shop it
Banana Republic
If you're looking to build your winter capsule wardrobe, start by adding a dark grey mock-neck to your collection. It will keep you warm, match with most of your clothing, and help you look sophisticated. This sweater is made of cotton and recycled polyester, making it cozy and eco-conscious.
If you like sticking to neutral tones but are looking for ways to make your wardrobe interesting, consider adding a few pieces with color blocks for a modern touch. We love that this sweater has a combination of knit and ribbed textures that are perfect for the winter and add a little bit of spice to a basic outfit.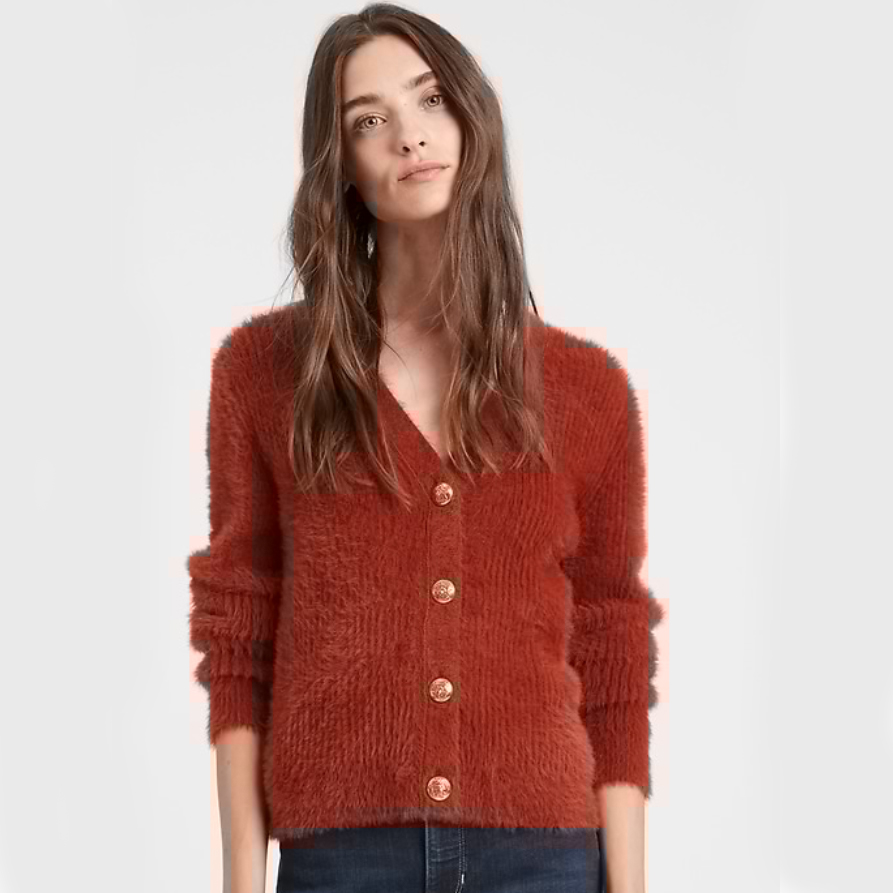 Fuzzy Cropped Cardigan Sweater
$$110
Shop it
Banana Republic
This year, we want fuzzy everything. Fuzzy socks? Yes, please. Fuzzy sweaters? Absolutely. This cardigan is the perfect mix of trendy and comfy, and we can picture ourselves wearing it while out with friends (safely, of course) and while binge-watching holiday movies. Buy it in one of four super cute colors.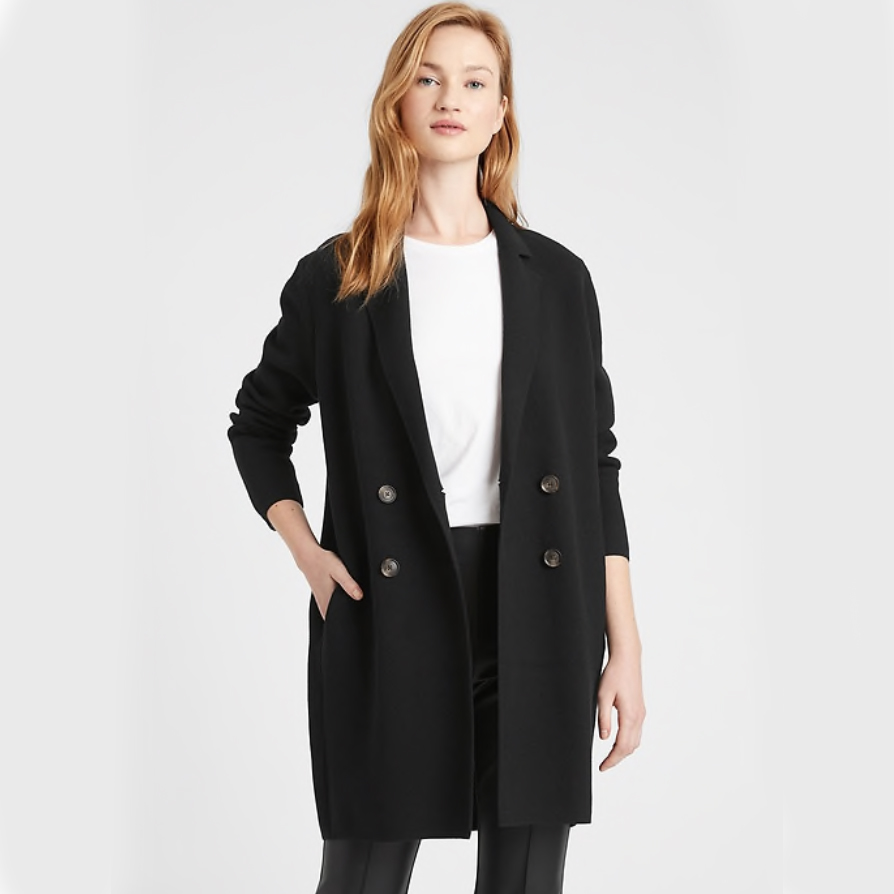 Cocoon Coatigan Sweater
$$159
Shop it
Banana Republic
Combine the work-approved style of a blazer with the comfort of a sweater and you'll get this great piece. The first time this sweater was launched in 2019, it completely sold out, and this year, Banana Republic's design team added a double-breasted button feature to revamp the old design to make it new and fresh. It uses recycled materials, too. Buy it in black (pictured here), rusty red, or olive green.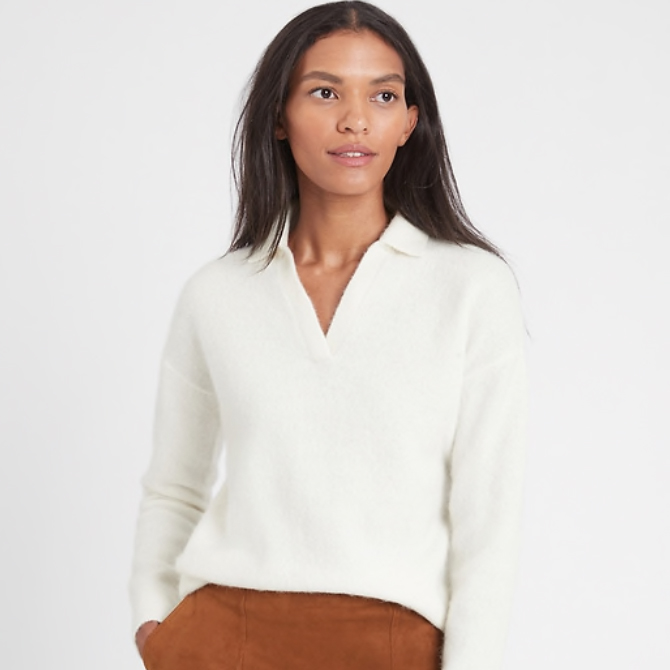 Relaxed Sweater Polo
$$98.50
Shop it
Banana Republic
Polo necklines are all the rage right now—just go on TikTok for a few minutes and you'll see the viral trend worn over and over again. Hop on this new, yet timeless, trend with this sweater polo. It's available in heather grey, black, white (pictured here), and light blue.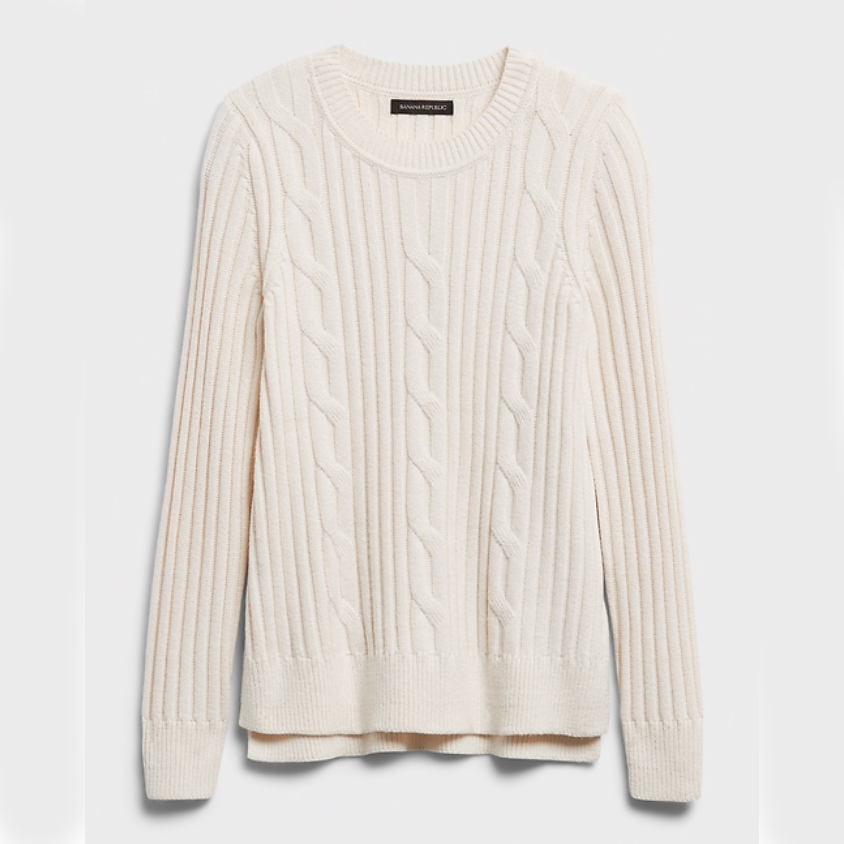 Chunky Cable-Knit Sweater
$$89.50
Shop it
Banana Republic
A classic cable knit sweater will always be in style. Buy this timeless piece in ivory (pictured here), navy, burgundy, olive green, baby blue, black, or camel.
Italian Wool-Cashmere Cropped Sweater
$$89.50
Shop it
Banana Republic
We know that cashmere can be really expensive, so we're ecstatic that we can get our hands on this classic piece for less than $45. Buy this crewneck in beige (pictured here), mauve, burnt red, white, or black.
A chunky turtleneck will be your wardrobe BFF for the next few months, so why not buy one that will keep you warm and stylish? It's made of a wool and cotton blend for softness and warmth, and is available in three neutral tones.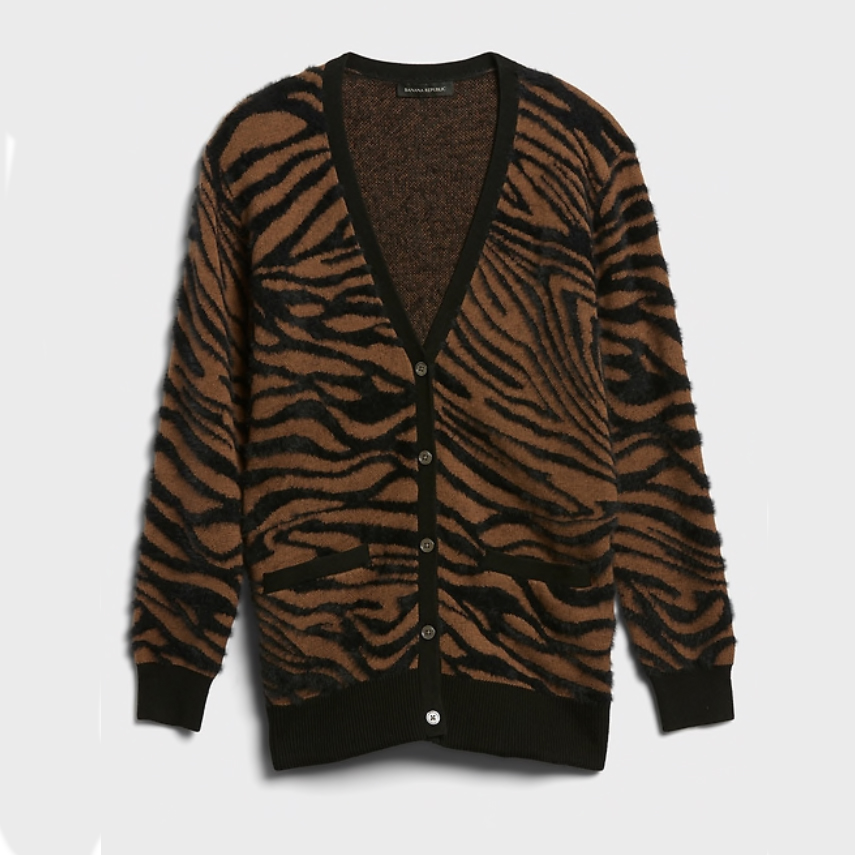 Fuzzy Animal Print Cardigan Sweater
$$110
Shop it
Banana Republic
Animal print is the new neutral, especially when it comes in actual earth-toned shades. This fuzzy zebra-print cardigan is perfect for staying warm and snuggly while elevating your outfit from your quarantine loungewear uniform. Pair it with your favorite high-waisted jeans and leather jacket for an even cooler look.
Birdseye Duster Coatigan
$$139
Shop it
Banana Republic
This duster cardigan screams California-chic. Its laid-back look give off an effortlessly cool vibe, while its structured opening and fit makes it more polished than your average duster. Buy it in this heather grey or one of six other five colors.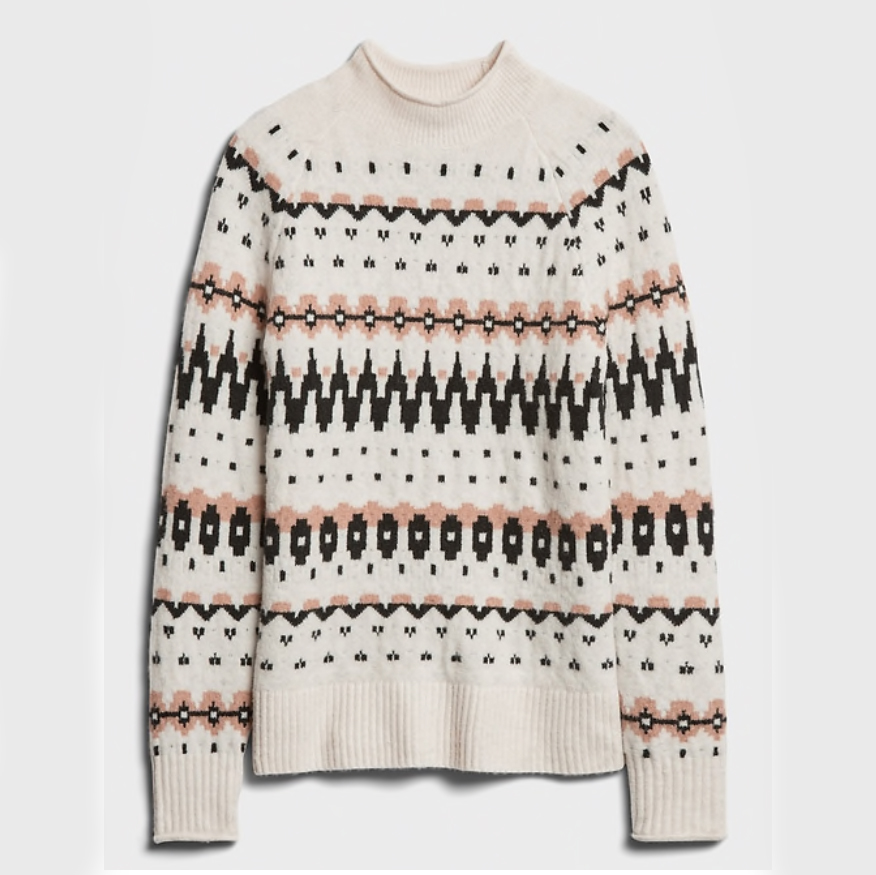 Fair Isle Mock-Neck Sweater
$$110
Shop it
Banana Republic
Fair isle print is a holiday pattern we can always count to be in style. It's basically the Hallmark holiday version of sweaters—reliable, feel-good, and always able to cheer you up. Buy it in this white print or a navy blue version.