Gisele's Olympics dress took HOW LONG to create!?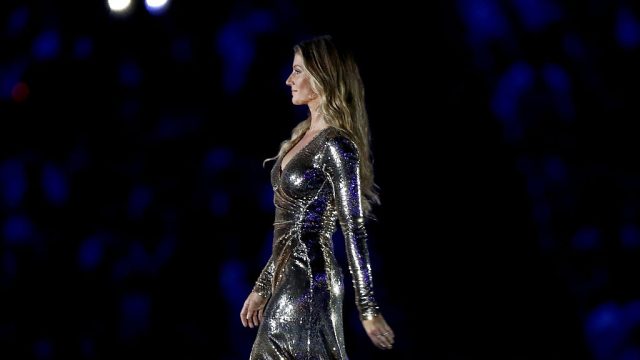 Let's all just go ahead and admit it right now: The Olympics are great and all, but something is missing. And if I learned one thing this week, thanks to queen of the runway Gisele Bündchen, it's that that one thing is Catwalking.
In case you missed it (which…HOW?), the world's most famous supermodel trekked the longest albeit most fabulous runway walk ever during the 2016 Summer Olympics opening ceremonies in Rio Friday night, as Daniel Jobim performed "The Girl from Ipanema."
The standout of these few moments, aside from her on-point form? THAT DRESS, AKA a sparkling work of art that seemed to glide along with her graceful movements for all .7 miles (yes, for real, and in heels guys — like I said, this needs its own sporting-event category) as if she was born in it.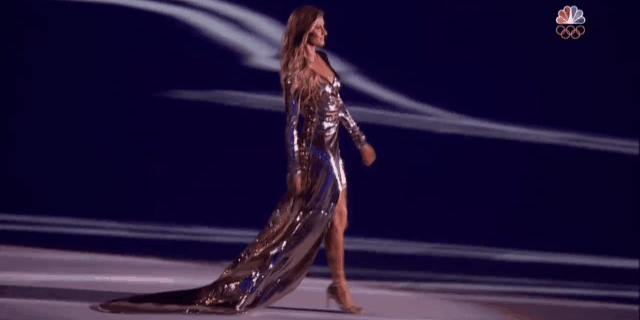 Flaw. Less.
It's not surprising that a garment like this took some serious time to bring to fruition, but that number is still mind-boggling: FOUR MONTHS, according to a Vogue interview with its designer, the Brazilian Alexandre Herchcovitch.
The fabric has been specially developed for the occasion with some peculiarities, such as the fluidity in which the sequined embroidery would flow horizontally around her body," Herchcovitch said of the process behind the construction of the dress, whose fabric is "mesh covered with bright golden sequins, double-sided, embroidered horizontally.
"I didn't want a conventional gold, but a color that was very similar to her hair tone and skin, a golden light," he added.
The designer also admitted that although the Olympics gown creation took a lot of time and effort, he couldn't have had a better subject in his wearer.
Gisele knows exactly what looks good on her and what doesn't, which makes the job much more objective and accurate," he said. "She was always present in the process. She gave important opinions, and we thought about the parts together."
Given that she's the most recognizable household name in the modeling world, we're not surprised the girl knows what she wants even in terms of dressing for the Olympics. Rock on, Gisele.