Gisele Was a No-Show for Tom Brady's Game on Sunday and Rumors Are Raging
Could this be the beginning of the end for the star-studded couple?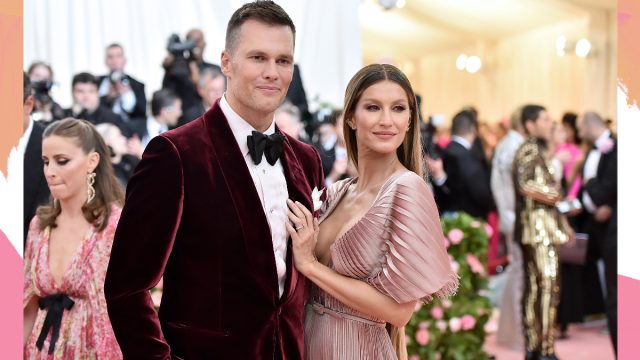 One of the world's hottest couples is raising question marks about their marriage, and fans are predicting a big loss for 2022's year on end.
Gisele Bündchen was noticeably absent from husband Tom Brady's first post-retirement NFL game, leaving many questioning their current commitment status. The Brazilian top model tweeted, "Let's go @TomBrady! Let's go Bucs ! ✨✨✨" ahead of the quarterback's comeback game with the Tampa Bay Buccaneers, but come Sunday, September 11th, 2022, she was nowhere in sight in the stands.
A source told PEOPLE that Gisele was not planning on attending the game from the start. While the reason for her absence wasn't provided, the lack of plans for extra security, and routine additions such as extra snacks for the family, were possible giveaways.
RELATED: 10 Reasons Why You're Dreaming About Your Ex
"It's always a big thing when Gisele is coming to watch the game," the source explained to PEOPLE. "As of right now, there's none of that for Sunday's game." The source has also stated that, in order to avoid any awkward conversations or increase tensions around Tom, they are "just not talking to him about Gisele." Yikes.
Despite her supportive tweet, fans aren't sure there's a future for the all-star couple. Reports of relationship tensions began this past year, centering around the 44-year-old athlete's announcement that he'd be back in the game after all, despite retiring from football after the 2021 season.
Bündchen seemed supportive at first, when she left the comment, "Here we go again! Let's go lovvvey! Let's go Bucs!" on Tom's Instagram announcement on Sunday, March 13, 2022.
Sources have since said that Tom's decision may have sparked some tensions between the two, as the supermodel didn't seem thrilled about her middle-aged hubby spending more time on the field.
According to US Weekly, Tom had a break from training in August of this year. Todd Bowles, Buccaneers head coach, stated that the quarterback was taking some time off "to deal with some personal things" and that the decision had been made as early as July, during a press conference, per NBC Sports.
Tom has been more public about admitting to personal issues between the two; Gisele has been quieter, but fans have noticed her social media posts have involved her husband less and less.
The 42-year old mother of two posted a sweet shoutout Instagram story on her sister's birthday, the same day as the big game, but nothing related to football since her latest tweet.
Could this be the beginning of the end for Bündchen and Brady? Fans are definitely eating up any divorce rumors that come their way. Some have said their love won't last past the end of this year, but for now, the game is still on.
Kat is a born and raised New Yorker exploring the world as she writes, eats, and everything in between.
Read more