Gisele Bündchen posted this video of herself singing and playing guitar, basically proving she can do everything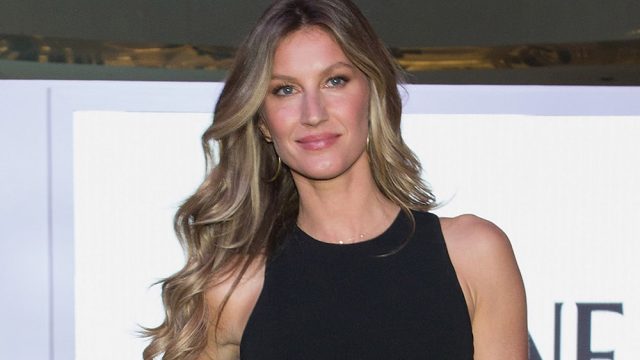 Some of our favorite celebrities are those who are multifaceted. Those celebs whose talents stretch beyond just one niche. One of those celebs is Gisele Bündchen. The Victoria's Secret model rocks the fashion world, but Gisele Bündchen also possesses other talents. She has made a fabulous name for herself by combining her gorgeous looks and her business savvy, making us more impressed by the day, and she's not slowing down in 2017.
And of course she has a lovely singing voice and some fabulous guitar skills.
Gisele's caption reads, "Thank you @AnaVilelaoficial for such a truthful song.The lyrics are so inspiring that I decided to take a risk and play it.#sendinglove"
We say that was definitely a good risk, because Gisele sounds fantastic. Once again, we're awed by her talents. Gisele sang the song by Ana Vilela, a Brazilian singer-songwriter. (And of course she ooks stunning, because she's playing by a pool in front of an artistic sunset.) In a single video, Gisele basically proves to us that she's the total package (in case anyone was still questioning that — we weren't).
The Brazilian model sang the song in Portuguese, but she posted the English lyrics for us all to enjoy.
https://www.instagram.com/p/BOnCv40DwLb
These words are actually a lovely way to welcome in the new year:
It's not about having all of the people in the world for you
It's about knowing that somewhere someone is looking after you
It's singing and being able to hear more than your own voice
It's about dancing in the rain of life that's falling on us.
It is knowing to feel the infinity in a universe so big and so beautiful
It's knowing to dream
And so make it worth every verse, of that beautiful poem about believing
It's not about getting on top of the world, knowing that you won
It's about the climb and feeling that the way just made you strong
It's being shelter and also home for other hearts
And this way have friends with you in all of the situations
We can't have everything
What would be the fun in this world if it was like that
That's why I rather have the smiles, and the gifts that life brought closer to me
It's not about everything that your money is able to buy
But all of the moments and smile that we get to share all around
Not about running against the time to always have more
Because when you least expect, your life ran out of time
Just hold your son in your arms smile and hold tight your parents while they are here
Cause life is a Bullet train , and we are only passengers waiting to leave
Wow, we love that last line.
"Life is a Bullet train, and we are only passengers waiting to leave."
What a hauntingly powerful reminder that life is fleeting, so we might as well enjoy it.
Thanks Gisele for sharing that beautiful song (and more of your talents) with us!
We can't wait to see what else you have to share with us in the coming year!